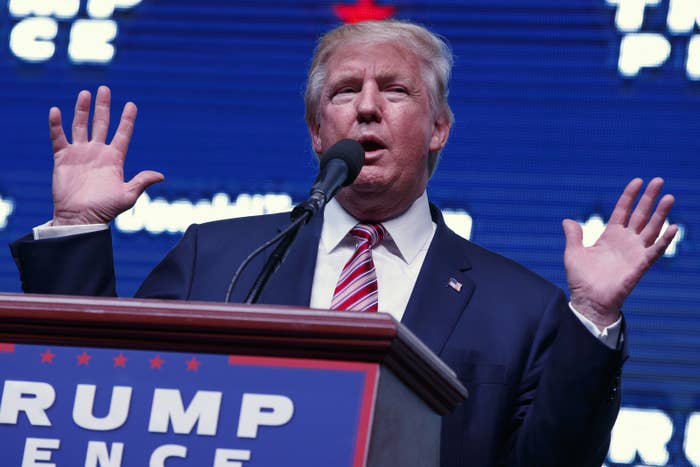 Donald Trump was once the executive producer for a reality TV show called Lady or a Tramp, which promised turn party girls into sophisticated women through a series of etiquette classes and competitions.
The show was produced by RDF USA and slated to appear on Fox as early as 2007, according to Variety. MTV reportedly purchased eight episodes of the show in 2008, but it never aired. It is unclear how much footage was actually shot, if any.
Requests to Zodiak Media — which has since purchased RDF USA — and Trump Productions for any footage or transcripts that were created were not immediately answered.
A Fox spokesperson told BuzzFeed News that the network could "confirm that this was a project in development that did not go to series." The spokesperson added that the show's development included "format development and casting of experts and participants only."
MGM, which purchased the business of The Apprentice producer Mark Burnett, is under fire for not releasing outtakes or transcripts of his reality show. Calls for the footage or transcripts grew after Trump was caught on a 2005 hot mic on Access Hollywood suggesting he sexually assaults women by grabbing them "by the pussy" and kissing them without consent.
Variety reported that the casting call for Lady or a Tramp was targeted at "ride and crude party girls," and "younger women who are 18-30, love to party and full of attitude."
When Lady or a Tramp was announced, Trump marketed it as a solution to party girl culture.
"We are all sick and tired of the glamorization of these out-of-control young women, so I have taken it upon myself to do something about it," Trump told Variety, adding that he was "creating a real-life version of 'My Fair Lady.'
"This show is all about getting a second chance and transforming for the better; the idea is genius and the show will be huge," he added.
Chris Coelen, then named chief executive of the show, said at the time that the show would capitalize on the rise of female celebrities like Lindsay Lohan, Britney Spears, and Paris Hilton, who were dominating tabloid headlines at the time.
"A few months ago, Britney had just shaved her head, and the idea was timely," Coelen said. "Now, with all this craziness with Paris Hilton and Lindsay Lohan, it's even more timely."
Coelen did not immediately respond to a BuzzFeed News inquiry.
When asked how he would recruit women for the show, Trump told the New York Post, "You troll the clubs."
Lady or a Tramp was considered an adaptation from a British show called Ladette to Lady, which made its contestants wear pearl necklaces and tweed and participate in courses on how to needlepoint and host tea parties.