Trump Formally Announces Indiana Gov. Mike Pence As His Running Mate
After tweeting his vice presidential pick on Friday, Trump appeared on stage with Mike Pence in New York City and dismissed reports of second-guessing by introducing him as "my first choice."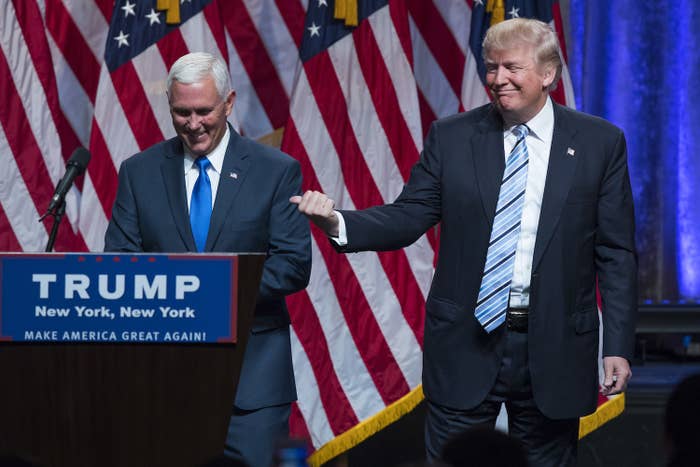 Donald Trump on Saturday formalized the selection of Mike Pence as his running mate, appearing on stage in New York City with the Indiana governor two days ahead of the Republican National Convention.
Trump said that Pence would help him fix America's "rigged system."
"I've found the leader who will help us deliver a safe and prosperous society," he said. "Indiana Governor Mike Pence is my first choice."
On Friday, Trump tweeted his announcement, settling weeks of speculation about his vice presidential pick. Other finalists included New Jersey Gov. Chris Christie and House Speaker Newt Gingrich.

Trump praised Pence's gubernatorial accomplishments, citing his work to reduce unemployment and increase the labor force in Indiana.
"I answered this call for two reasons," said Pence, who spoke to Trump on July 13. "I know from firsthand experience that strong Republican leadership can bring about real change, and Hillary Clinton must never become president of the United States of America."

Pence spoke briefly about his personal background and acknowledged that he had initially affiliated with the Democratic Party. He said he was deeply inspired by former President Ronald Reagan and switched parties.
He called Trump a builder, a fighter, and a patriotic American who "has set aside a legendary career to build a stronger America."
Trump on several occasions drew contrasts between Pence and Democratic candidate Hillary Clinton, saying his vice presidential pick "will never be afraid to speak the name of our enemy."
"I joined this ticket because the choice could not be more clear," said Pence.
The joint appearance was originally scheduled for Friday, but the Trump campaign rescheduled it for Saturday, citing the Bastille Day Attack in Nice, France. Multiple reports, however, said Trump was second-guessing Pence as his vice presidential pick up until Thursday night, with CNN saying Trump was asking his advisers if he could "get out of it."