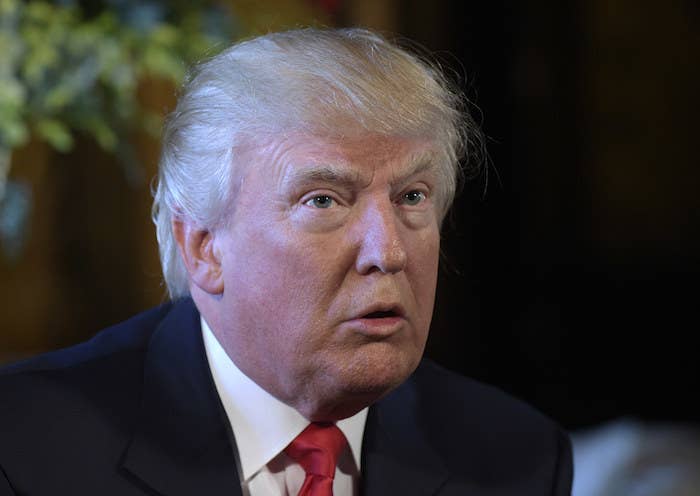 President Donald Trump on Tuesday denounced anti-Semitism after 11 Jewish community centers across the country received bomb threats, and vandals defaced more than 100 headstones at a Jewish cemetery in St. Louis over the weekend.
Trump and his administration had faced criticism for not taking a pointed stance on anti-Semitism — oftentimes failing to specifically mention the Jewish community when he condemned the attacks — and Monday's bomb threats brought the total number this year in the US and Canada to 69.
"I will tell you that anti-Semitism is horrible and it's going to stop. It has to stop," Trump told MSNBC's Craig Melvin on Tuesday.
Asked if he was denouncing it once and for all, Trump replied, "Of course. I do it whenever I get a chance, I do it."
Trump continued addressing the issue after taking a tour of the National Museum of African American History and Culture in Washington, DC.
"The anti-Semitic threats targeting our Jewish community and community centers are horrible and are painful and a very sad reminder of the work that still must be done to root out hate and prejudice and evil," he told reporters.
The recent spate of bomb threats began on Jan. 9; other incidents were recorded on Jan. 18 and 31, with more taking place Monday. All were found to be hoaxes.
In addition to the bomb threats, vandals knocked over and damaged more than 100 headstones on Monday at the Chesed Shel Emeth Society cemetery in St. Louis.

Officers responded to a report of vandalism around 8:30 p.m., according to CNN.
BuzzFeed News has reached out to the University City Police Department for more information related to the act of vandalism.
The specificity of Trump's comments Tuesday differed from those offered by White House press secretary Sean Spicer on Monday after the bomb threats.
"Hatred and hate-motivated violence of any kind have no place in a country founded on the promise of individual freedom," Spicer said in a statement. "The President has made it abundantly clear that these actions are unacceptable."
Many people were critical of the White House for neglecting to mention the Jewish community in its statement, including Hillary and Chelsea Clinton.
Ivanka Trump tweeted Monday that society "must protect our houses of worship and religious centers #JCC."
The Anne Frank Center for Mutual Respect released a statement shortly after the president's comments, calling his late acknowledgement late and insufficient.
"The President's sudden acknowledgement is a Band-Aid on the cancer of Antisemitism that has infected his own Administration," the statement read.
"His statement today is a pathetic asterisk of condescension after weeks in which he and his staff have committed grotesque acts and omissions reflecting Antisemitism, yet day after day have refused to apologize and correct the record. Make no mistake: The Antisemitism coming out of this Administration is the worst we have ever seen from any Administration."
Read the full statement here: