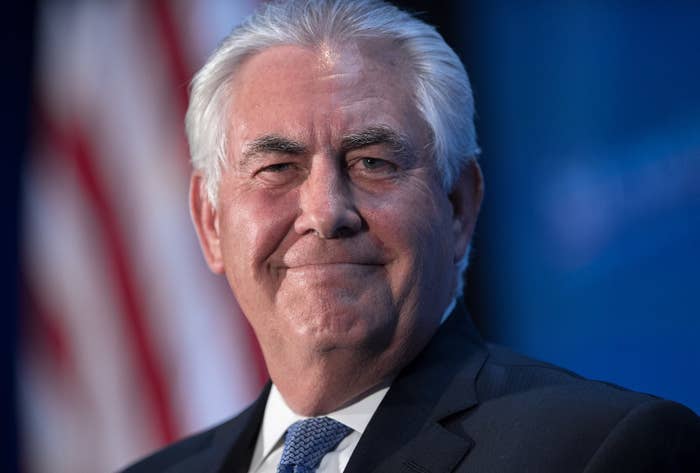 President-elect Donald Trump plans to nominate Exxon Mobil CEO Rex Tillerson to be his secretary of state, sources told NBC News and the New York Times, a decision that caps off a highly publicized search for the next top US diplomat but will immediately draw close scrutiny because of the businessman's close ties to Russia.

The 64-year-old Texan oilman only emerged as a leading contender to head the State Department in recent days, after meeting with the president-elect at Trump Tower in New York City earlier this week. If confirmed as a nominee, he will join a potential cabinet list comprised mostly of military generals and wealthy business figures.

Representatives from the Trump campaign did not immediately respond to requests for comment, but spokesman Jason Miller tweeted that no official announcement was expected until at least next week.
The Associated Press reported Trump was yet to formally offer Tillerson the role, but had privately indicated that he would do so.
However, in a preview of an interview set to air on Sunday, the president-elect told Fox News that Tillerson was "much more than a business executive," and described him as a "world class player."
"To me, a great advantage is he knows many of the players, and he knows them well," Trump said. "He does massive deals in Russia."
Tillerson's current position as the president and CEO of Exxon Mobil requires him to maintain international contacts with several countries, but his ties to Russia have been particularly noteworthy.

In 2011, Tillerson company signed a deal with Rosneft, a state-owned Russian oil business, to drill for oil in the Russian Arctic. In 2014, he then spoke out against sanctions after the Obama administration imposed them on Russia, following the annexation of Crimea. After Rosneft was added to the sanctions list in September 2014, the Exxon Mobil deal has been on hold ever since.
The Kremlin has previously bestowed upon Tillerson the Order of Friendship medal, a prestigious decoration awarded to non-Russians.

"The only [government experience] Rex Tillerson has was receiving the Kremlin's Order of Friendship," Rep. Steve Israel, a Democrat, tweeted on Saturday.
Trump, who has argued Vladimir Putin has been a better leader than Barack Obama, has made building better diplomatic relations with Russia a central goal of his foreign policy plans.
"If you are trying to lift sanctions on Russia and get back to business with Vladimir Putin, Rex Tillerson would be an excellent choice," Michael McFaul, President Obama's ambassador to Russia from 2012 to 2014, told BuzzFeed News this week."
Senator John McCain on Saturday told NBC that he had concerns over Tillerson's relationship with Russia, though he would not say whether or not he would vote against the nomination.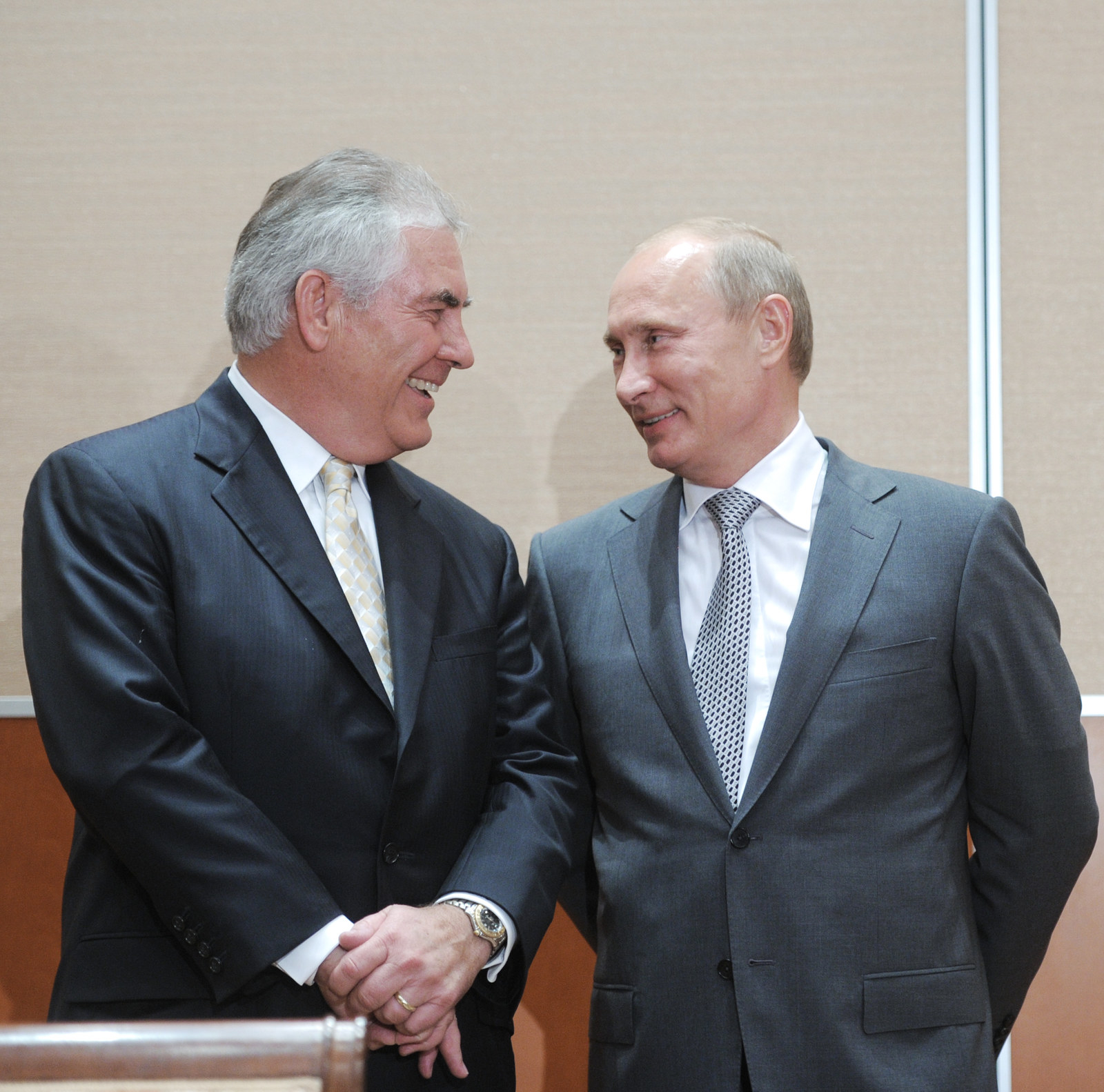 Exxon Mobil has in the past acknowledged the science behind climate change and has gone on record saying it supports a carbon tax.
"We believe that addressing the risk of climate change is a global issue," Tillerson said in May, according to the New York Times.

But environmental activists have viewed the company's statements with a healthy dose of skepticism.
Jamie Henn, co-founder of climate action organization 350.org, told the Times that "a read of their public energy assessments make it clear they have no intention of helping the world meet that target or adjust their business plans in that direction."
Annie Leonard, the executive director of Greenpeace USA, urged the Senate not to confirm Tillerson's nomination. "In this position, Tillerson will try his hardest to silence global initiatives and the right of state attorney generals to hold fossil fuel companies legally accountable for climate change," Leonard said. "We will not be silenced, and we will not allow this cabinet of billionaires to steamroll the people."
Unlike the president-elect, Tillerson is also a strong proponent of free trade. At an event for energy company IHS in 2012, he said that "free trade in energy will lead to increased investment, job creation, and energy production."
"Whether we are talking about the export of LNG or lifting a ban on crude oil, the economist and leaders from across the global spectrum agree that free trade in energy will lead to increased investment, increased jobs creation, and increased production," he added.

The news of Tillerson's nomination comes after Trump blasted the CIA over reports that intelligence officials have determined Russian hackers worked to help him get elected.

President Obama on Friday ordered a full review of the hacking activity related to the election, but there are growing calls among Democrats for a congressional inquiry into Russian influence in the election.
Anticipation around Trump's secretary of state pick has been high since the election, with a list of candidates, including Mitt Romney and former CIA director Gen. David Petraeus, having to parade before the press in Trump Tower.
The consideration of Romney, in particular, had drawn highly unusual public condemnation from Trump loyalists, including campaign manager Kellyanne Conway, because of the former Massachusetts governor's previous fierce criticism of the businessman-turned-politician.
The president-elect announced on Friday that former New York City Mayor Rudy Giuliani, a strong campaign supporter, was no longer under consideration for the top diplomat position. Guiliani later said that he withdrew from the running on Nov. 29, but his resignation was not accepted at the time.

This is a developing news story. Check back for updates or follow BuzzFeed News on Twitter.