"God Bless America": Pope Francis Speaks At The White House
In his speech, Pope Francis addressed a range of contemporary issues. He called climate change a problem that "can no longer be left to a future generation."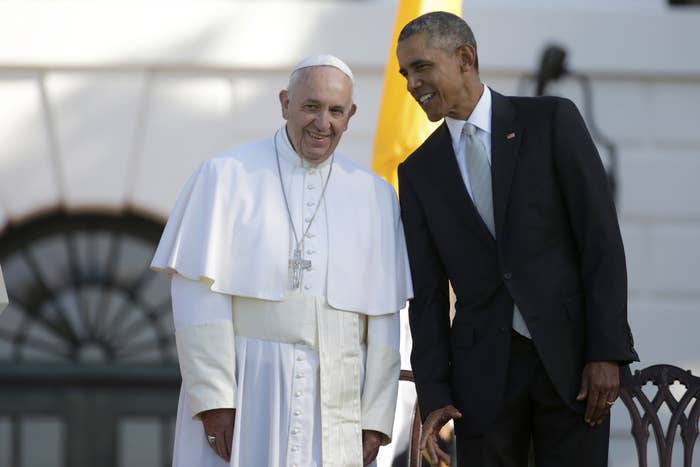 An estimated 15,000 people gathered outside of the White House Wednesday morning to greet the Pope.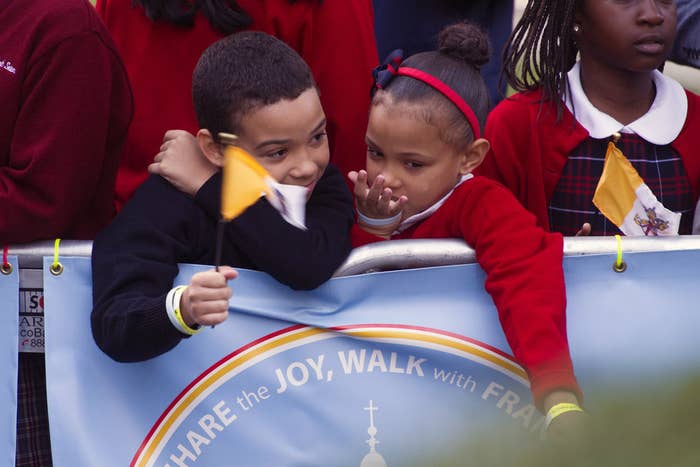 Civilians and journalists started gathering before sunrise.
During the formal ceremony on the White House's South Lawn, President Obama praised the pope for "shaking us out of complacency."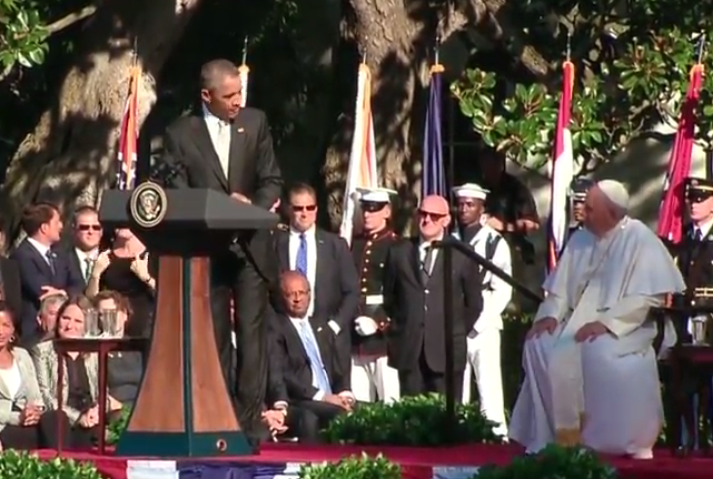 Pope Francis opened his speech at the White House, saying, "As the son of an immigrant family I'm happy to be a guest in this country, which was largely built by such families."
The pope, on his first visit to the U.S., spoke about the right to religious liberty, calling freedom one of "Americans' most precious possessions" that they must "preserve and defend from everything that would threaten or compromise it."
His speech focused largely on the issue of climate change, and he urged people to accept that it "is a problem that can no longer be left to our future generations."
He acknowledged Obama's proposed initiative to reduce air pollution and said that "when it comes to the care of our common home, we are living at a critical moment of history."
"We still have time to make the change needed to bring about a sustainable and integral development ... for we know things can change."
He also endorsed the government's efforts in bettering relations with Cuba, saying, "The efforts made to mend broken relationships and to open new doors to cooperation within our human family represent possible steps along the path of reconciliation, justice and freedom." He asked Americans to support the international community's efforts to "protect the vulnerable" and to support "inclusive models of development."
He ended his speech with "God Bless America," to rousing applause and cheers.
President Obama welcomed the pope saying that the thousands gathered outside the White House to greet him reflected "the deep devotion" of around 70 million American Catholics. He said the pope's message of love and hope had inspired people across the country.
"Today we mark many firsts," Obama said, referring to the first pope from the Americas, and Pope Francis's first visit to the U.S. "And you're also the first pontiff to share an encyclical through a Twitter account," Obama said.
The president said the pope's teachings of empathy and compassion to the marginalized were invaluable for "the refugee who leaves war torn lands to the immigrant who leaves home in search of a better life."
He spoke about the pope's message of peace and his reminder about the costs of war. Obama also thanked the pope for his invaluable support for his efforts to support the Cuban people and improve relations between the two countries.
Obama stressed the value of religious liberty in the U.S., saying, "We stand with you in defense of religious freedom and interfaith liberty."
After the ceremony, Pope Francis will meet with Obama for about 45 minutes. After that the pontiff is expected to sit in a parade around the Ellipse, or the President's Park.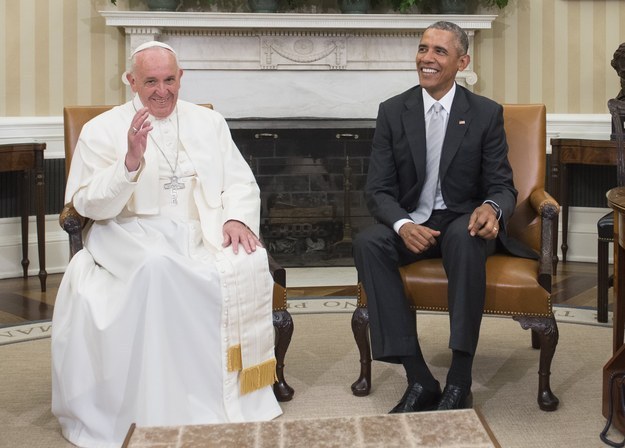 The Washington Post reported that Obama had hinted at discussing with Pope Francis issues such as poverty, climate change, and the unrest in the Middle East during their meeting.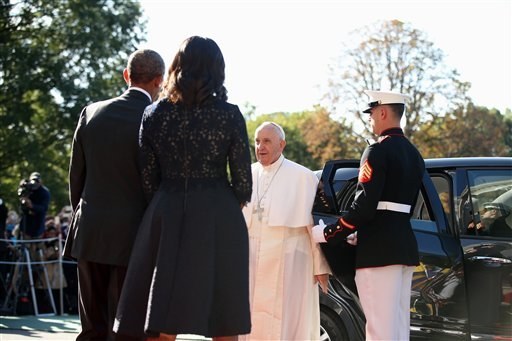 The pope will address the U.S. bishops later in the morning, and end the day with a mass canonizing Junipero Serra, the Washington Post reported.
On Thursday, he will address Congress and visit Catholic charities before departing the nation's capital for New York.
Here's the Pope's official schedule:
Wednesday, Sept. 23
9:15 a.m.: White House Arrival Ceremony and personal meeting with President Obama
11 a.m.: Pope parades around the Ellipse and parts of the National Mall
11:30 a.m.: Midday Prayer with U.S. bishops at Saint Matthew's Cathedral in D.C.
4:15 p.m.: Junipero Serra Canonization Mass at the Basilica of the National Shrine of the Immaculate Conception
Thursday, Sept. 24
9:20 a.m.: Speech to the Senate and House of Representatives
11:15 a.m.: Visit to St. Patrick's Catholic Church in D.C. and Catholic Charities
4 p.m.: Departure to New York
5 p.m.: Arrives at John F. Kennedy International Airport in New York
6:45 p.m.: Evening prayer at St. Patrick's Cathedral
Friday, Sept.r 25:
8:30 a.m.: Address to United Nations General Assembly
11:30 a.m.: Service at 9/11 Memorial and Museum at the World Trade Center
4 p.m.: Visit to Our Lady Queen of Angels School in East Harlem
5 p.m.: Papal motorcade through Central Park
6 p.m.: Madison Square Garden mass
Saturday, Sept. 26
8:30 p.m.: Travels from New York to Philadelphia
10:30 a.m.: Mass at Cathedral Basilica of Sts. Peter and Paul
4:45 p.m.: Visit to Independence Mall
7:30 p.m.: Visit to Festival of Families at Benjamin Franklin Parkway and Prayer Vigil
Sunday, Sept. 27
9:15 a.m.: Papal meeting with bishops at St. Martin's Chapel
11 a.m.: Visit to Curran-Fromhold Correctional Facility.
4 p.m.: Papal Mass for World Meeting of Families
7 p.m.: Visit with organizers and volunteers of the World Meeting of Families
8 p.m.: Departure for return to Rome