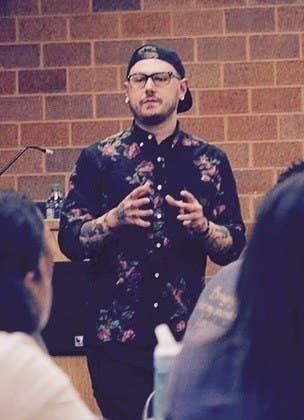 New York police officers took a Rutgers University lecturer to a hospital for a psychiatric evaluation Tuesday night after he tweeted a provocative question about the Second Amendment which authorities viewed as a threat to kill white people.
Kevin Allred, who is white, believes the inquiry was the result of him asking if conservatives would care as much about the Second Amendment if guns killed more white people.
"Will the 2nd amendment be as cool when i buy a gun and start shooting at random white people or no...?" read the original tweet, later deleted, according to a source familiar with the case.
An NYPD spokesperson confirmed to BuzzFeed News that threatening language prompted the investigation.
"Rutgers police contacted the 94 Precinct and requested a wellness check be conducted on the professor based on comments he made in the classroom and on Twitter about killing white people," police said in a statement. "Based on these comments he was transported to Bellevue Hospital for psychological evaluation."
Allred began tweeting around 10:30 p.m. Tuesday when the NYPD arrived at his house.
Soon after, Allred was transported to Bellevue Hospital in Manhattan, where he was "forced to undergo a psychiatric evaluation," he wrote on Twitter.
Authorities eventually took Allred's phone, but he resumed tweeting around 11:30 p.m, calling his experience "proof positive that Trump's crackdown on free speech has already begun."
Allred wrote that "even the doctors thought it was ridiculous" to have made him undergo the evaluation, and called the process an intimidation tactic.
According to Allred, one of the doctors told him that "politicians say much worse on live television with no repercussions and they choose to waste resources bringing me in."
Although he deleted the original tweet, which was posted Nov. 9, Allred on Tuesday explained the comments he said were flagged to police:
But according to a source familiar with the case, the original tweet specifically referenced Allred buying a gun and "shooting at random white people."
Allred has also tweeted, "f i see any Trump bumper stickers on the road today, my brakes will go out and i'll run you off the road."
In a message to BuzzFeed News, Allred admitted that the tweet "was incendiary/provocative for sure, but in my opinion not a threat and it was in the context of a whole bunch of tweets about the election and the issues raised in it meant to show people's reasons as holding double standards."

He added that "obviously it's Twitter so it was curt and meant to provoke for a purpose. and then it got singled out."
Contacted by BuzzFeed News, a Twitter spokesperson shared the company's policy on violent threats, which state that users "may not make threats of violence or promote violence, including threatening or promoting terrorism."
BuzzFeed News has reached out to Rutgers Police Department for more information.
In 2015, Allred tweeted that there were "no good white people," only less bad white people.
He reiterated the sentiment again in July, urging people to do their part to make the world less harmful for others.