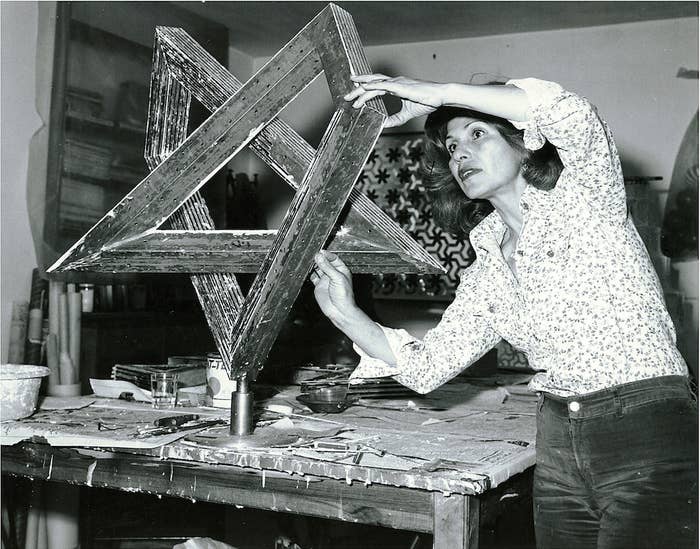 Some nights after dinner in the early 1950s, Monir Shahroudy Farmanfarmaian would take walks through her neighborhood in New York City. The Solomon R. Guggenheim Museum was still under construction, but as she passed it on her evening stroll, she began to dream about one day showing her artwork there.
Six decades later, her dreams have been realized.
Farmanfarmaian, now 92, is a renowned Iranian visual artist known for her geometric style and mirror sculptures. Last week, she became the first Iranian artist to have her work featured in a solo exhibition at the Guggenheim. Her show, titled Infinite Possibility: Mirror Works and Drawings 1974–2014, runs until June 3.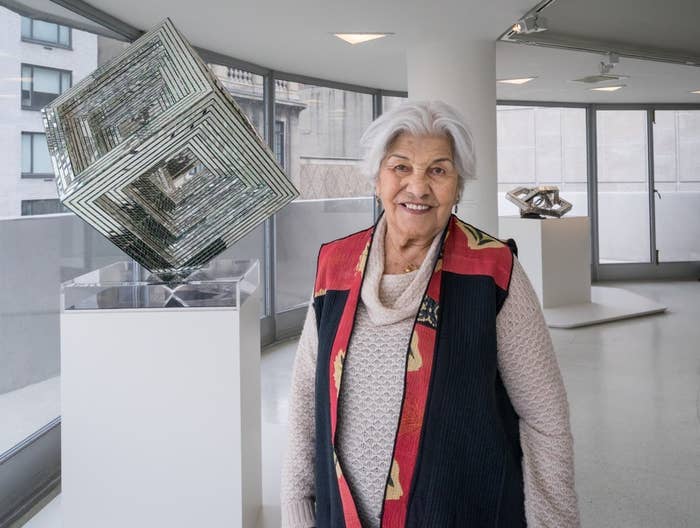 Contemporary Iranian art has a decades-long history in the West — though artists are now exhibiting their work with increasing frequency in the United States and Europe.
From September 2013 to January 2014, the Asia Society in New York exhibited Iran Modern, supported by donations from the U.S., Europe, and the Middle East. The show featured a diverse body of work from numerous artists that spanned the three decades leading up to the revolution of 1979.
In January and February of this year, the Taymour Grahne Gallery presented Traveling Demons, a collection of colorful and haunting pieces by Malekeh Nayiny, who was born in Tehran and currently lives in Paris.
And while Farmanfarmaian's work is at the Guggenheim, the works of famed sculptor Parviz Tanavoli will also be on display at the Davis Museum at Wellesley College. Like Farmanfarmaian, Tanavoli is also the first Iranian artist to have a solo show at that space.
Shiva Balaghi co-curated the Tanavoli exhibition, and is a visiting scholar in Middle Eastern studies at Brown University.
As one of the few academics in the country who specializes in Middle Eastern art history, Balaghi is quick to debunk notions of an Iranian art renaissance in the U.S., despite its recent popularity in the American art world.
"A reemergence is not really true," she told BuzzFeed News. "The fact that there's a growing interest in the West is key, not that this art hasn't been made before."
Balaghi's theory is that art institutions are beginning to look beyond Iran's current political climate and explore the country through its art.
"It's almost like museums are taking on this cultural diplomacy role," she said. "There's a cultural life in that country that continues and flourishes, one that doesn't have to do with nuclear negotiations."
In addition to co-curating the Tanavoli show at the Davis Museum, Balaghi also interviewed Farmanfarmaian extensively for an essay for the Guggenheim.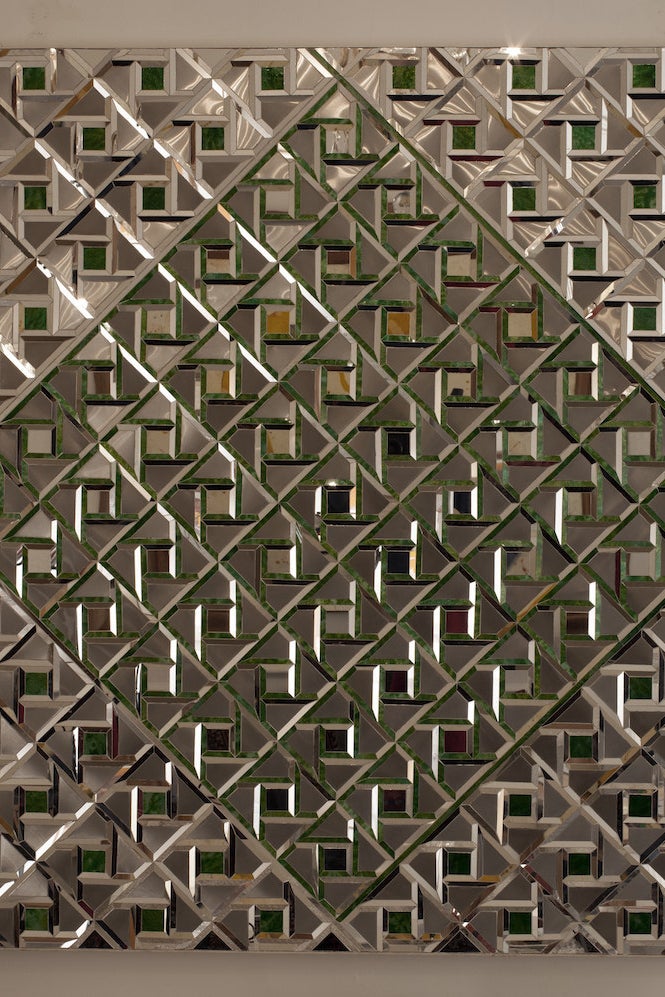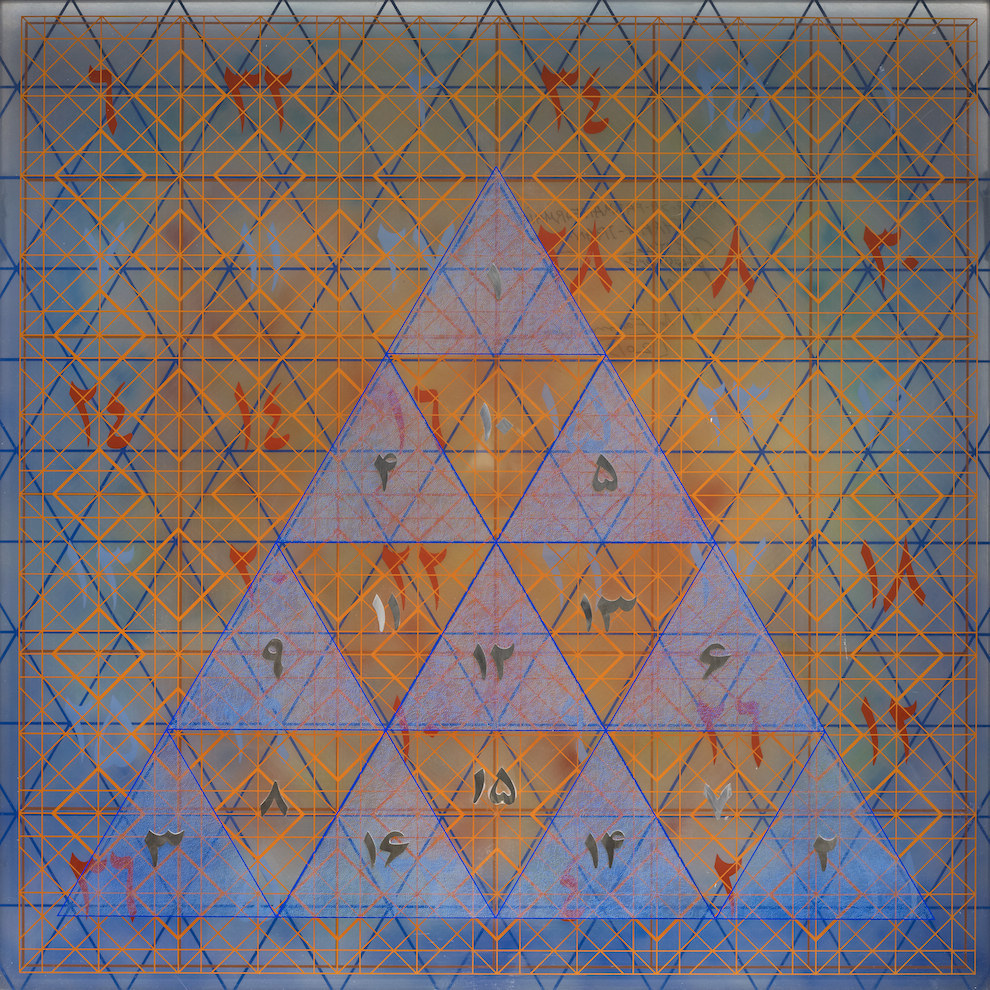 Farmanfarmaian was born in Qazvin, Iran, in 1924. When she was read bedtime stories as a child, she would often gaze at the ceiling of her room, which was painted with pictures of nightingales and roses. Balaghi speculates that this may have sparked the beginnings of her artistic interests.
Farmanfarmaian pursued art in school, studying both in Iran at the Fine Arts College at the University of Tehran, and in the United States at Cornell University and Parson's School of Design.
Living in New York in the 1950s, she was exposed to and ultimately absorbed by the city's thriving art scene. She and Andy Warhol bonded over their jobs as fashion illustrators at the time, became friends, and even exchanged their artwork. In 1957, Farmanfarmaian got married and returned to Iran, where she began collecting and showing local folk art.
Her show at the Guggenheim is not the first time she has created artwork during a time of political turmoil in her home country.
The Iranian Revolution began shortly after she traveled to New York in December 1978 to visit her family for the holidays. Farmanfarmaian and her husband wound up living in exile there, and while she used that time to develop her aesthetic as an artist, she did not return to Iran until 1992.
Her show at the Guggenheim is a retrospective, spanning four decades of work. Balaghi notes a particular section of the exhibit that features one of Farmanfarmaian's mirror sculptures near a window that overlooks Central Park, how it symbolizes for her the relationship of American modernism and Iranian contemporary art.
In 2011, Vogue — where she worked early on as a freelance illustrator — featured her when she was the subject of an art book.
"Whatever time I have left, I want to make art," she said in the Vogue interview. "And I hope it will be worthwhile to see it."