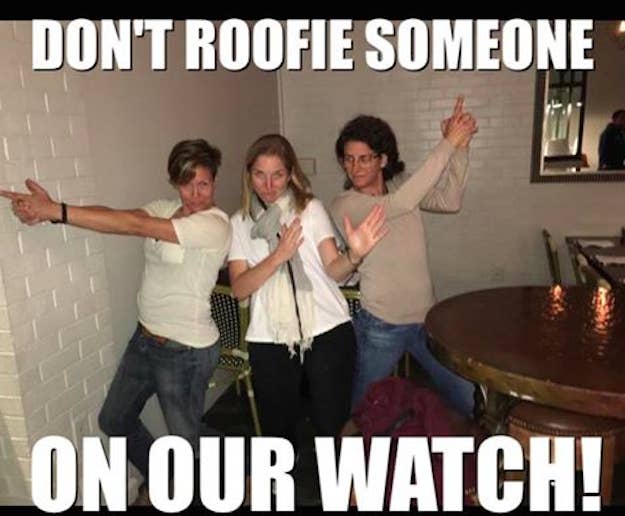 Three women helped prevent a date rape at a hotel in Santa Monica, California, police said, when they spoke out after spotting a man secretly slip a substance into a woman's drink.
Sonia Ulrich, one of the women involved with the intervention, posted the whole story on Facebook on Friday in a status that has since gone viral.

She and her two friends, Monica Kenyon and Marla Saltzer, were eating at Fig, a restaurant inside the Fairmont Hotel in Santa Monica, when Monica saw a man at another table put something into the drink of the woman he was sitting with.
"He pulled her glass toward him, kind of awkwardly, then he took out a little black vial," Monica would later recall. "He opened it up and dropped something in. Then he tried to play it cool, like checking his phone and hiding the vial in his hand and then trying to bring it back down slyly."
"After a few 'Oh god. What do we do's,' I got up to find her in the bathroom to tell her, Sonia wrote. "Warn her. Tell her to get up and leave this creep. Make him drink it. Something."
Sonia followed the woman in the restroom and relayed to her what Monica had witnessed.
"Hey! Um, this is kind of weird, but, uh, we saw the guy you were with put something in your drink," she recalled saying.
Sonia — who earlier surmised that the man and woman were on their first, second, or third date — said the woman seemed shocked and numb when she told her the news. Sonia asked the woman how well she knew the man.
"He's one of my best friends," she said, adding that they worked together.
Marla meanwhile alerted the restaurant manager to the situation. He poured the woman a glass of sparkling water, presumably to help her avoid drinking the drugged beverage.
Eventually, Santa Monica police were notified and dispatched to Fig. They told the man who allegedly drugged his friend's drink to come with them.
Lt. Saul Rodriguez, public information officer with the Santa Monica Police Department, told BuzzFeed News police were called to the restaurant on Thursday after several witnesses had seen a man slip an unknown substance into a woman's drink.
The man, Michael Hsu, 25, was arrested and has been charged in connection with two felonies, including administering a drug with the intent to commit a felony, and intent to commit rape.
Hsu is being held in lieu of $1 million bail, Rodriguez said, and will face arraignment in a Los Angeles court on Tuesday morning.
"We very much appreciate the independent witnesses who could have prevented a serious crime from taking place," Rodriguez said.
Sonia said that after police cleared the scene, several people nearby approached her and her friends to thank them for their good deed, and also shared other stories of sexual assault.
"It happened to my roommate at a producer's party," one person said. "He's still messed up from it."
Sonia encouraged others to read and share their story, and said it served as an important reminder to say something if you see something.
"Even if it's awkward or weird or just uncertain if anything can be done," she wrote. "Know that YOU did something. And that it helped."
BuzzFeed News has reached out to Sonia, Monica, and Marla for comment.

Read Sonia's full account here.