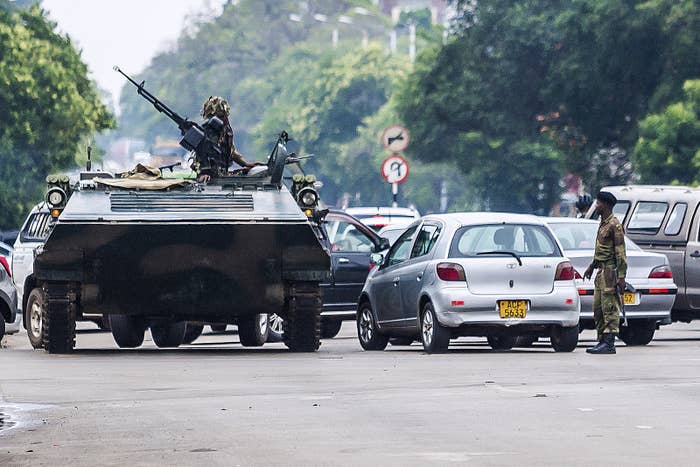 NAIROBI — Zimbabwe's President Robert Mugabe, one of Africa's longest-serving heads of state, has been placed under house arrest following what appeared to be a takeover by the country's military on Wednesday.
"Good morning, Zimbabwe ... the situation in our country has moved to another level," an army spokesperson said in an early-morning statement on Zimbabwe Broadcasting Corporation, before confirming that Mugabe and his wife, Grace Mugabe, were in military custody. "Comrade R G Mugabe and his family, are safe and sound and their security is guaranteed," he added.
Mugabe's detention came after a night of uncertainty as tanks were deployed across Harare, the capital, and soldiers took over the state broadcaster.
"We are only targeting those around him who were committing crimes that are causing social and economic suffering in the country," the statement said. "As soon as we have accomplished our mission, we expect that the situation will return to normal."
In a separate statement on Wednesday, South Africa's President Jacob Zuma said he'd spoken with Mugabe, who had indicated that "he was confined to his home but said that he was fine."
Mugabe, 93, has ruled the southern African nation since it gained independence from the UK in 1980.

The army's statement follows reports of heavy gunfire and at least three explosions in Zimbabwe's capital Harare early Wednesday as the military increased its presence in the city. Human Rights Watch Southern Africa Director Dewa Mavhinga tweeted Wednesday morning that the military had cordoned off all streets leading to Mugabe's Harare office.
Last week Mugabe abruptly fired his vice president, Emmerson Mnangagwa, who has wide support among the military, amid accusations of disloyalty. Then, on Monday, the nation's commander of defense forces, Gen. Constantine Chiwenga, in an equally unprecedented move, warned that the military would intervene if the chaos inside the ruling party wasn't handled.

On Tuesday, people in Harare tweeted images and videos of what they said was an increased military presence in the city, including what appeared to be tanks driving through the city.

"There is a tank blocking Kirkman Road stopping cars from going outside," the person shooting one video can be heard saying, adding that military officers were preventing drivers from passing a certain point but then began to allow them to drive through.

Khuluma Afrika, a local publication that refers to itself on its website as a "center for investigative journalism," reported that military vehicles had blocked off major roads in the capital and created a barrier around the state-owned Zimbabwe Broadcasting Corporation.

South African security and politics adviser Bo Mbindwane tweeted a series of images showing military officers deployed in what appears to be a commercial area of Harare, and on the roads. "This is not good," he said.
Mbindwane urged people to "not take the Zimbabwe situation lightly" as the military presence increased.

The US State Department said early Wednesday that its embassy in Harare would be closed amid "ongoing uncertainty" in Zimbabwe, and urged employees to shelter in place. Citing "unusual military activity" in Harare, the British Embassy also advised citizens to stay indoors "until the situation becomes clearer." The Dutch Embassy has also issued a similar statement.

In a statement to BuzzFeed News, a State Department spokesperson did not clearly say whether the US believes a coup is underway. "The United States does not take sides in matters of internal Zimbabwean politics and does not condone military intervention in political processes," the spokesperson said in an emailed statement.
Mugabe's firing of his vice president last week thrust the country further into uncertainty about what happens when the 93-year-old leader either dies or steps down after 37 years in power. The minister of information said that Mnangagwa, who had worked alongside Mugabe for more than 40 years, had "exhibited traits of disloyalty" throughout his tenure. Many believe his unexpected dismissal paved the way for first lady Grace Mugabe to assume power after her husband.

The youth-led arm of Mugabe's Zimbabwe African National Union Patriotic Front (ZANU-PF) party supported the president's decision. "Defending the revolution and our leader and president is an ideal we live for and if need be, it is a principle we are prepared to die for," its secretary, Kudzai Chipanga, told reporters on Tuesday.
On Monday, Gen. Chiwenga issued a rare warning to the president that the military would intervene to protect the country.
"It is with humility and effort that we come before you to pronounce the indisputable reality that there is instability in ZANU-PF," Chiwenga said in a statement Monday. "Today it is observed anxiety in the country at large."
Chiwenga also spoke about the Zimbabweans who lost their lives in the country's revolution in 1980, in which Robert Mugabe was a leader but did not personally fight and Grace Mugabe was still a teenager, and said they should "remain the major stakeholders in respect to the gains of the reparations struggle. And when these are threatened, we are obliged to take corrective measures."
On Tuesday, ZANU-PF fired back, saying the general's position was "clearly calculated to disturb national peace... and suggests treasonable conduct on his part as this was meant to incite insurrection."