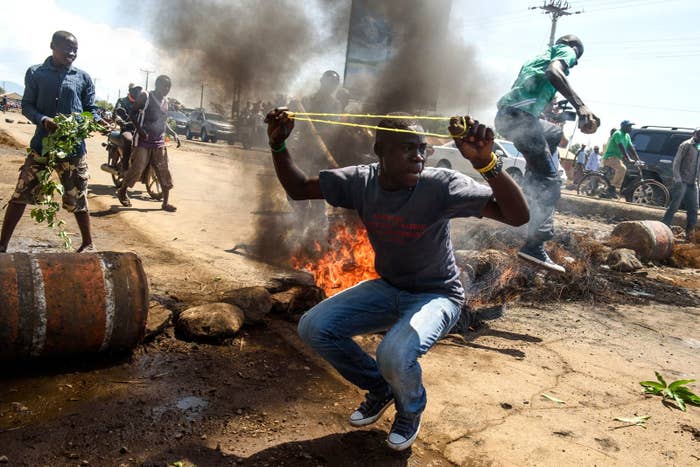 NAIROBI — Kenya's politics plunged deeper into chaos on Wednesday after only two Supreme Court justices showed up to a hearing on whether or not to delay the presidential election less than 24 hours before polls are set to open throughout the country.
Kenya's Supreme Court chief justice David Maraga said he was forced to adjourn the ruling because the minimum number of judges required to hear the petition had not been met — the deputy chief justice's bodyguard was shot Tuesday night while another judge was unable to get on a flight back to Nairobi in time for the hearing. According to local TV reports, a third judge was sick and unable to appear in court, while two judges did not give reasons for their absence.
Kenya's historic election rerun resulted from an earlier Supreme Court ruling that nullified its Aug. 8 elections based on what it called "irregularities and illegalities" throughout the voting process. Now, on the eve of its scheduled reelection, the country finds itself still wracked with uncertainty as tensions between the two major parties reach a boiling point.
Tuesday afternoon, Kenya's Supreme Court agreed to review a petition submitted by three Kenyans, including one human rights activist, imploring judges to halt the Oct. 26 fresh elections, arguing that the Independent Electoral and Boundaries Commission (IEBC) could not promise that the vote would be fair or credible.
But ahead of Maraga's announcement on Wednesday, another judge passed a key decision that cast more doubt on the credibility of the rescheduled elections. High court justice George Odunga ruled that the process by which the electoral commission had appointed its returning officers for Thursday's vote had violated the country's Elections Act, and was therefore illegal.
The electoral commission has since turned down the order following Odunga's ruling.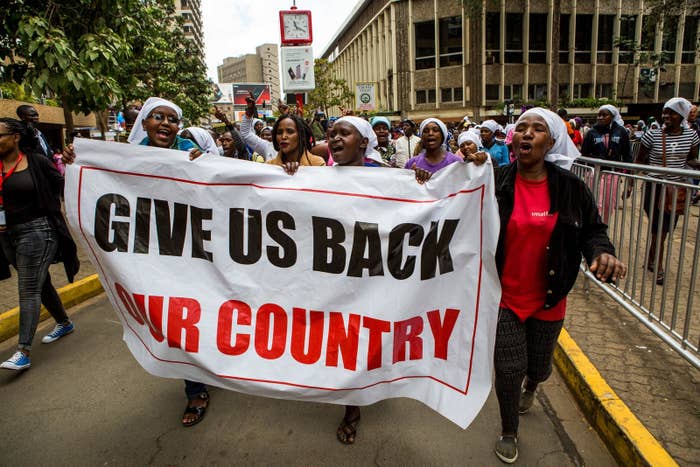 For all of the escalating scandal that surrounded the Aug. 8 election — which peaked with the mysterious murder of electoral commission IT expert Chris Msando — the drama leading up to the new elections has been even more confounding.
Earlier this month, just over two weeks before Kenyans would return to the polls to vote for a new president, opposition leader Raila Odinga dropped out of the race, saying that the electoral commission had not met his party's demands to ensure that the vote would be carried out fairly.
But in order to have his withdrawal legally recognized, Odinga was required by law to sign an official form. Odinga refused to sign it. Andrew Limo, the spokesperson for the electoral commission, confirmed to BuzzFeed News that all eight presidential candidates from the previous election, including Odinga, would appear on Thursday's ballot.
After the Supreme Court said judges had failed to show up to rule over delaying the vote, supporters of Odinga took to the streets of Kisumu, the leader's stronghold in western Kenya. Odinga has called for a "resistance movement" and asked his supporters to boycott the elections on Thursday.
Last week, electoral commissioner Roselyn Akombe fled to New York City and announced her resignation, a move that cast doubt on the entire commission. In an interview with the BBC, Akombe said she moved to New York out of concern for her safety.
"I have never felt the kind of fear that I felt in my own country," Akombe said. "If you get such messages and you've seen your own staff get that and been murdered, you would really be suicidal to think that nothing would happen to you."
The former commissioner acknowledged that she had received death threats, but that they could have come from either party.
Akombe also mentioned the death of her colleague, Msando, as the reason to fear for her life.
"You are aware that nine days before the last election, our manager in charge of ICT communication, Chris Msando, was brutally murdered. That has never been resolved," she said.
That same day, electoral commission chairman Wafula Chebukati, whose leadership has come under fire in recent months, admitted that he could not promise a fair and credible election on Oct. 26.
"I have made several attempts to make crucial changes, but all my motions have been defeated by a majority of the commissioners. Under such conditions, it is difficult to guarantee free, fair, and credible elections," he said.
Few hours after the Supreme Court agreed to look at the petition urging them to halt Thursday's vote, Deputy Chief Justice Philomena Mwilu's bodyguard was shot and injured Tuesday evening, raising concerns about the justice's safety.
All of the events have taken place against the backdrop of nationwide protests that human rights organizations say have been met with excessive force by law enforcement, resulting in at least 50 police-related civilian deaths since the Aug. 8 polls.
Chebukati's last-minute assurance on Wednesday that the electoral commission had made the necessary changes to ensure a fair election appears to have done little to assuage people's concerns. Officials in at least one county have quit less than 24 hours ahead of the polls opening Thursday morning.