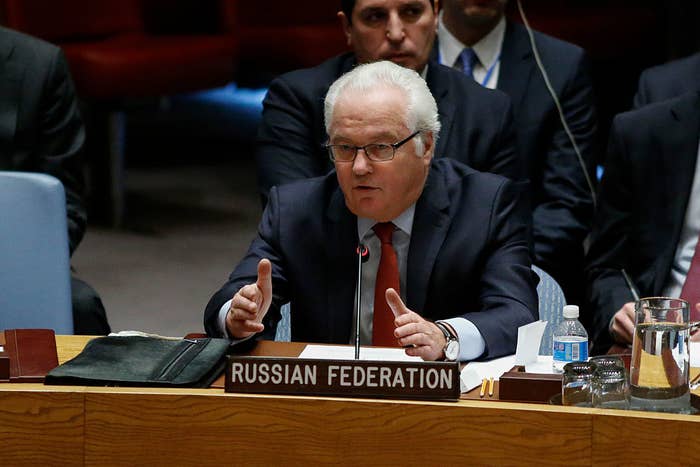 Vitaly Churkin, the Russian ambassador to the United Nations, died on Monday a day before his 65th birthday, the Russian Ministry of Foreign Affairs confirmed in a statement.
Churkin has served as the permanent representative to the UN since 2006. The ministry called him an "outstanding" diplomat, and offered condolences to his friends and family.
The New York Police Department confirmed to BuzzFeed News that officers responded to the Russian Embassy at 9:30 a.m. to assist a man in cardiac arrest, and transported him to New York Presbyterian Hospital.
In a statement Tuesday, President Donald Trump was saddened to learn of the unexpected death of Churkin, who he called "an accomplished diplomat."
"While American officials sometimes disagreed with their Russian counterparts, Ambassador Churkin played a crucial role in working with the United States on a number of key issues to advance global security," Trump said. "The president offers the condolences of the American people to the Russian people and government."

Churkin served as Russian ambassador to Canada, from 1998-2003, and to Belgium from 1994-1998. During the latter position, he was also the liaison ambassador to NATO and the Western European Union.
In his time at the United Nations, Churkin gained a reputation for the sharpness of his words and the linguistic flexibility he possessed both in English and Russian.
Born and raised in Moscow, Churkin's tenure as Russian Ambassador to the UN was marked by his pointed stances on issues ranging from the 2008 crisis in Georgia to the current war in Syria.
In 2009, Churkin vetoed a plan to extend the UN's mission in Georgia during a time the country was in conflict with breakaway regions Abkhazia and South Ossetia. His vote received harsh criticism from the US, who then accused Russia of attempting to topple the Georgian government.
He found in the United States ambassadors to the UN under President Barack Obama — first Susan Rice, then Samantha Power — frequent sparring partners. Russian and western interests diverged sharply on the situations in Libya, Syria, and Ukraine, providing the stage for pointed showdowns between the diplomats.

Other ambassadors, including former US Ambassador to the UN Samantha Power, have begun to share their condolences on Twitter.
Russian Ministry of Foreign Affairs spokesperson Maria Zakharova released a statement on Facebook, calling Churkin an extraordinary person.
A spokesperson for the US Mission to the UN sent BuzzFeed News the following statement on behalf US Ambassador to the UN, Nikki Haley:
In my short time at the United Nations, Ambassador Vitaly Churkin showed himself to be a gracious colleague. We did not always see things the same way, but he unquestionably advocated his country's positions with great skill. We send our prayers and heartfelt condolences to lift up his family and to the Russian people.
This is a developing story. Check back on BuzzFeed News for updates.