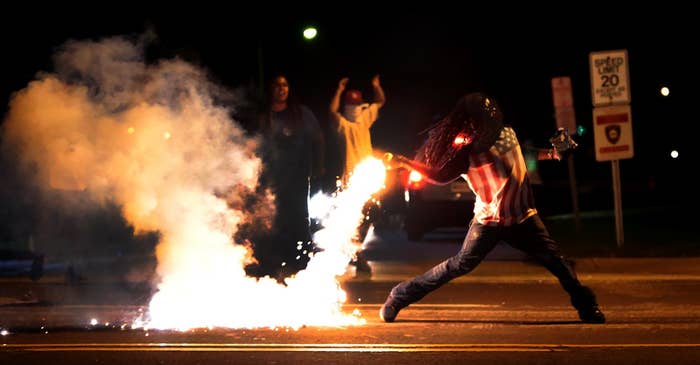 A Ferguson protester featured in the iconic photograph taken during the demonstrations after the fatal police shooting of Michael Brown died late Thursday night of an apparent self-inflicted gunshot wound.
In a report sent to BuzzFeed News, the St. Louis Metropolitan Police Department said that Edward Crawford had been in the backseat of a car with two witnesses on Thursday at 11:46 p.m. when the shooting took place.
"The victim began expressing he was distraught over personal matters to the witnesses," the report read.
"The witnesses heard the victim rummaging in the backseat, then heard a gunshot and observed the victim had sustained a gunshot wound to the head."
Crawford was pronounced dead at the scene, police said. The medical examiner's office has said that the incident "appears to be a suicide," but police note that "the official cause of death is pending the results of an autopsy."
The 27-year-old from University City, Missouri, rose to local fame after the photograph of him hurling a smoking tear gas canister during the Michael Brown protests on Aug. 12 or 13, 2014, went viral. The image was part of the Post-Dispatch's coverage of the Ferguson protests that won it a Pulitzer Prize for breaking news photography in 2015.

On Aug. 3, 2015, however, Crawford was charged with interfering with and assaulting a police officer.
"I didn't throw a burning can back at police," Crawford told the Post-Dispatch in a story that ran Aug. 26. "I threw it out of the way of children."
He also said he hadn't seen where the canister landed or if it hit anyone, but guessed that police were 30 to 40 yards away.
"I can't even throw a baseball that far, let alone a burning can of tear gas," he added.

St. Louis police did not initially share many details about Crawford's death, his father, Edward Crawford Sr., told the Post-Dispatch Friday morning. But he does not believe his son's death was intentional.
"I don't believe it was a suicide," he said, adding that investigators were "being hush-hush."
Crawford Sr. said he had last seen his son on Wednesday, and added that he was in good spirits.

"He just got a new apartment and was training for a new job," he said.
People on Twitter have begun to express their condolences about Crawford's death, calling him a local hero and a person who demonstrated "astounding courage" in a moment of crisis.
Crawford is the second Ferguson protester to be found dead. On Sept. 6, 2016, Darren Seals was found dead in a burning car.
Police later discovered that Seals had been shot, and investigated the case as a homicide. Seals rose to prominence as an activist in Ferguson after Brown was killed.