The Limo Set On Fire During The Inauguration Protests Belonged To An Immigrant
"They have all the right to go out and protest and have their voice heard, but destroying property does not do anything better," the owner said. A spokesperson for the DC Fire Department told BuzzFeed News that the vehicle "was a total loss."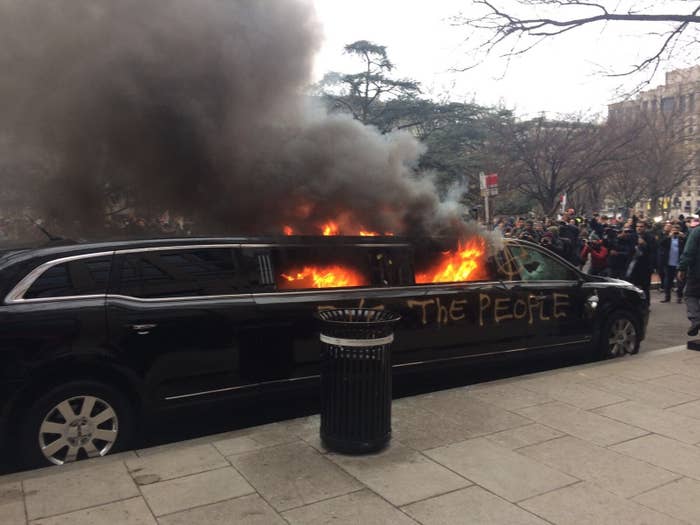 The limousine set on fire by protesters during President Trump's inauguration on Friday belonged to a Muslim immigrant who told BuzzFeed News he is now struggling to cover tens of thousands of dollars lost in the damage.
Muhammad Ashraf, the owner of Nationwide Chauffeured Services, told BuzzFeed News he had been looking forward to an uptick in business during and after the presidential inauguration, but now estimates he could lose somewhere between $70,000 and $100,000 because of the fire.
"They have all the right to go out and protest and have their voice heard, but destroying property does not do anything better," he said.
More than 200 people were arrested that day and charged with rioting.

Ashraf, who has been in business for about 25 years, said he is used to seeing protests in the city, but never worried one of his vehicles would be damaged in the protests.
"Never something like this, never," he said.
The total amount of damages to the limousine remains unknown, but a spokesperson for the DC Fire Department told BuzzFeed News that the vehicle "was a total loss."
Besides the damage to the vehicle, Ashraf said he will also be losing money from the events that had already been booked with the now-destroyed limousine. Although January is often a quiet month for business, he said the week of and following a presidential inauguration, he might book an average six events a week.
The limo driver, Luis Villaroal, recalled the incident to Fox 5 in DC.
"Then they went and smashed another window of the SUV that was behind me. When I opened the door, I saw a small flame already on the carpet. I step on it, pull it off, take the flare out, smash it on the floor and that's it," he added.
Days after the inauguration, Ashraf said Villaroal started receiving harassing phone calls after he was identified as the driver. Some of the callers accuse Villaroal of being a Trump supporter, but Ashraf said the driver was just there on a job.
Villaroal escaped without any serious injuries, is still shaken up by the incident, Ashraf said. He received a cut on his had from a rock thrown at the limo.

He's hoping he can give Villaroal a couple of days off so he can "be back in his comfort zone and shrug this off."

"Instead of being sympathizing to him, they're calling him dummy for being on the street," Ashraf said. "How the hell are you obnoxious and hateful to someone who was victimized?"

Ashraf said he knows people had a right to protest, but is sad that it turned violent.

"It affects people's lives and their livelihood," he said. "They have all the right to go out and protest and have their voice heard, but destroying property does not do anything better."
Ashraf said he did not want to share his political views because he did not believe his company or his driver were targeted because of it. He pointed to protests held Saturday and how there was no violence during those demonstrations.
"It was the same way, just peaceful," he said. "People's voices were heard. The point you want to make you make, and then you move on."
The DC Metro Police said in a statement Friday that an organized group had committed numerous acts of vandalism that had taken place on Friday.

"More specifically, the group damaged vehicles, destroyed property of multiple businesses, and ignited smaller isolated fires while armed with crowbars, hammers, and asps," the statement read.
The police department did not have any additional information about the limo on Tuesday.
A GoFundMe page has been set up to account for some of the loss suffered by the damaged vehicle. At the time of publication, the effort had earned about $7,200 towards its goal of $20,000.
Ashraf said he had been in contact with the organizers of the page, another limo service from Florida, and thanked them for their help. He had never spoken to them before the fundraiser was started.
The funds may not cover all his losses, he said, but any amount would help his business he said.
"I called them twice, just to show my appreciation, no matter the fund they bring," he said. "It was nice of them, to do that for someone who never knew them, and for someone to have that heart."