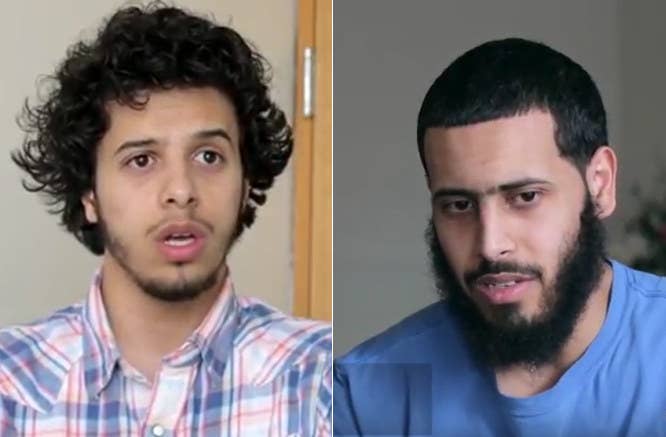 The Council on Islamic-American Relations (CAIR) on Tuesday filed two lawsuits — one a class-action — against the federal government for placing citizens on its terror watch lists without due process.
One 4-year-old plaintiff, identified as Baby Doe, was "seven months old when his boarding pass was first stamped with the 'SSSS' designation, indicating that he had been designated as a 'known or suspected terrorist,'" one suit, filed in the Eastern District of Virginia, said.
"While passing through airport security, he was subjected to extensive searches, pat downs, and chemical testing," the suit said.
CAIR legal director Lena Masri told BuzzFeed News that the lawsuits were filed on behalf of the "thousands upon thousands of Muslims" placed on watch lists. The class action suit seeks monetary compensation. Another suit demands the plaintiffs are removed from the lists; a court ruling that the watch lists are unconstitutional; and official notice when people are placed on watch lists and an explanation.
"The terrorism watch lists are premised on the false notion that the government can somehow accurately predict whether an innocent American citizen will commit a crime in the future based on religious affiliation or First Amendment activities," Masri said in a statement.
The lawsuits state that the FBI and Justice Department nominated 227,932 people to the watch list in 2009. In 2013, that number more than doubled to 468,749. Citizens are not notified that they have been placed on the watch list, and often only realize it when, as the lawsuit notes, "they feel the web of consequences burdening their lives and aspirations."
The lawsuits also state that Dearborn, Michigan, a city of fewer than 100,000 people that has a prominent Muslim community, "contains the second-highest concentration of Americans on the federal government's watch list."
According to the website maintained by the federal government's Information Sharing Environment — created by federal law in 2004 — the Terrorist Screening Center's watch list "supports the ability of front line screening agencies to positively identify known or suspected terrorists trying to obtain visas, enter the country, board aircraft, or engage in other activity."
The description goes on to note that the TSC is "dedicated to ensuring the data it stores is maintained in a manner consistent with protecting the privacy and civil liberties of Americans."
The lawsuits include testimony from each plaintiff's experience being on a list, detailing alleged efforts to recruit informants and detainment inside cells in what the suit calls unlivable conditions.
Osama Ahmed, from Wayne County, Michigan, was 18 years old when he was stopped at Detroit Metropolitan Airport in February or March 2011. Federal agents confiscated his cell phone and USB drive and subjected him to six or seven hours of interviews without granting him a phone call, according to the lawsuits.
A few days after he was released, federal agents showed up at his home.
In a video recorded by CAIR, Ahmed said the agents asked to interview him alone. They took him to a Mongolian BBQ restaurant, and tried to convince him to work overseas with the federal government as an informant.
"They were telling me stuff like, 'We'll teach you how to skydive,' and, 'You can use whatever weapon you want,'" he said.
"It made me feel betrayed by my own country that I was born and raised in," he added. "I just wanted my name off that list."
According to the lawsuit, Anas Elhady, 22, is "routinely referred to secondary inspection, handcuffed and detained" by U.S. Customs and Border Protection (CPB) when he attempts to re-enter the country from Canada.
In May 2015, Elhady was detained for six hours at a border stop at the Bridge Port Entry of Detroit.
"After the CPB officers confiscated Mr. Elhady's jacket and shoes, they detained him in a small, freezing cold holding cell with bright lights," the lawsuit reads.
He eventually lost consciousness, and officers called an ambulance to take him to the hospital.
Elhady was handcuffed to the stretcher. A nurse asked him why his lips had turned blue, and when he told her, she approached one of the border protection agents.
"He shut her down," Elhady said. "He told her to shut up."
"The government has engaged in a decade-long delusion that being placed on a watch list is not a big deal," Gadeir Abbas, one of the attorneys representing the plaintiffs, told the AP. "The goal is for the watch-listing to affect every aspect of these people's lives."
BuzzFeed News has reached out to the FBI for more comment.
Read the lawsuits here.