T-Shirt Sold At Law Enforcement Convention Claims "Black Rifles Matter"
The creator of the shirt told BuzzFeed News that the similarity it has to the Black Lives Matter movement was "unintentional."
A clothing company based in Southern California made a t-shirt, which is being sold at a police convention in the Bay Area, emblazoned with the phrase "Black Rifles Matter."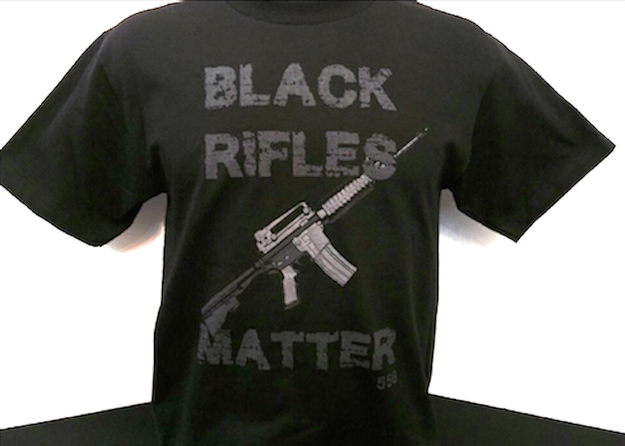 Elephant Hunter Clothing, described as a destination for "pro law enforcement" apparel, set up shop at Urban Shield, a four-day law enforcement convention which began in Pleasanton on Friday.
The phrase bears a striking resemblance to Black Lives Matter, a social movement established by three black activists in response to police treatment of black people in the United States.
But Chuck Garcia, who designed the t-shirt, told BuzzFeed News that the reference was not purposeful.
"It wasn't intentional," he said. "All lives matter."
Garcia said that he created the shirt in response to California's Assault Weapons Control Act, established in 2000, which made it illegal to sell, manufacture, or import AR-15 rifles.
The term "black rifles" is a more casual, broad categorization for the weapons, according to a representative of Sacramento Black Rifle weapons shop.
Garcia told BuzzFeed News that he designed the shirt two weeks ago, adding that it was not a top-seller at the convention.
When asked what inspired him to use that particular wording, given that there has been legislation in California against the weapons for 15 years, he told BuzzFeed News: "They're just always trying to ban assault rifles. People want to keep their rights to bear arms."
h/t SF Weekly