After a procedure that lasted more than 16 hours, surgeons in New York City have successfully separated 13-month-old twin boys who were born conjoined at the head.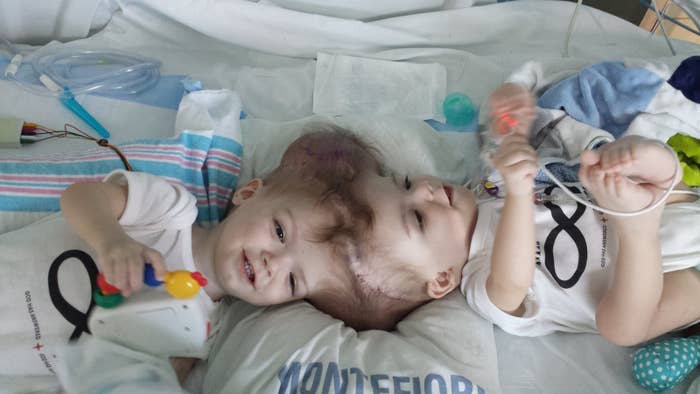 Only 59 craniopagus surgeries — defined as operations that separate people joined at the cranium — have been performed in the world since 1952.
Twin boys Anias and Jadon McDonald had already undergone three surgeries leading up to the skull separation procedure, which began Thursday at 9:45 a.m at Montefiore Hospital in the Bronx.
Their parents, Nicole and Christian McDonald, granted CNN exclusive access to the procedure.
"When we sent them off this morning, to me, I felt at peace with it and just ready to handle what comes after," said Nicole, a former pediatric physical therapist who recently quit her job to care for her sons.
She and Christian have another son, a 3-year-old named Aza, who joined his brothers before the surgery.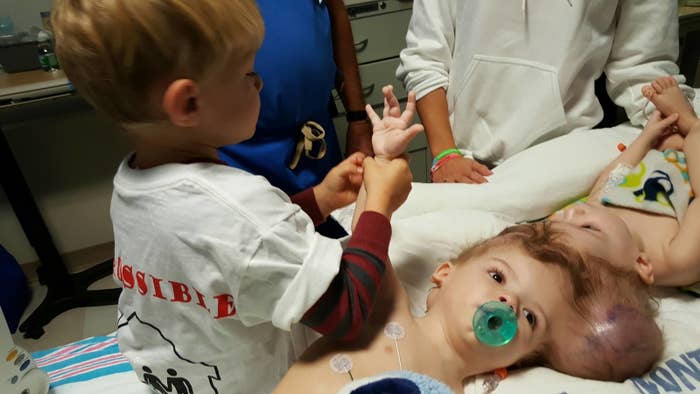 Dr. James Goodrich was the lead surgeon in the procedure. He had had previously performed six other craniopagus surgeries around the world, including in Syria and Saudi Arabia. In all of his operations, both of the conjoined twins survived.
Doctors told CNN that the primary concern about the surgery was massive blood loss, which could easily happen if they made too deep an incision into the boys' shared blood vessels during the last phase of the operation.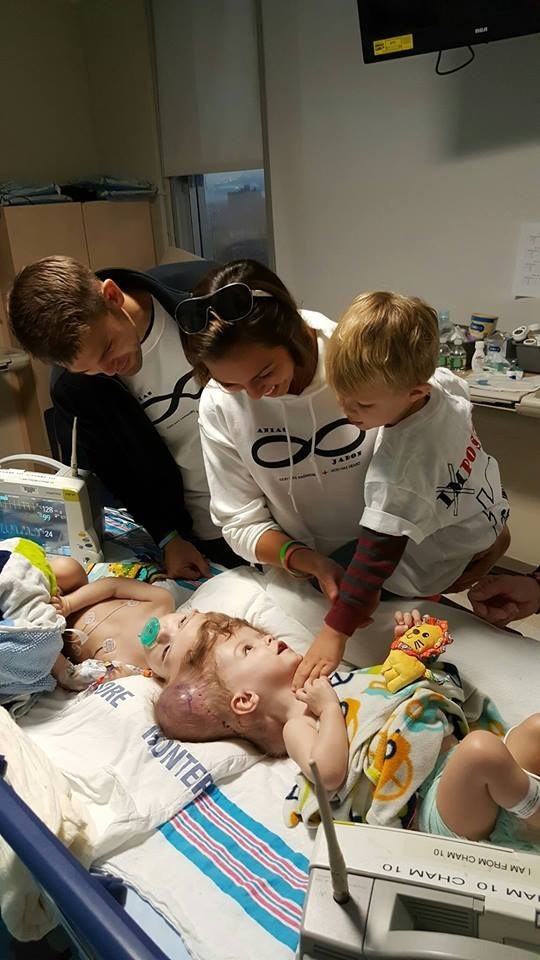 Throughout the whole procedure, which ended at 2:11 a.m. Friday, Dr. Goodrich took one 20-minute break to eat.
Despite relief that the surgery was successful, the McDonald family continues to worry about Anias and Jadon's health. They are currently undergoing procedures as individuals to repair their skulls.
In a Facebook status posted a few hours after the surgery ended, Nicole wrote, "It's a bit surreal to sit here and type this...I should feel so happy...TWO SEPARATE BABIES!!!...and yet I ache with the uncertainty of the future."
She added the Anias had struggled through the surgery more than his brother, Jadon; doctors had to put him on medication to stabilize his heart rate and blood pressure, which had dropped during the surgery.
"In fact, I'm pretty sure I'm still frozen in space and time...in the smiles of yesterday morning," she wrote. "I'll be hanging out there until I see those smiles again."

In a statement, a Montefiore Hospital spokesperson said that the twins "are recovering in CHAM's [Children's Hospital at Montefiore] Pediatric Critical Care Unit and they have a long road of recovery and rehabilitation ahead of them.
"The entire Montefiore community is grateful for the trust the family has put in our dedicated and pioneering team," the spokesperson said.