A suicide blast in Medina, Saudi Arabia — the third to occur in the country Monday — erupted near one of the holiest sites in Islam.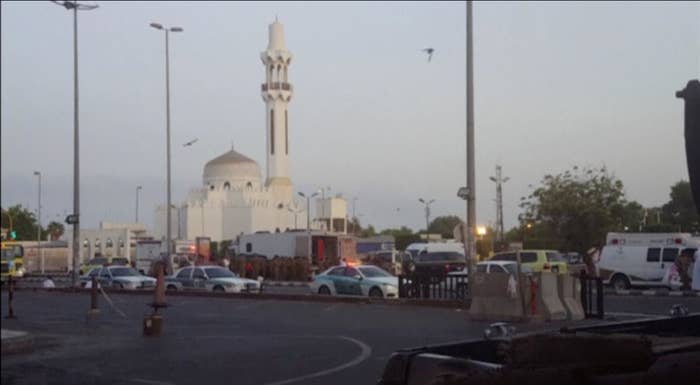 A Saudi official told the Associated Press that four security officers have been killed and five people wounded from the blast.

This video appears to show the immediate aftermath of the explosion in Medina.
The mosque is where the Prophet Muhammad is buried and a popular destination for Muslims making pilgrimages to Mecca.
Thousands of worshippers gathered to pray inside the mosque a few hours after the bombing, according to the AP, who cited Saudi state-run news agency al-Ekhbariya.

The video also reportedly showed Saudi King Salman's son and the governor of Medina, Prince Faisal bin Salman, traveling to the site of the explosion and visiting the five security officers wounded in the blast.
Two other blasts took place in the Saudi cities of Jeddah and Qatif respectively, where many Shiite Muslims live. The Jeddah bombing wounded two security officers.
Officials are still working to determine the number of casualties in the Qatif incident. Mohammad al-Nimr, the brother of slain Shiite minority leader Nimr Baqer al-Nimr, told the AP that the Qatif bomber detonated his vest while most families were at home breaking their fast for Ramadan.
One Saudi official told Reuters that the bomber in Jeddah parked a car near the U.S. Consulate there before detonating the device.
This is a developing story. Check back for updates and follow BuzzFeed News on Twitter.‏