On Nov. 11, 2015, Jesse Sandler bought four tickets on StubHub, the online ticket reselling marketplace, to an April 13, 2016, basketball game between the Los Angeles Lakers and the Utah Jazz. He had a feeling it would be Kobe Bryant's last game.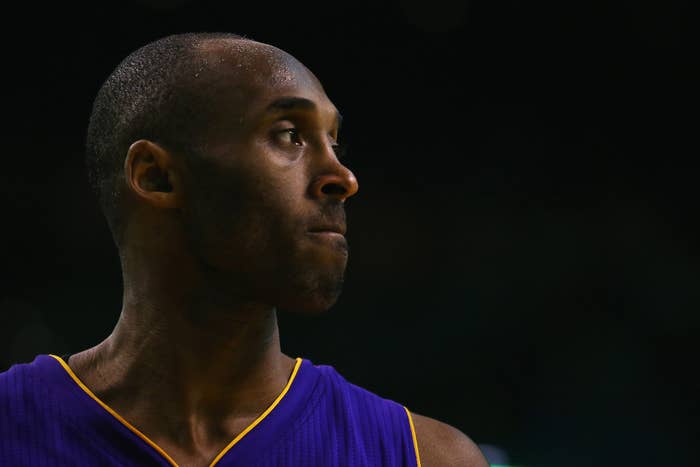 Sandler, a Santa Monica native and lifelong Lakers fan, told BuzzFeed News each ticket cost $195.89.
When the five-time NBA champion announced his retirement 18 days after he made the purchase, the price for tickets in the same section surged astronomically on StubHub to more than $1,490 each, an increase of 664%.
On Dec. 15, three weeks after Bryant's retirement announcement, StubHub emailed Sandler informing him that his tickets had been canceled because they were incorrectly priced.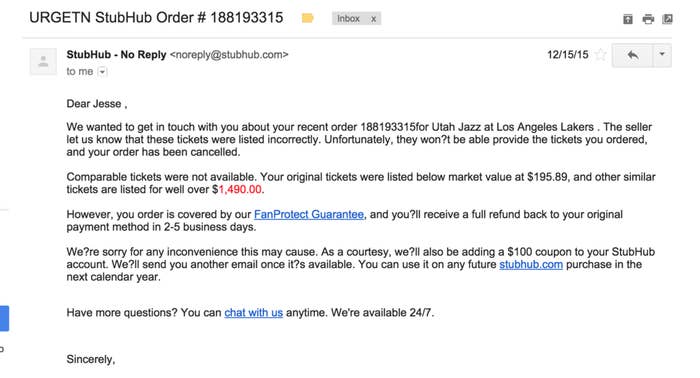 The typo-ridden email said the seller had decided the original price was "listed incorrectly":
The seller let us know that these tickets were listed incorrectly. Unfortunately, they won?t be able provide the tickets you ordered, and your order has been canceled.

...

We?re sorry for any inconvenience this may cause. As a courtesy, we?ll also be adding a $100 coupon to your StubHub account.
Hours later, he received the first of several StubHub vouchers for the cancellation.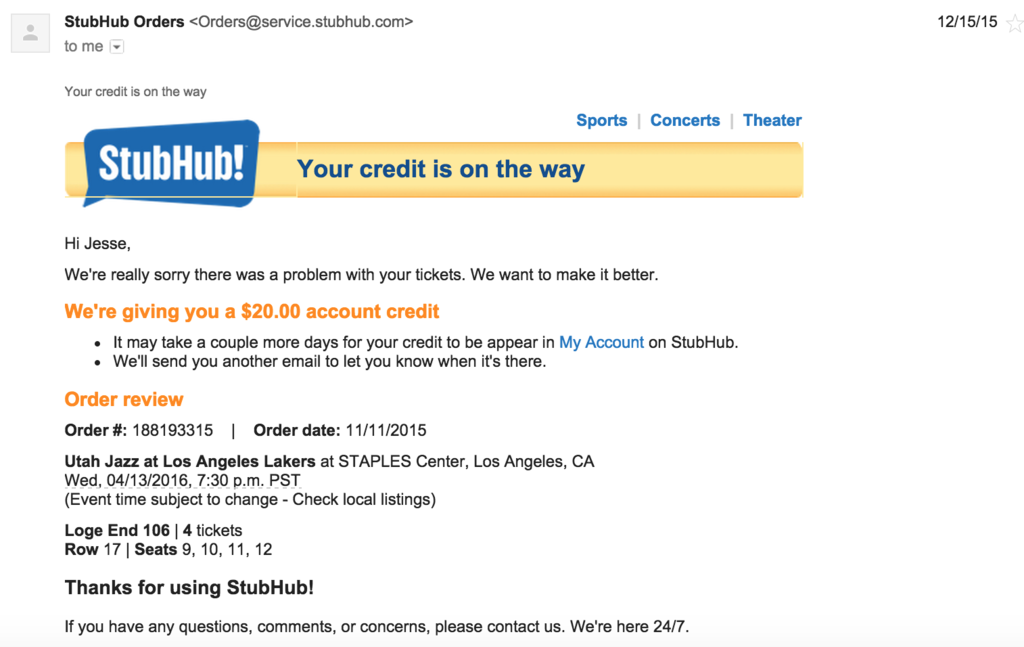 "My jaw was on the floor," Sandler, 32, told BuzzFeed News. "It was upsetting."
He emailed StubHub back, calling the move "an atrocity" and saying when he bought them, the tickets were at a fair market value. Sandler wrote "not only we do we not have the tickets, but we are also unable to afford tickets to the game."

The next day, he received another email from a StubHub employee telling him there was nothing they could do, and that they could not replace his tickets because there were none available at a comparable price.

Sandler said after several conversations with the company over the next two weeks, he earned $1,100 in StubHub vouchers, less than the cost of one ticket to Bryant's last game at the adjusted market price.
"The most important thing to me was getting to the game," he said, having expressed to StubHub he was less concerned about the money than he was about having to cancel the plans with his friends to see such a historic game.
The Lead Sports published his story on Jan. 6, sparking a strong response from the sports community. Several people share similar experiences of losing tickets to StubHub following a valuation change.





The social media outcry led to several offers of replacement tickets, including from Budweiser, who issued a call on Twitter to track down Sandler.
Eventually, Sandler accepted tickets from a StubHub rival, Tickets For Less.
StubHub sent the following statement to BuzzFeed News regarding the incident, saying "frankly, this situation was not handled correctly":
All of our buyers are protected by our Fan Protect Guarantee. Frankly, this situation was not handled correctly and Jesse should have received tickets to the game. We tried to reach out to him most of yesterday and this morning to make this situation right and get him to Kobe's last home game. As a marketplace that oversees thousands of transactions a day, buyer and seller errors can occur. The reality is that these instances happen less than 1% of the time. When these instances do occur, oftentimes we are able to purchase comparable tickets for the buyer. That's what should have happened in this instance and the way this buyer was treated was a mistake. We hold our sellers to a very high standard and we don't condone market manipulation.
The company also tweeted an acknowledgement of their mistake after the story was published.
Sandler told BuzzFeed News he received another StubHub email Thursday morning, offering him replacement tickets and an invitation to a fully catered StubHub suite for any future game. "I'm not going to accept out of principle," said Sandler.
"It's not about getting all this stuff, it's about shedding light on a system that's corrupt."