Solange Knowles took to Twitter Friday night to describe an incident at a concert with her family, where she said a group of white women told her to sit down and then proceeded to throw a lime at her when she refused.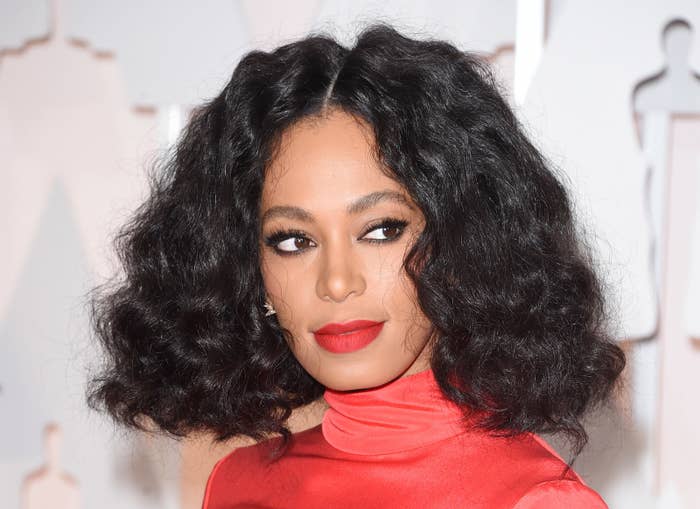 The musician and model premised her story by saying, "Let me tell you about why black girls / women are so angry…"
Knowles had taken her 11-year-old son, his friend, and her husband to see electronic band Kraftwerk perform in New Orleans, where the family lives.
She said that she was "very excited to dance and enjoy a band I love" and to explain to her son that several hip-hop artists have sampled from the German band.
Out of the approximately 1,500 people in attendance that night, Knowles noted that she and her group comprised "4 of about 20 black concert goers" at the venue.
They arrived in the middle of Knowles' favorite song. She started dancing, but said she was quickly told by a group of white women to stop.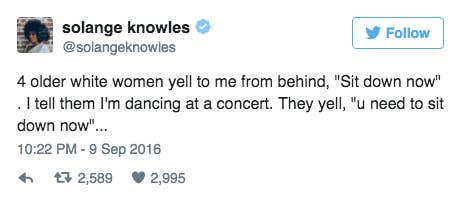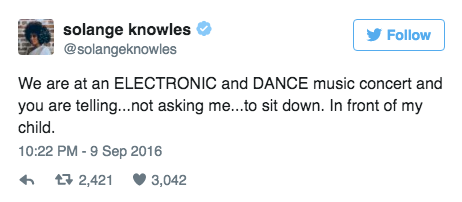 Knowles then said the they "proceeded to throw something at my back." Her son later told her it was a lime.

She explained that she chose to share her experience so "that maybe someone will understand why many of us don't feel safe." She also critiqued what she said was a tendency to "spin" stories about racial discrimination.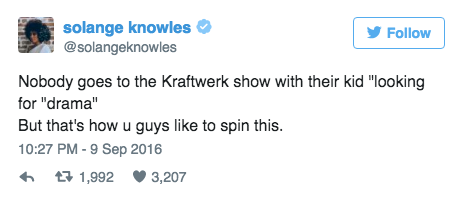 Knowles later indicated she was trying to move on from the drama, tweeting a dark video of herself jamming out.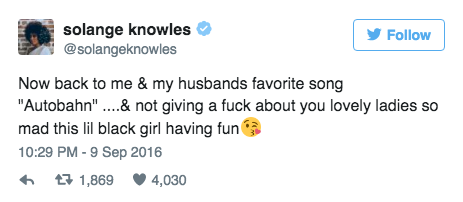 But she returned to Twitter to push back on what she felt was an unspoken "three strikes" rule that people of color face when it comes to speaking out against targeted mistreatment.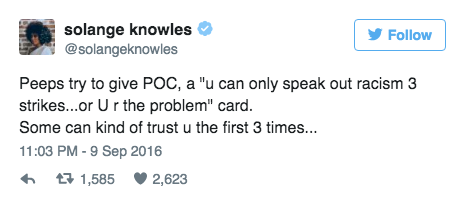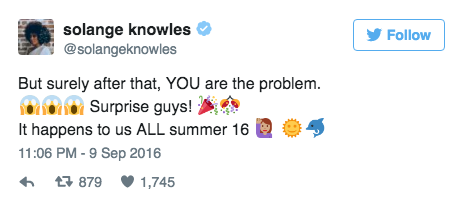 On Sunday, she published an essay on the experience of being a person of color in America and told outright or tacitly that one does not belong.
Knowles wrote it was important for her to share her experience to show solidarity with her followers who have been in a similar situation. She added she felt the media would have covered the story differently had she not been black.

"You realize that you never called these women racists, but people will continuously put those words in your mouth," she wrote. "What you did indeed say is, 'This is why many black people are uncomfortable being in predominately white spaces,' and you still stand true to that."