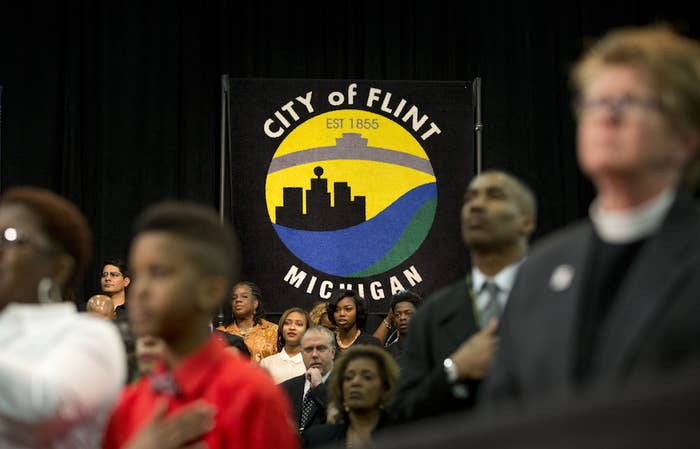 The Michigan attorney general on Friday announced that six state employees have been charged in connection to the Flint water crisis.
The employees "failed to act, minimized harm, and altered data" related to the lead levels in Flint, Michigan, Attorney General Bill Schuette said.

The defendants are Nancy Peeler, Corinne Miller and Robert Scott from the Michigan Department of Health and Human Services and Liane Shekter-Smith, Adam Rosenthal, and Patrick Cook from the Michigan Department of Environmental Quality.

"Their offenses vary, but there's an overall theme and repeated pattern," Schuette said.
He said Peeler, the early childhood health section manager at the DHHS, buried a report about lead levels in Flint children's blood and "produced a bogus report that she and Robert Scott prepared."
Peeler sent that report to Miller, a state epidemiologist, who, Schuette said, "told others not to take action when it was required."
Peeler, Scott, and Miller have been charged misconduct in office, conspiracy, and willful neglect of duty. If found guilty, the misconduct and conspiracy charges are felonies carrying a maximum sentence of five years in prison; willful neglect is a one-year misdemeanor.
Within the Department of Environmental Quality, Schuette said that Cook and Rosenthal ignored reports that Flint's 100-year-old drinking plant was not in compliance with lead and copper rules.
Rosenthal "tampered with results of water testing, instructing that he needed more tests to go in the right direction," Schuette said. "In other words, tests that did not show high levels of lead."
Both have both been charged with misconduct in office, conspiracy, and willful neglect. Rosenthal was also charged for tampering with evidence.
They reported to state Chief of Drinking Water, Shekter-Smith, who "deliberately mislead her superiors" about the severity of the contamination, Schuette said. She has been charged with misconduct in office and willful neglect.
Friday's announcement comes three months after a city worker and two state workers were charged for their part in the water contamination.
The city's decision in April 2014 to switch water sources from Detroit to Flint severely infected the city's pipes and forced residents of the small Michigan city to rely on government-supplied water since January 2016.