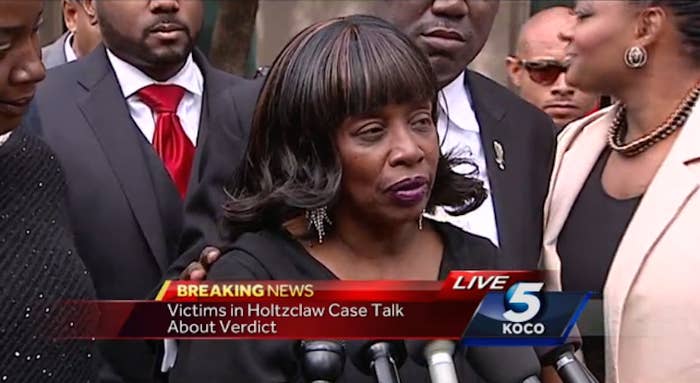 One day after a jury in Oklahoma found ex-police officer Daniel Holtzclaw guilty of multiple counts of rape, two of his victims spoke publicly Friday about their experiences for the first time.
Benjamin Crump, who represents the two women who addressed reporters, credited one of them, known during the trial as J.L., with being the first victim to bring her case to police after Holtzclaw pulled her over in June 2014 for allegedly swerving.
J.L. recounted how Holtzclaw "fondled" her after pulling her over that night.
"I was out there alone and helpless, didn't know what to do," she told reporters. "All I could think was that he was going to shoot me, and kill me."
She added that while Holtzclaw's name tag was in sight during the assault, she was afraid that he would kill her if he caught her looking at it.
"Please don't make me do this, sir," she recalled telling the officer.
In all, 13 women ended up accusing Holtzclaw of similar sexual assault. Of those, six had their charges fully convicted by the jury on Thursday — a result that was sparked by the J.L.'s reaction to that stop in 2014. As soon as J.L. got home the night of her assault, she told her daughter what happened and they went to the police.
"He just picked the wrong lady to stop that night," she said.
After the assault, J.L. said she sought therapy for the trauma, adding that she also suffered a stroke because of the experience.
"I wasn't a criminal, I have no record, I didn't do anything wrong," she said.
In addition to the first- and second-degree rape charges, Holtzclaw was found guilty of sexual battery, procuring lewd exhibition, and forcible oral sodomy. Of the 36 counts brought against him, he was found guilty of 18.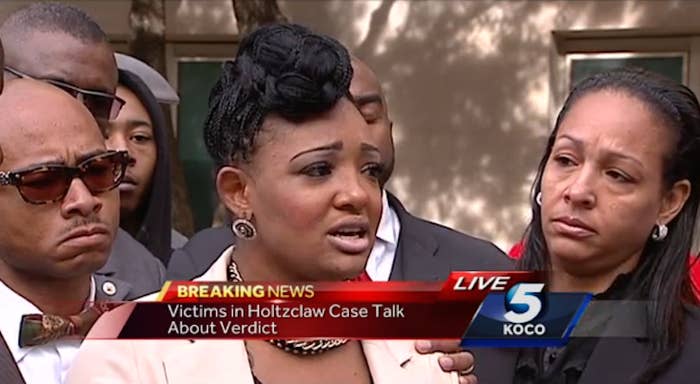 The other victim, known as S.H., stood with her parents on either side of her as she recalled the night of her assault. Holtzclaw arrested her in December 2013, and then transported her to a hospital "on the whole other side of town."
S.H. said nobody checked on her after she arrived and was handcuffed to a hospital bed.
"He manipulated me," she said of Holtzclaw. "I just couldn't even believe it. I was speechless, I was scared."
She paused to collect herself.
"I felt like I was in survivor mode. I had to do what he was making me do, so..."
Crump described the case as "the biggest rape case that none of them had heard about," referring to national media outlets that did not immediately begin covering the story when Holtzclaw was arrested.
Local activist Grace Franklin, who co-founded OKC Artists for Justice, said that while her organization was pleased with the 18 guilty verdicts, it remained unsettled by the lack of convictions for the others.
"Five women did not receive justice," she said. "There is a tendency not to believe black women, disenfranchised women. There is a tendency not to value them in the way that other woman are."
Franklin's sentiment of dissatisfaction was echoed by S.H.'s father, who added that more law enforcement officers and administrators needed to be held accountable for the crimes Holtzclaw committed.
"I don't understand how this officer could operate without this going noticed by someone above him," he said. "We are not being rocked to sleep because of this verdict."