Seven Reports Of Rape In Marines Unit Focused On Integrating Women
The alleged assaults were reported in a survey conducted by the Marine Corps which was obtained by the Washington Post.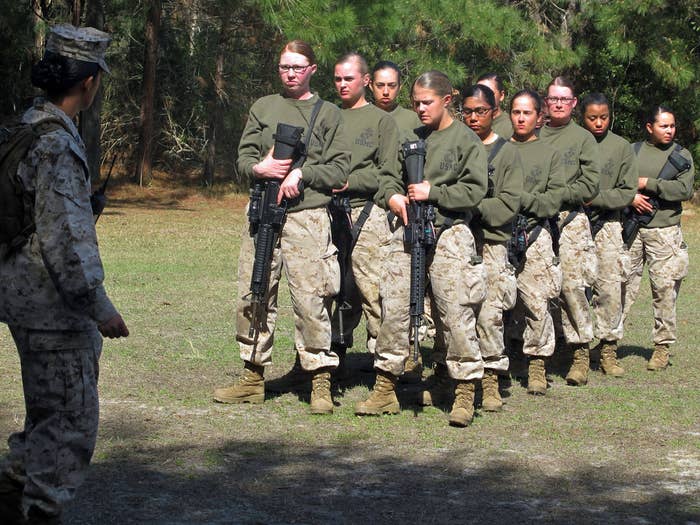 At least seven reports of sexual assault were recorded in a unit of the Marines specifically established to research ways to integrate women, according to a report by the Marines first obtained by the Washington Post.
The Analysis of the Integration of Female Marines into Ground Combat Arms and Units included several reports of sexual assault by members of the Ground Combat Element Integrated Task Force (ITF), as well as performance comparisons between men and women within the unit.
The ITF was established in October 2014 and consists of 100 women and 300 men. They have been deployed over the past four months to stations in North Carolina and California for training while researchers studied the effects of the gender integration.
According to the report, one service member formally reported a sexual assault, and six filed anonymously. It is unclear whether the attacks took place after the ITF was created.
A statement by the Marine Corps sent to BuzzFeed News pointed out that because of certain missing details, "it's impossible to tell if the sexual assaults they experienced occurred at the ITF, while on liberty or leave, or at a prior unit" without violating Marine confidentiality.
The statement maintained that the "behavior—whether on duty, on liberty, or online—is not in keeping with our core values and is detrimental to victims and to unit cohesion and readiness."
Compared to the overall record of sexual assault reports in the Marines, researchers found that Marines' histories of sexual assault were on par with that of the rest of the military, but the attacks "reported during the life of the ITF were at a rate slightly higher than those experienced in other military populations."
Considering the effect of gender integration on the frequency of sexual assault cases, the analysis suggested that while "occurrences of both sexual harassment and assault were reported in the ITF, there is no basis to assume that integration will change the overall rate of these activities in the Marine Corps."
The Marines report focused broadly on the impact of gender inclusion with regards to overall unit performance. The Marines published a shorter report on the same topic in September that attracted attention for its findings that women in ground units were injured more often and shot less accurately than men.
Read the full report here.
Download PDF