Sandra Bland's Mother Says Texas Trooper Indictment "Makes No Difference"
Bland's family members said they are still waiting for details from the day the 28-year-old was arrested for an alleged traffic violation.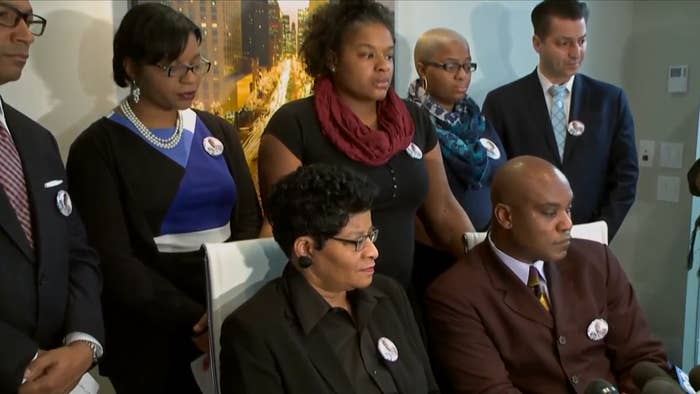 The day after a grand jury indicted Texas State Trooper Brian Encinia for allegedly lying about his arrest of 28-year-old Sandra Bland, her family spoke out about the impact the ruling has had on their quest for justice and announced plans to depose Encinia.
Geneva Reed-Veal, Bland's mother, said during a press conference Thursday that Encinia's indictment made "no difference" to her.
"An indictment needs to be followed up by a conviction," she said.
On Wednesday night, a grand jury charged Encinia with perjuring his account of the events that took place during Bland's arrest on July 10 for an alleged traffic violation. His claims of trying to de-escalate the encounter, which at one point moved outside the range of his vehicle's dash cam, were found to be false.
The Texas Department of Public Safety has already begun his termination process.
Reed-Veal talked about the difficulty of mourning her daughter's death when there were still so many unanswered questions about the events that led up to it. She charged Texas law enforcement with deliberately withholding information from her, forcing her to rely on the media for updates.
"To this day, I still don't have my daughter's belongings" from the day she was detained, she said.
Cannon Lambert, the family's attorney, said that the perjury charge against Encinia may help their civil lawsuit. He added that he plans to depose him in order to gain further insight into the arrest.
He added that the family is fully prepared to accept the reality of Bland's death, which has been ruled a suicide. But until they receive all of the necessary information, including the initial police report from the July 10 incident, they are forced to remain in a place of uncertainty.
"My daughter is gone, and people are expecting me to be nice about it," Reed-Veal said.
If convicted, Encinia faces up to a year in jail and a $4,000 fine.
On Dec. 21, a grand jury decided not to indict anyone for Bland's death.