Nearly every year, homecoming at Prairie View A&M University, a historically black college in Texas, begins with a morning parade through campus. The procession is studded with floats honoring anointed royalty, performances from high school marching bands, and displays from local farmers and their families, fitting for the school's focus on agricultural and mechanical vocations. They ride their horses down the street, the animals' braided tails fastened with purple and gold ribbon. But this year, everything that usually follows the parade was different from past homecomings.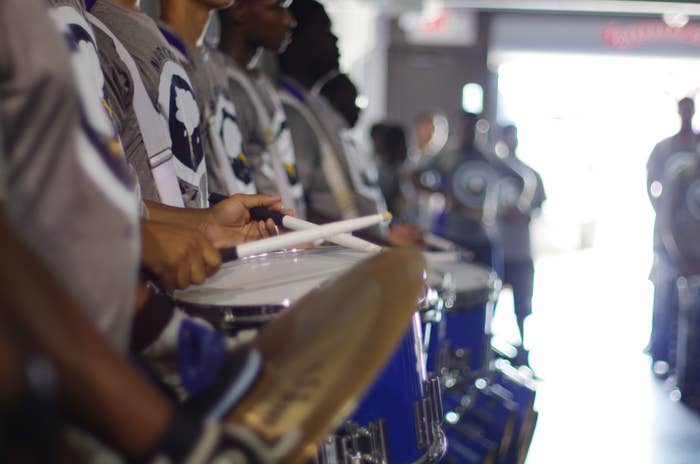 For one thing, the harmonious combination of football-watching and tailgating strayed from the standard rhythm. The university's stadium is under construction, so the game was held at the high school in Waller, a predominantly white town about six miles away. This split the crowd in two for the afternoon. Those who left to watch the game eventually returned to a tailgate party in full swing back on campus, while others who forewent the game got a head start grilling hot links and migrating in clusters across the sprawling field behind the school to catch up with former classmates.
But for Teri Saunders, who graduated from Prairie View in 2013, the decision not to attend the football game was strictly political. She stood outside the orange camping tent she and her husband set up at the tailgate, gently bouncing her 7-month-old son on her hip. Surrounding her was a display of the T-shirts she and her husband print and sell. Nestled among designs that boasted Prairie View school pride was a yellow shirt printed with a purple hashtag emblazoned across the chest: #SandraBland.
Saunders tried to sway friends and other passersby — noting that the Sandra Bland shirt was $5 less than the Prairie View pride ones — but friends only returned sympathetic smiles. She remained warm, her disposition faltering only if she discovered one of her friends was on their way to the game. "Don't give your money to Waller!" she pleaded as they passed. (Prairie View A&M paid Waller High to use the facilities, but no portion of the ticket sales was pocketed by the school.)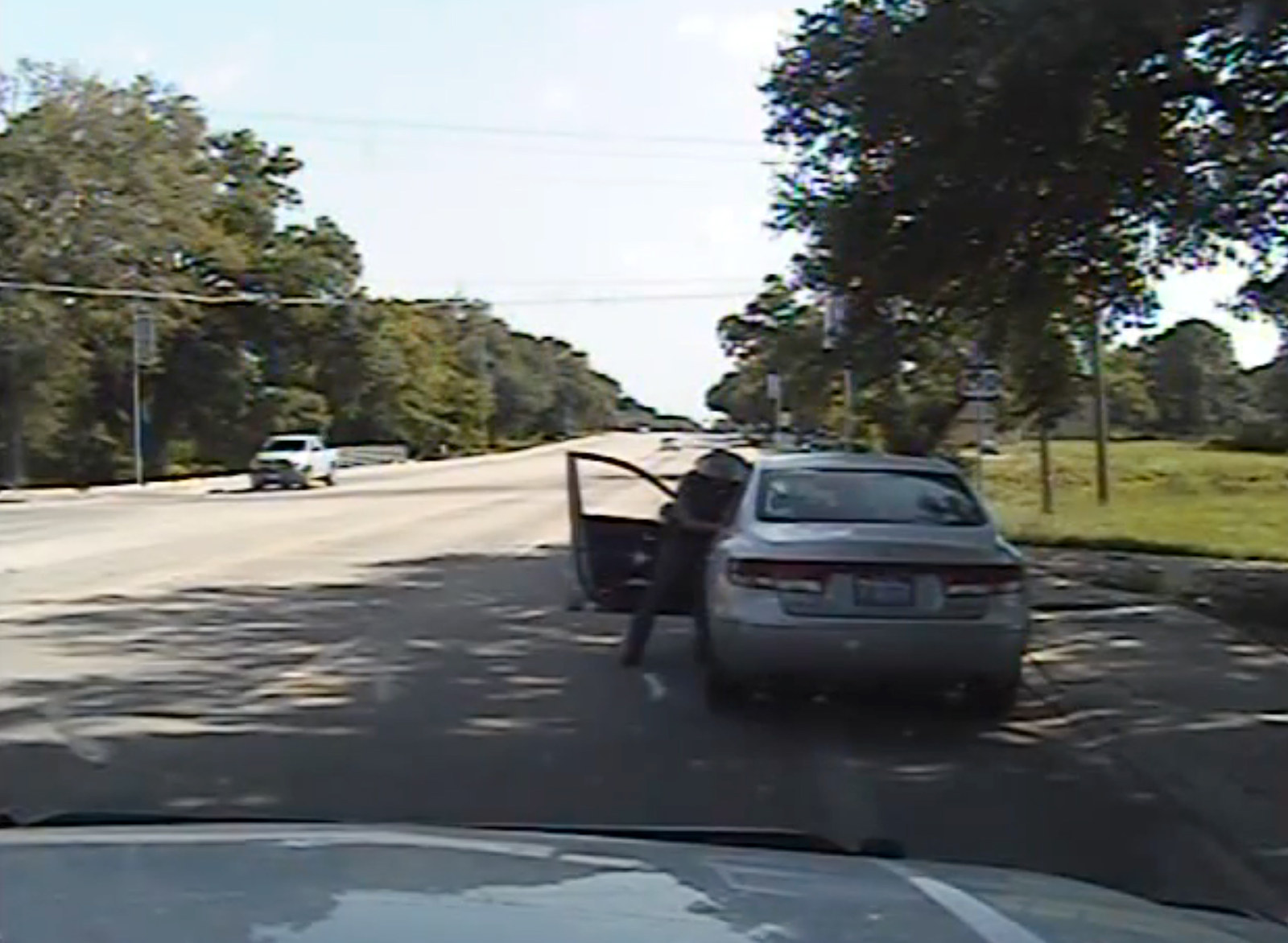 When 28-year-old Bland was found dead in a jail cell at the Waller County Sheriff's Office on July 13 after a traffic violation resulted in her arrest, Waller County — which includes the predominantly black Prairie View — was shoved into the national spotlight as another example of the unequal treatment of black people by law enforcement. The most egregious aspects of her traffic stop and subsequent arrest on University Drive — the escalating verbal exchange between her and Texas State Trooper Brian Encinia; his aiming a Taser into her car, threatening, "I will light you up!"; and Bland's physical detainment, which took place outside the scope of the police dashcam and involved another officer — have been documented, repackaged, and viewed millions of times. That Bland was a Prairie View A&M alum and was heading back to the university to join its staff made her death, which was ruled a suicide, even more deeply felt by Prairie View residents.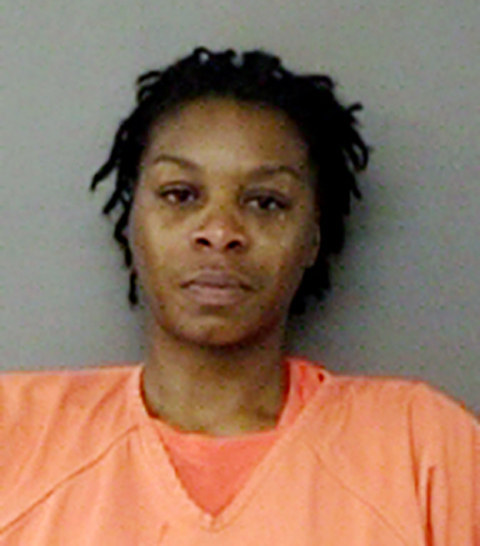 Since then, a coalition of seven of Bland's friends and supporters, including Saunders, has tried tirelessly to pave the way for lasting change in the Prairie View community. Collectively, they live in Waller County, Houston, Austin, and Dallas. Before Bland's death, none of them considered themselves close. Their communication relies heavily on group texts and conference calls. Every plan of action and media request must first be cleared by Bland's family, who is primarily based in Illinois, and must advocate positivity in spite of the controversy.
Despite these obstacles, in three months the coalition established a scholarship in Bland's honor and convinced the Prairie View City Council to temporarily rename University Drive, the street on which she was pulled over, after her. When the fall semester began, they knocked on freshman dorm doors and tweeted at them, sandwiching calls to action between offers to drive students to Target to stock up on toilet paper and proofread their research papers.
The climate of a historically black university situated between two majority-white towns in Texas — the casual racism, the unofficial rules about which back roads to avoid when the sun goes down — makes the sense of comfort and protection on and around campus that much more crucial. University Drive begins at the center of campus and has long been considered a safe haven for students. That this was where the events leading to Bland's death began to unfold has left some stricken with the vicarious trauma of being violated in their own homes. Nonetheless, the fight to name the road after her was met with resistance from members of the Prairie View community, many of whom seemed keen to forget the circumstances surrounding her arrest.
As time passes and activity in Prairie View around Bland's death begins to taper, the coalition struggles to maintain momentum in its quest for justice. And while their goal has always been to eventually pass the baton to current students, many seem hesitant to enter the fold, not entirely convinced that Bland's is a cause worth fighting for.
As she readjusted the shirts on display, Saunders' brows knit together in concern. "They're too comfortable with the way things are."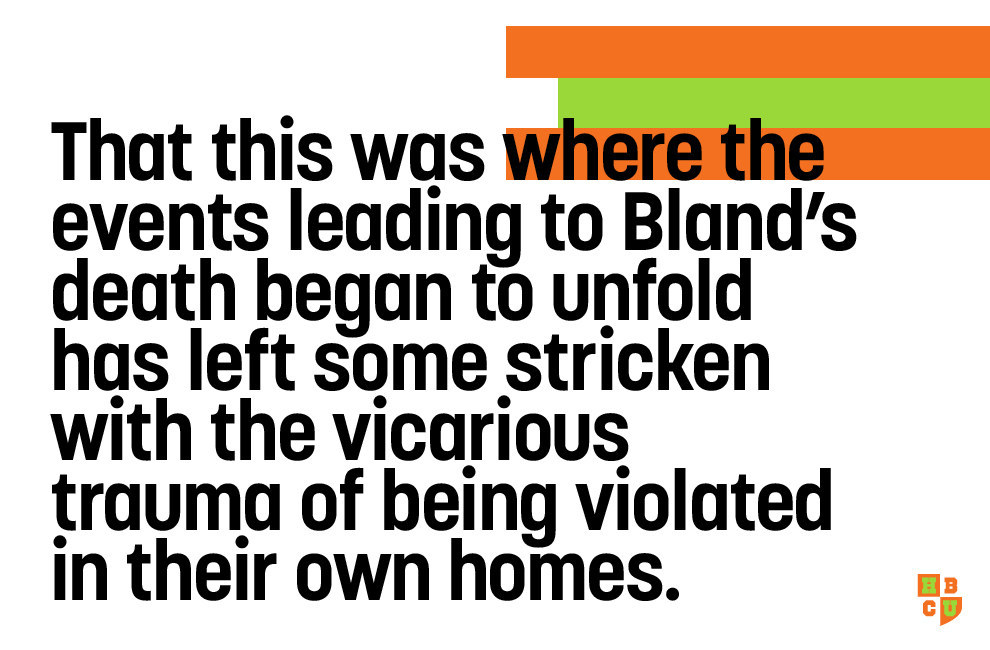 Like many small towns in the South, Prairie View, Texas, is connected to the legacy of slavery. The town was once a plantation of 139 slaves, owned and operated by Jared and Helen Kirby. When Jared died after the Civil War, Helen opened a boarding school for women inside the family mansion, then sold the property to the state of Texas in the mid-1870s. The transaction coincided with a new endeavor to establish public universities in Texas, undertaken by a former slave turned politician named Matthew Gaines.

Gaines, who was elected as a Texas senator in 1869, had "quickly earned a reputation for being a vigilant guardian of the newly won rights of African-Texans," according to Texas A&M University history professor Dale Baum. Two years after his election, he invoked the Morrill Land-Grant College Act, which mandated the establishment of public colleges in the state that would, according to the ordinance, be "related to agriculture and the mechanical arts … in order to promote the liberal and practical education of the industrial classes." Because education was still segregated, the state was required to build separate schools for white and black students. So it was that a former slave established the first two public institutions of higher education in Texas: Texas A&M and Prairie View A&M universities. The latter campus was inaugurated on the Kirbys' former property in 1876.
After the homecoming parade, alums Mary Robinson-Armstrong and Betty Eleby-Mitchell, both 76, told BuzzFeed News that Prairie View A&M presented to them an alternative to their lives in the fields. "We were farm girls, picking cotton and stripping cane," said Eleby-Mitchell, who grew up in Livingston, about 100 miles northeast of Prairie View. In Livingston, school buses regularly passed her and her siblings on their way to school. The driver only stopped for white and Mexican children, she said.
The two friends were part of Prairie View's class of 1962. Robinson-Armstrong earned her bachelor's in education, and Eleby-Mitchell in homemaking. Both went on to complete their master's degrees in business, also at Prairie View. Back then, tuition was $50 a year and room and board cost $37.50 a month. "We go to almost every homecoming," Robinson-Armstrong said. "Where would we be without Prairie View?"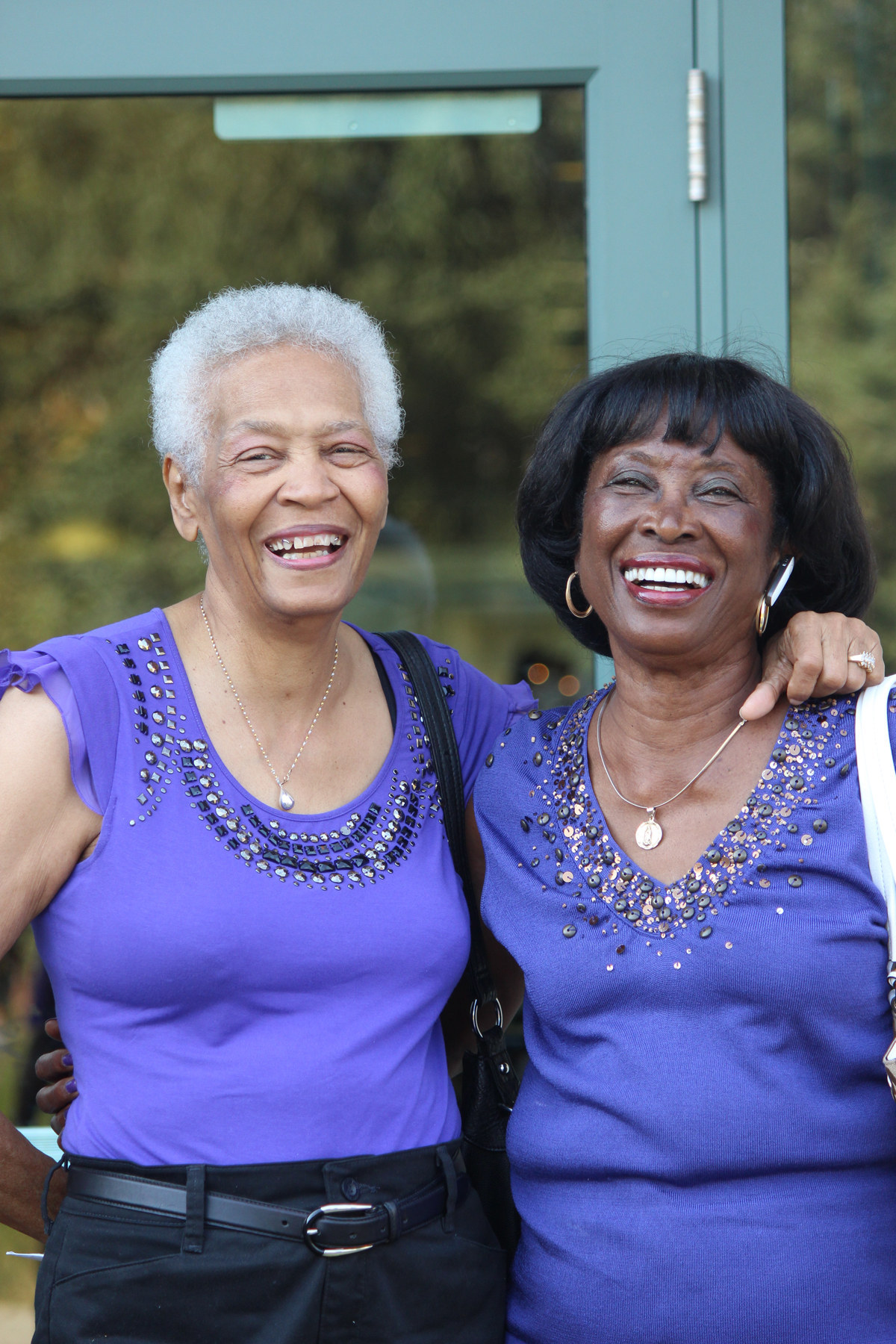 Yet while the university continues to function as a reigning symbol of black excellence and opportunity, it still sits between Hempstead and Waller, two towns with majority-white populations. For Prairie View local and alum Gary Hill, racist encounters throughout his youth have marred his pride for his hometown.

The 29-year-old high school English teacher can still recall with clarity the time he was working at Jack in the Box in Waller as a high school student and greeted a drive-thru customer through the intercom. "Are you one of them n*****s?" the man asked. "You ain't touching shit in my food."
He's been called the n-word at traffic stops on the road, and he has grown accustomed to white women in grocery stores pushing their carts and children into other aisles when they see him. "But the whole county is not racist," he insists, noting that once when he was jumped in Hempstead, the first officer to assist him was white. "This is more than just a hick town."

Sandra Bland discovered Prairie View A&M after attending a national HBCU convention in high school. A native of Naperville, Illinois, she had played the trombone since seventh grade and was drawn to the university's music program, eventually becoming a member of its band, the Marching Storm.

Though she wasn't technically from Chicago, Bland earned the nickname "Chi-Town" among her fellow bandmates as a nod to her tenacity in a male-dominated musical section. Her former bandmate Merian "King Ace" Harrell described her as "bold, unapologetic"; the type of person who had no qualms about expressing tough love to the many people she cared about. In addition to the band, Bland was a member of the Sigma Gamma Rho Sorority, Inc., and was also involved with the campus NAACP chapter. As an animal science major, she helped organize 4-H club summer camps for children and held down a campus job as a graduate research assistant.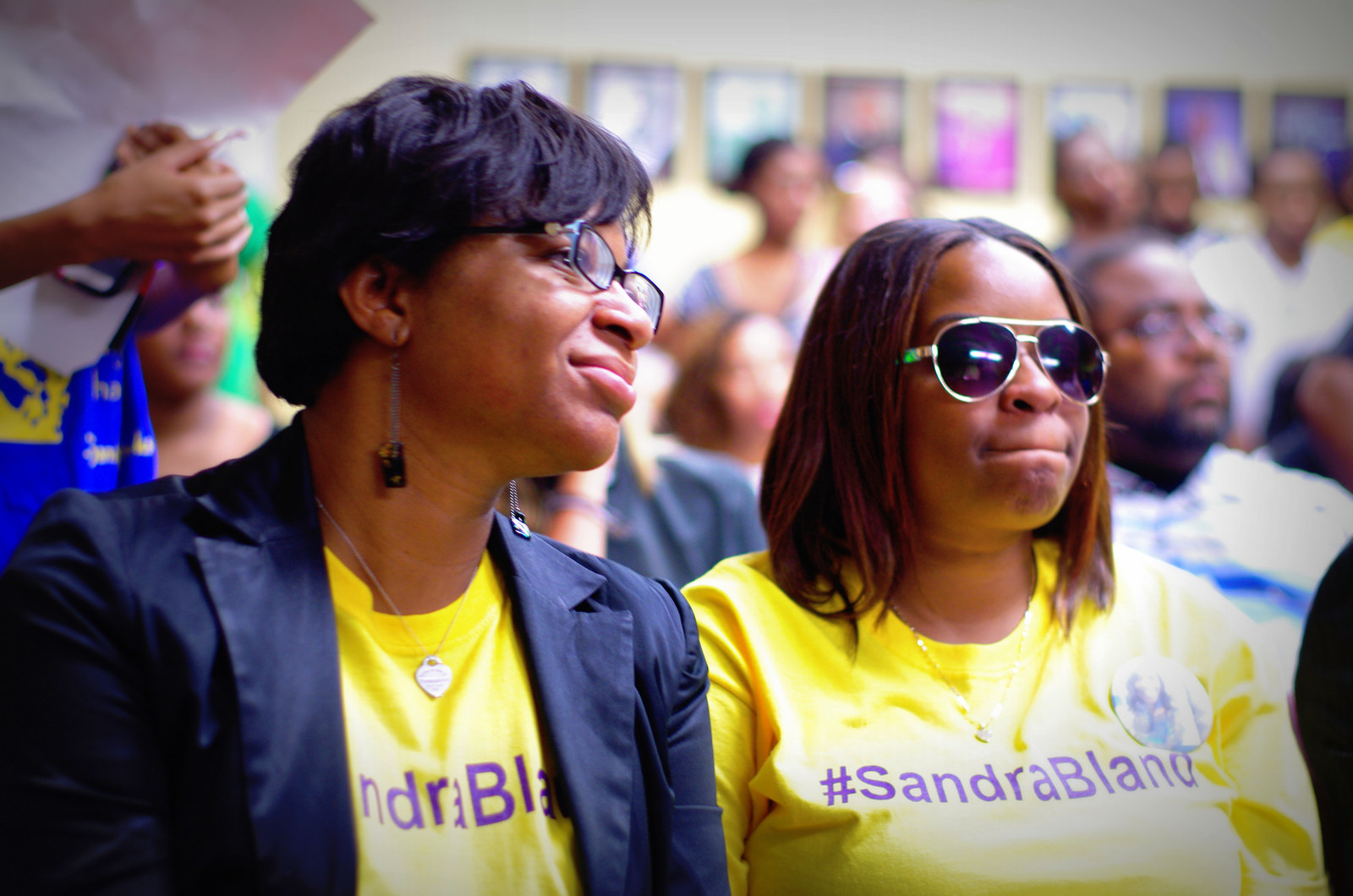 When Sharon Cooper talks about her sister, whom she calls "Sandy," her voice takes on a cadence often heard among black women at church. It's joyous, but rooted in firm, unwavering conviction. "We're a freakishly close family," she told BuzzFeed News on her way to work one September morning. Sharon and Sandy are two of five daughters who were all raised by a single mother. Cooper, a 31-year-old HR manager and mother, also pledged Sigma Gamma Rho, a connection that drew her and Bland even closer.
She said that Sandy played a role in raising nine nieces and nephews, and that one of them, currently a high school freshman, no longer wanted to attend her homecoming dance because her aunt would not be around to help her get ready with hair and makeup. "Sandy was the aunt who didn't have any children," she said, "and the aunt without children is the best aunt."
In 2012, three years after graduating, working, and beginning a master's program in agriculture, Bland moved back to Naperville to be closer to her family. It was while she was living at home that she began talking to Cooper about the extrajudicial killings of black men. "[She] was overwhelmed by the fact that this was still happening," Cooper remembered.
Bland's discomfort with the status quo would serve as a catalyst for her now-famous "Sandy Speaks" video series, which she launched on Jan. 14, 2015, recording videos on her cell phone that she'd later upload to YouTube. In each episode, she discussed whatever social issue was on her mind that week, with unapologetically candid pronouncements that she'd often have to clarify for her audience.
"Sandy Speaks does not promote racism," she said in one April video, following a discussion about Black Lives Matter. "But for those of you who cannot accept and acknowledge the white privilege that you have been born into … know that, yes, black people are going to be mad when we see our brothers gunned down." Bland also used the videos as an outlet to address her own vulnerabilities. "I am suffering from something that some of you all may be dealing with right now," she shared in a video uploaded on March 1 after a two-week hiatus. "It's a little bit of depression, as well as PTSD."
Months later, as law enforcement, concerned citizens, and the media tried to unfurl the mystery of Bland's death, the mental illnesses that she admitted to dealing with would be referenced as possible factors in her suicide. Cooper told BuzzFeed News that Bland was never clinically diagnosed with depression or post-traumatic stress disorder, but did acknowledge that her sister had been struggling to navigate the throes of life at the time she recorded it.
"Sandy was 28 years old, and I commonly refer to your twenties as the Roaring Twenties. They're about self-discovery and self-reflection," Cooper said. "We're all entitled to our ups and downs."
Cooper and Bland had several conversations about what Bland's next professional move would be. She eventually decided to return to Prairie View to finish up the master's degree she had started and work as a recruitment adviser in the college of agriculture. Bland was saddled with debt from her undergraduate years, so her on-campus employment would also help her afford school.
Bland was thrilled to return to Prairie View. Cooper said she viewed the position as an opportunity to give back to the community that supported her throughout her formative years, and she was excited to help new students map out the college blueprint as an adviser.
"The girl loved PV," Cooper said. "Between the band and her band family, to SGRho, she created her own family."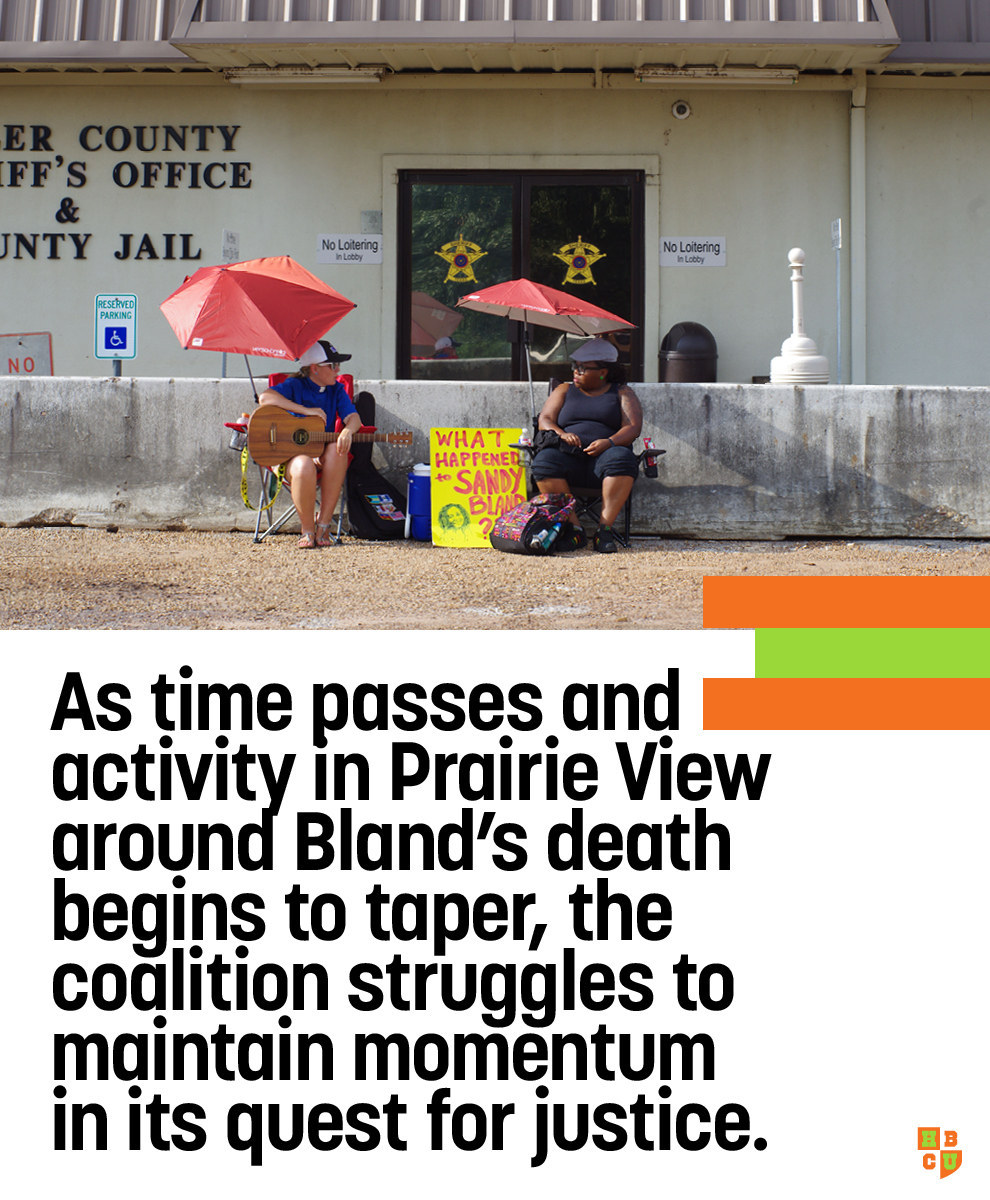 The response to Bland's death on July 13 was swift, and the formation of the coalition was largely facilitated through social media. Some of the members, like LaToya Smith and Whitney Harris, knew Bland personally. Both members of Sigma Gamma Rho considered Bland their "prophyte," or predecessor, the year they joined. The two attended some of the earlier rallies and vigils around Bland's death, then quickly linked up with her family through their sorority sisterhood with Cooper.

There are acquaintances, too, like alums Teri Saunders, Aida Fall, and Lanitra Dean. Still others knew Bland only in death. The Rev. Hannah Bonner, a Philadelphia native and the group's only white member, joined the coalition after she learned of Bland from the open mic poetry event she organizes in Houston. Dewayne Charleston, a former justice of the peace who was Waller County's first black judge, emerged to participate in Bland's cause despite a career-damaging FBI investigation in the '90s. He is the group's only man.
Their Group.me chat room and regularly scheduled conference calls have allowed them to carve out a space where they can openly express their mistrust over what happened to Bland — a majority of the people who spoke to BuzzFeed News and knew her personally do not accept the ruling that she committed suicide — as well as mourn the irony of where her traffic stop occurred.
Anyone connected to Prairie View understands that University Drive is the home base that greets them after long trips back from Houston or Dallas. "For that area to be mutilated in that fashion," Smith explained, "and to take away rights from someone who was about to be a [staff] member and is also an alumni from the university..."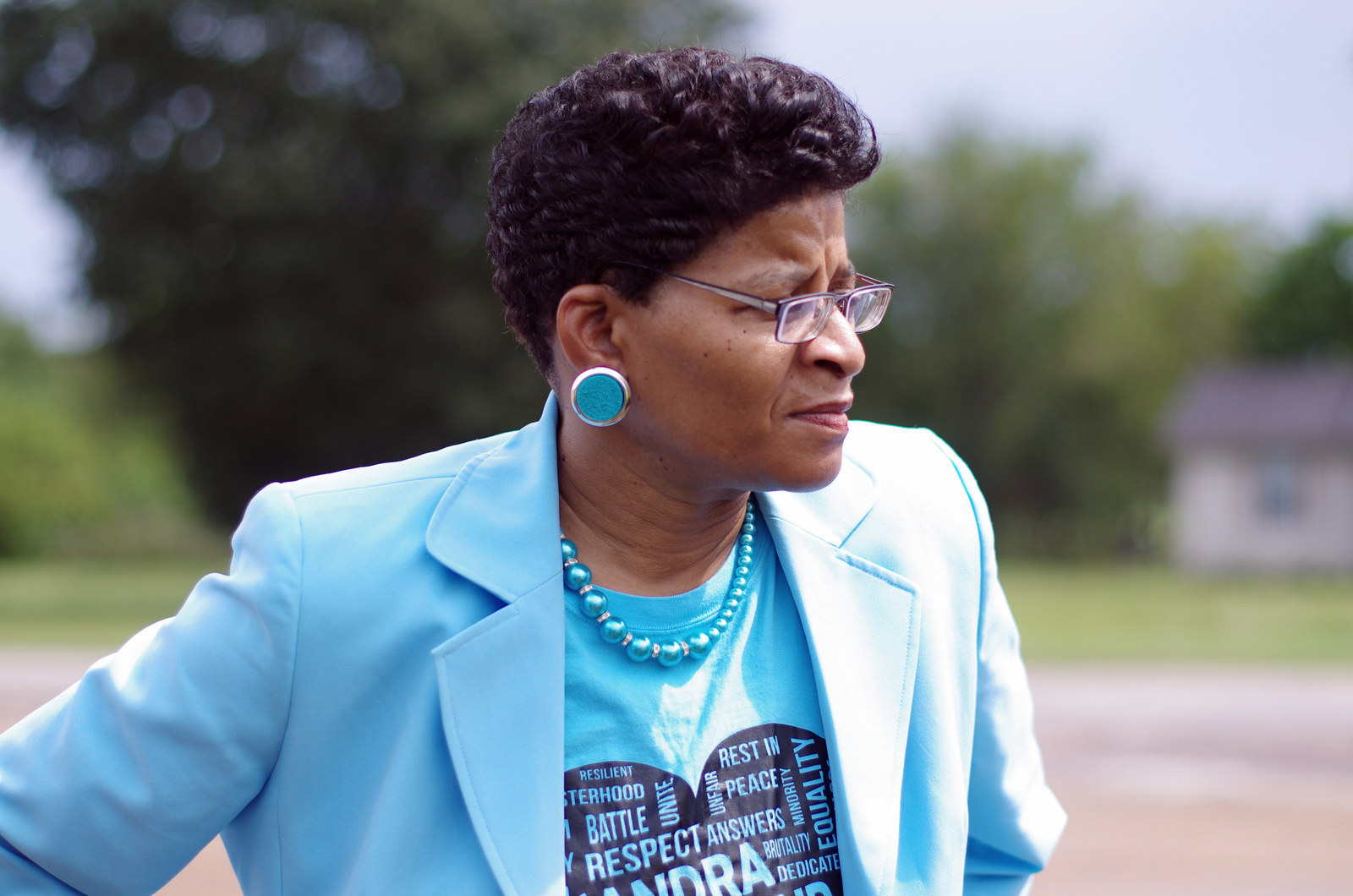 Harris drove the three hours to Prairie View from Dallas to attend the on-campus vigil for Bland on July 21, and she recalled Bland's mother, Geneva Reed-Veal, urging mourners to use their sadness as fuel for action. Less than two months later, the coalition (which still lacks an official name — "We're still just a group of people," Harris says) organized two major events to honor Bland's life. They used the gatherings as an opportunity to raise awareness around racial profiling and improper police de-escalation tactics, factors they believe led to her death.
The coalition's first event, the SandySpeaks Awareness Picnic on Aug. 8, had all the makings of an intimate summer gathering: Around 35 people of all ages clad in bright T-shirts mingled over charred hot dogs and dripping fruit, while a DJ curated upbeat music. But Saunders, who would caution her friends against attending the homecoming game in Waller two months later, best recalled the event's more sobering scenes.
"We wanted to inform students and the community of their rights in case a situation like that happens again," she said. Coalition members stressed to students the importance of speaking loudly and clearly if they were pulled over so a dashcam would capture the audio, calling 911 to speak with a dispatcher if they felt uncomfortable with an officer, and recording interactions with police on their phones. Saunders also spoke with older Prairie View residents, who told her that law enforcement in Waller County had never made them feel truly protected. "They weren't surprised [by what happened to Bland] at all," Saunders said. "They said law enforcement had never been the best in Waller County and had always been racist from the beginning."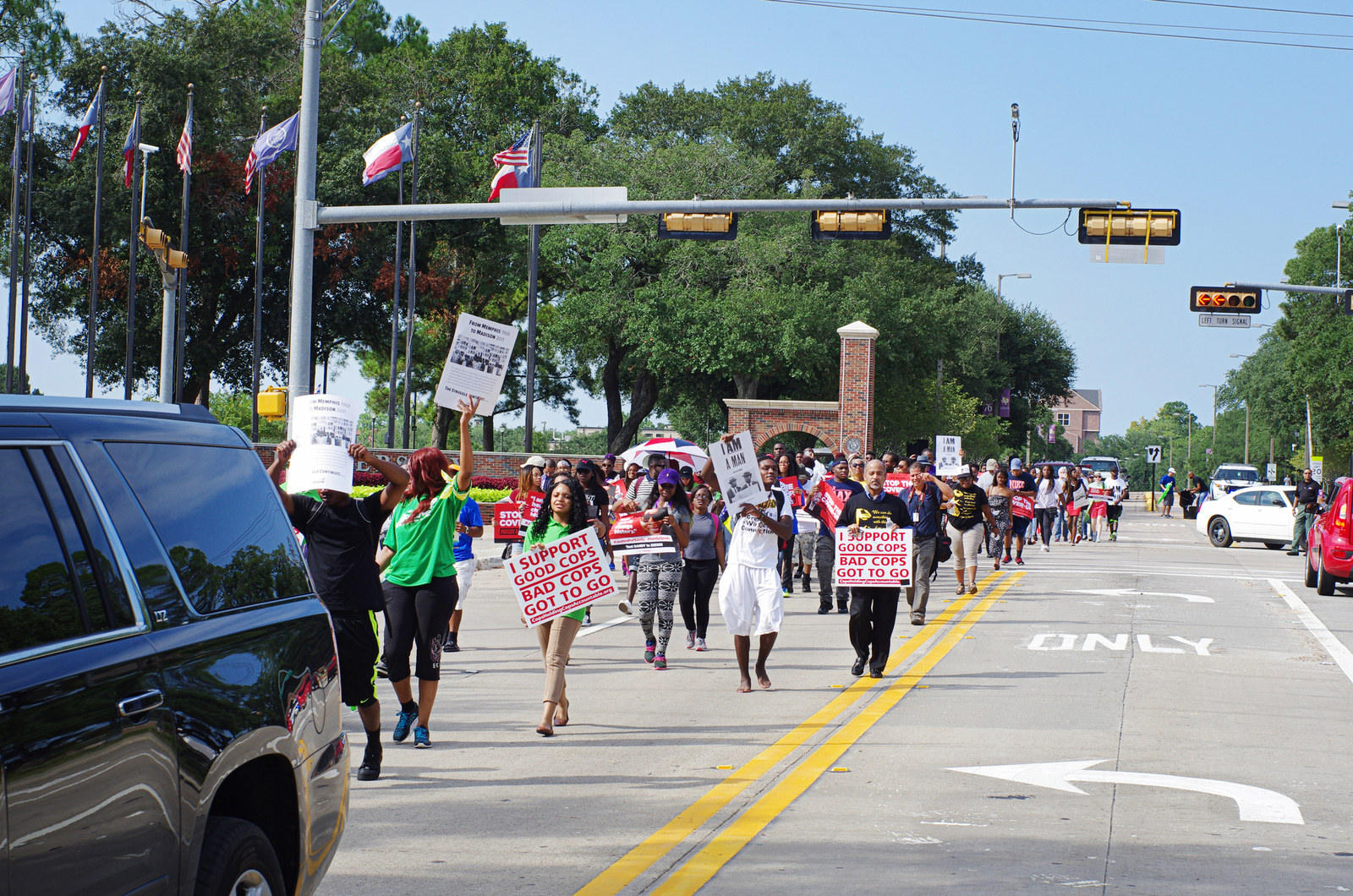 Later, on Aug. 25, the coalition organized Sandy's Solidarity Walk. Along with around 200 others, they walked a nearly three-mile stretch of University Drive while volunteers handed them water bottles along the way. Their destination was City Hall, where the Prairie View City Council was voting on whether or not to rename University Drive to Sandra Bland Parkway. As a former justice of the peace, Charleston spearheaded the coalition's push for the vote, based on a suggestion made by Bland's mother. Reed-Veal wanted officers who stopped students on the road to be forced to say or write her daughter's name. She also wanted to honor Bland's passion for education with a Prairie View A&M scholarship. More than 100 people crammed into the meeting room at City Hall, while at least 100 more spilled out into the corridors and parking lot.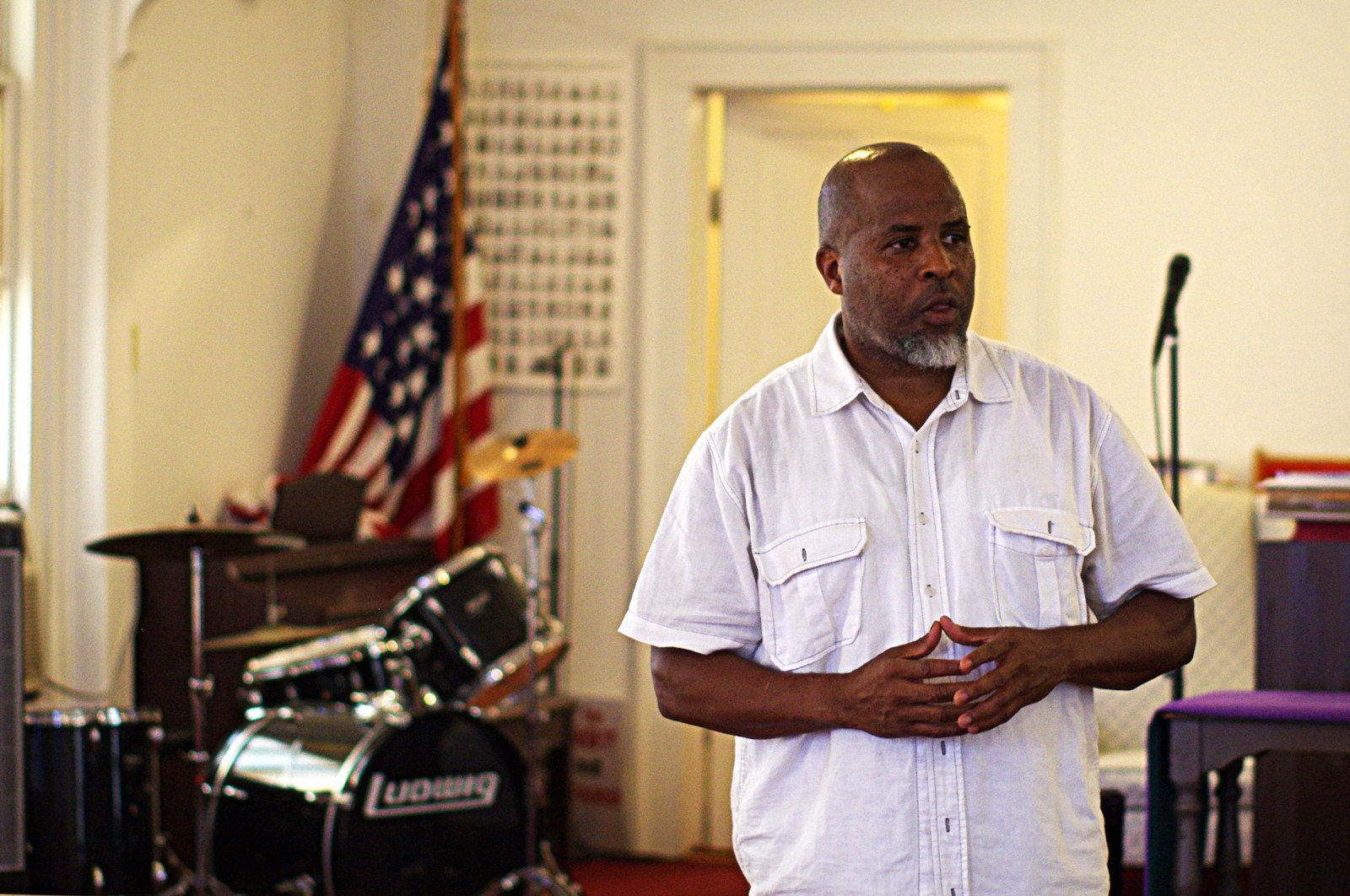 Several Prairie View students showed up in support of the new street name, and some, like Marquisha Alexander, spoke during the open comment portion of the meeting. "If we don't correct [law enforcement] today, we're gonna suffer tomorrow," she shouted over the sound of supportive mmm hmms and applause. "If we don't say nothin' tomorrow, we're gonna suffer forever."
Alexander, a senior at Prairie View, lives in an apartment complex near campus and had been pulled over on University Drive before. She remembered that when Reed-Veal spoke the night of the vote, "it felt like we were all her child."
Dissenters at the meeting were also vocal, expressing concerns about giving the venerable street a name that would remind everyone of a dark moment in the town's history. They also argued that simply changing the name would not effect lasting change. Nonetheless, the City Council members voted 3–1 in favor of renaming University Drive to Sandra Bland Parkway for two years or until a permanent memorial park in her name has been completed. (The city has yet to break ground on the project.) The same day, the university approved the Sandra Bland Social Justice Scholarship, which will be awarded to at least two students in the criminal justice or agriculture departments over the course of four years.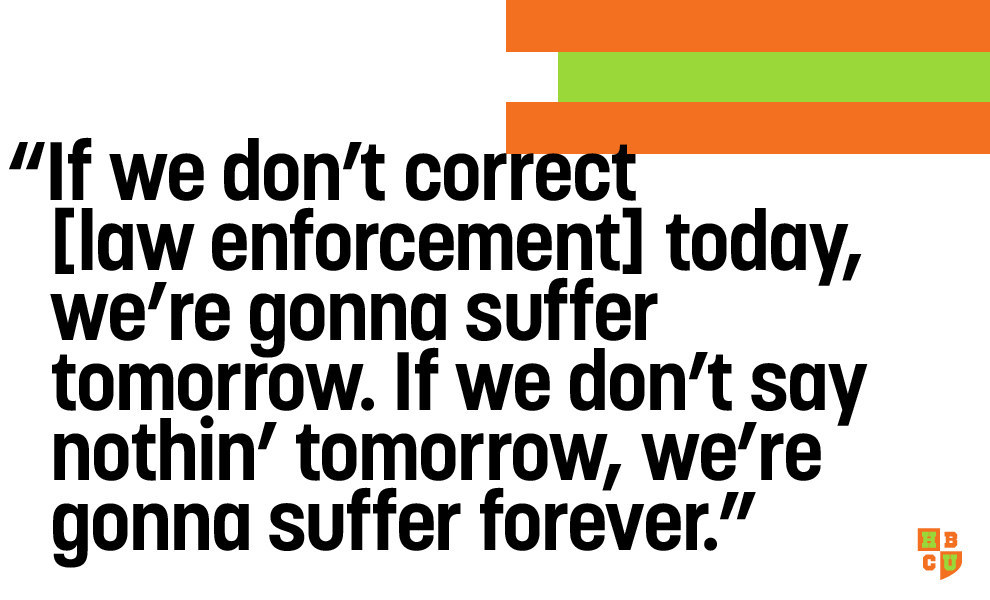 The coalition's victories in August weren't necessarily reflective of the feelings of the Prairie View community at large. At 6,890, the university's population is bigger than that of the town, and as students returned from summer vacation in September, many were stunned with the news that the street had been renamed. "After you've matriculated, you come to know about driving up to and leaving from University Drive," explained Jacolahn Dudley, the president of the Prairie View Student Government Association. "A lot of students, mainly upperclassmen who've been here for a while, see it as a tradition."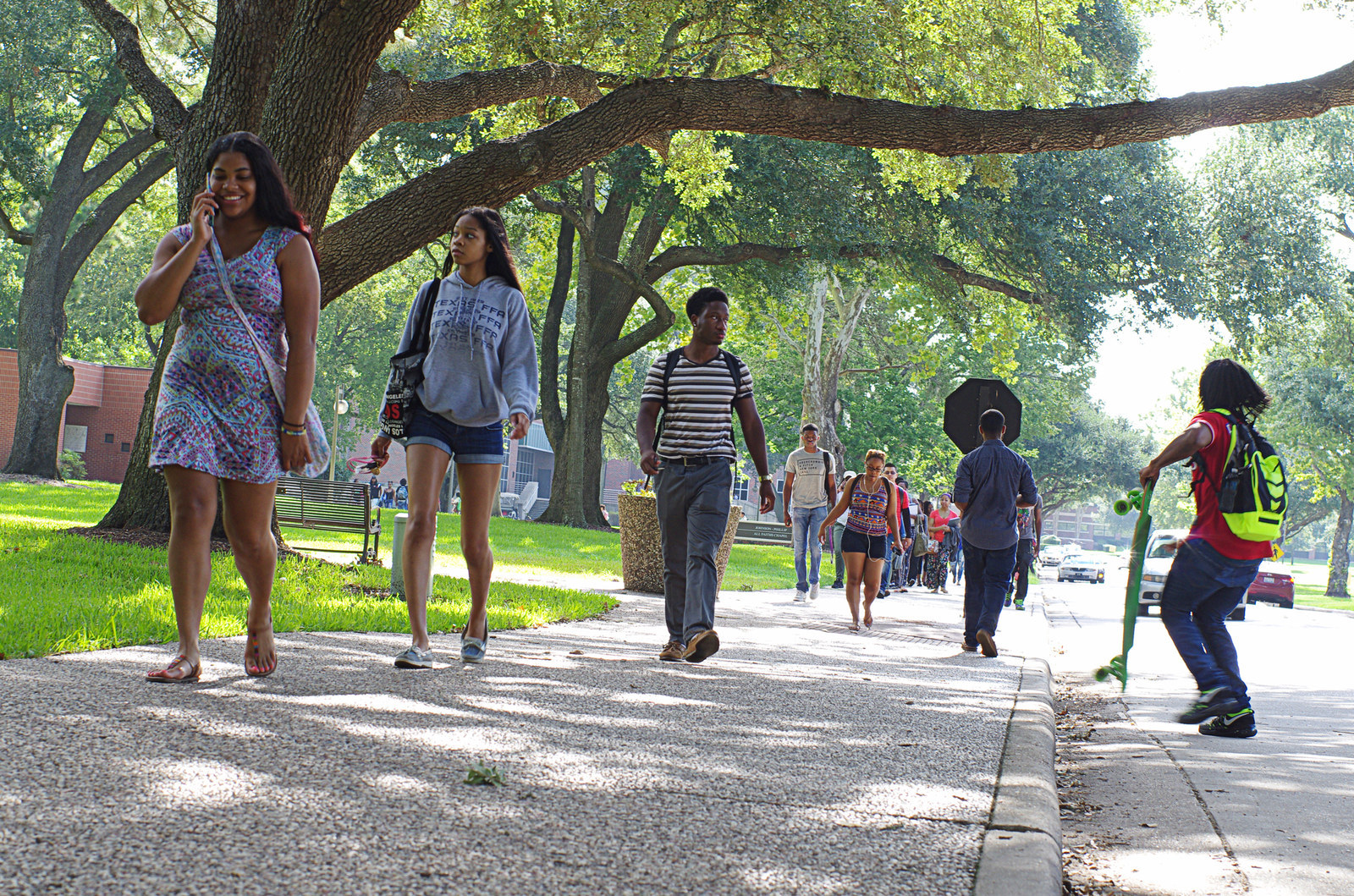 Jalyn Demerson, a 23-year-old who graduated from PV last year, said she still had "mixed feelings" over the collective response to Bland's death. "People get upset when you say 'mouth off,' but there's a more respectful way that she could have approached the officer," she said of Bland's traffic stop arrest. "In a calm situation, she could have walked out of there alive, honestly."
Demerson, who has been pulled over near campus in the past, thought that the decision to rename Sandra Bland Parkway was made on emotion, and that "more accomplished, more established" alums deserved the honor. She has seen older alums refuse to stand up at football games when the announcer instructs the crowd to honor Sandra Bland. "I understand that black lives matter, but sometimes it's not about racism," she said. "Sometimes it's about respect."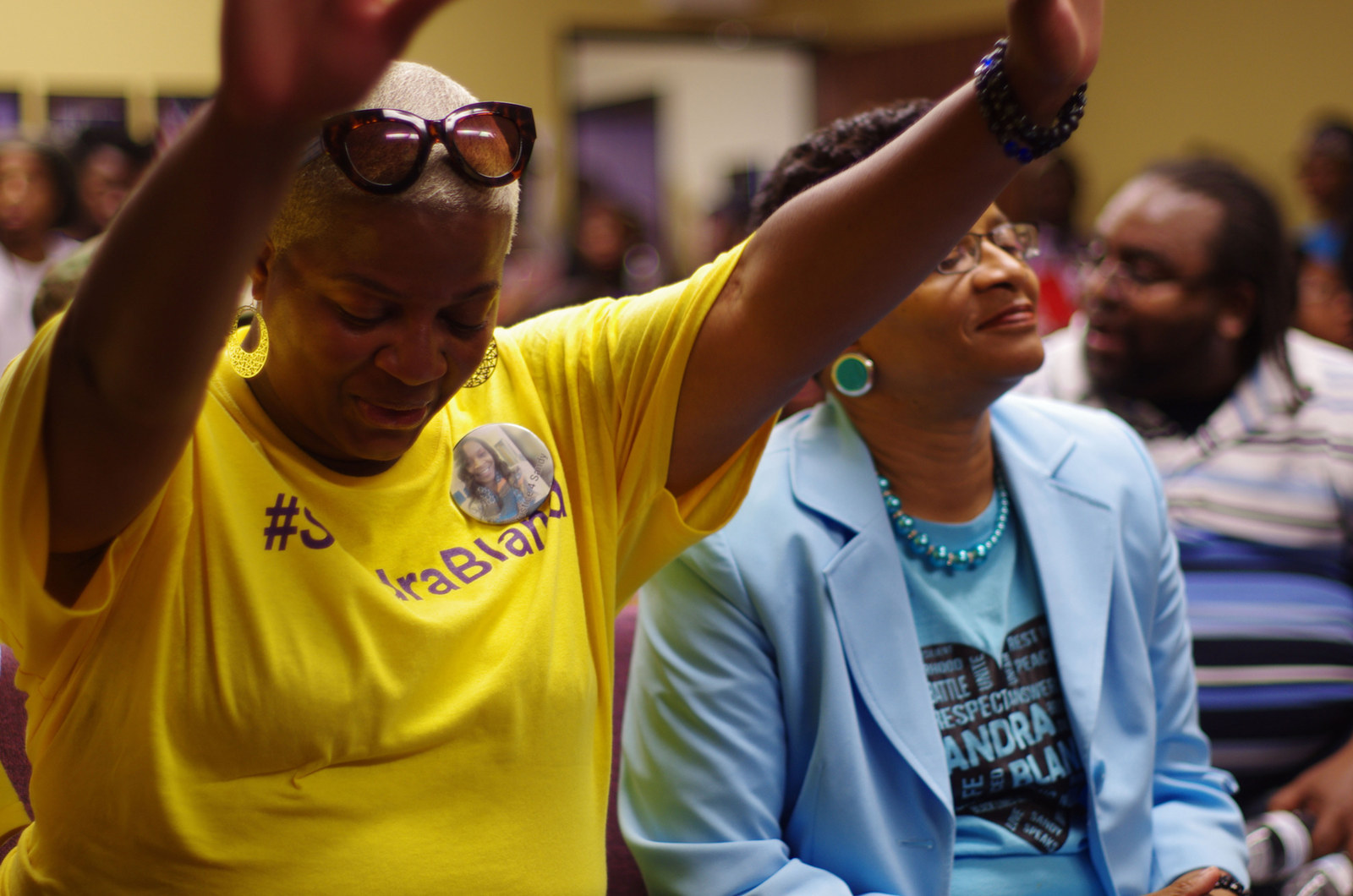 On Sept. 2, the SGA distributed a survey to gauge students' feelings about the City Council's decision. According to Dudley, out of the 143 students who participated, only 38 agreed. On Sept. 22, the City Council put the renaming up for a revote. With an additional member present, the council voted 4–1 in favor of Sandra Bland Parkway once again. Citizens still packed the room, but the turnout had waned from the initial vote in August.
City Councilman Jonathan Miller — a Prairie View alum who, at 26, is the youngest member on the board — said that before he voted in favor of the new street name, he did not support it. "School resumed, and people weren't talking about the issues as much. The movement started dying out," he said. But Miller added that when he spoke with people who did not live in Prairie View, "I gathered that they felt it could help with the momentum of the movement, not just with Black Lives Matter, but other social injustices like police reform."
Miller shared his change of heart over the street name two days after having personally experienced a traumatic encounter with Prairie View police. On Oct. 8, just before midnight, he went outside his apartment to discover that some of his brothers from Omega Psi Phi Fraternity, Inc., had been stopped by officers. When one of the officers suggested they might be in possession of marijuana, Miller explained that they had only gone outside to change into boots so they could practice step routines before homecoming the next day.
The back-and-forth between Miller and the two police officers escalated, and eventually Miller was on his knees with his back to the officers. Video footage of the incident shows one officer telling Miller he is going to tase him, before, seconds later, the officer follows through with his threat. Miller then yells and writhes on the ground. He was booked at Waller County Sheriff's Office and Jail, the same facility in which Sandra Bland was last seen alive. Miller said he couldn't help but think of her.
"When I was on my way to jail," he began, then paused, laughing nervously, "I was thinking the worst." He was released the next day, three bloodstains from the Taser gun dotting the back of his white tank top as he got into his car.

While none of the coalition members have been physically harmed in their efforts to speak out, they have also learned to bear the burdens of fighting injustice.
Aida Fall, who lives and works as an administrator at a hospital in Houston, said that as soon as she decided to get involved with the group, she had a serious conversation with her parents. "I told them, 'Look, I'm going to do something that's going to interfere with my life,'" she said. She has taken so many days off to participate in movement activities this year that she's run out of paid vacation time. Other members have voiced concerns that their involvement could threaten their employment. They've made a collective decision to "risk it all," Fall said.
They've also faced intimidation tactics. Bonner has been participating in a sit-in at the Waller County Sheriff's Office with other activists since July 13. She recalled the first night, when demonstrators held candles during a vigil for Bland. One officer walked up to her and blew her candle out, she said. (Waller County Chief Deputy Brian Cantrell told BuzzFeed News that because investigators at the civil and federal levels are currently looking into Bland's case, his office could not comment.) Residents regularly slow down their cars to stare at the demonstrators from the dirt road adjacent to the facility, and on at least one occasion, Bonner mentioned having been "followed around by official vehicles" when she and other demonstrators left the jail at the end of the day. "We don't want to sound paranoid," she told BuzzFeed News one afternoon outside the jail. It was her 49th day of occupation. After 80 consecutive days, the group moved to the Texas Department of Public Safety in Austin, where officer Encinia is now employed. Fall said that in addition to social media harassment — inboxes filled with hate speech and links to Ku Klux Klan websites — at least one member's email account has been hacked.
Bland's family is also deeply involved with their movement and has final approval over all of the coalition's actions. Cooper expressed her gratitude for the group being her "eyes and ears on the ground" in Texas, but some of the coalition members admitted to feeling pressure to live up to the family's expectations.
Saunders remembered the solidarity walk as one example. Media descended upon the scene, but the Bland family did not want any of the coalition members to grant interviews that day, a request born out of concern that their words would be misinterpreted ahead of the ongoing federal investigation into Bland's death. "It's a lot of pressure," Fall said. "You don't want to be shown in a light that would make Bland's family ask, 'What is that?'"
"We're exhausted," LaToya Smith said as she waded through the crowds at the homecoming tailgate. She was among the scores of alums whose excitement for homecoming had been sullied by the split venues and other recent events. "We've been trying to get other people involved."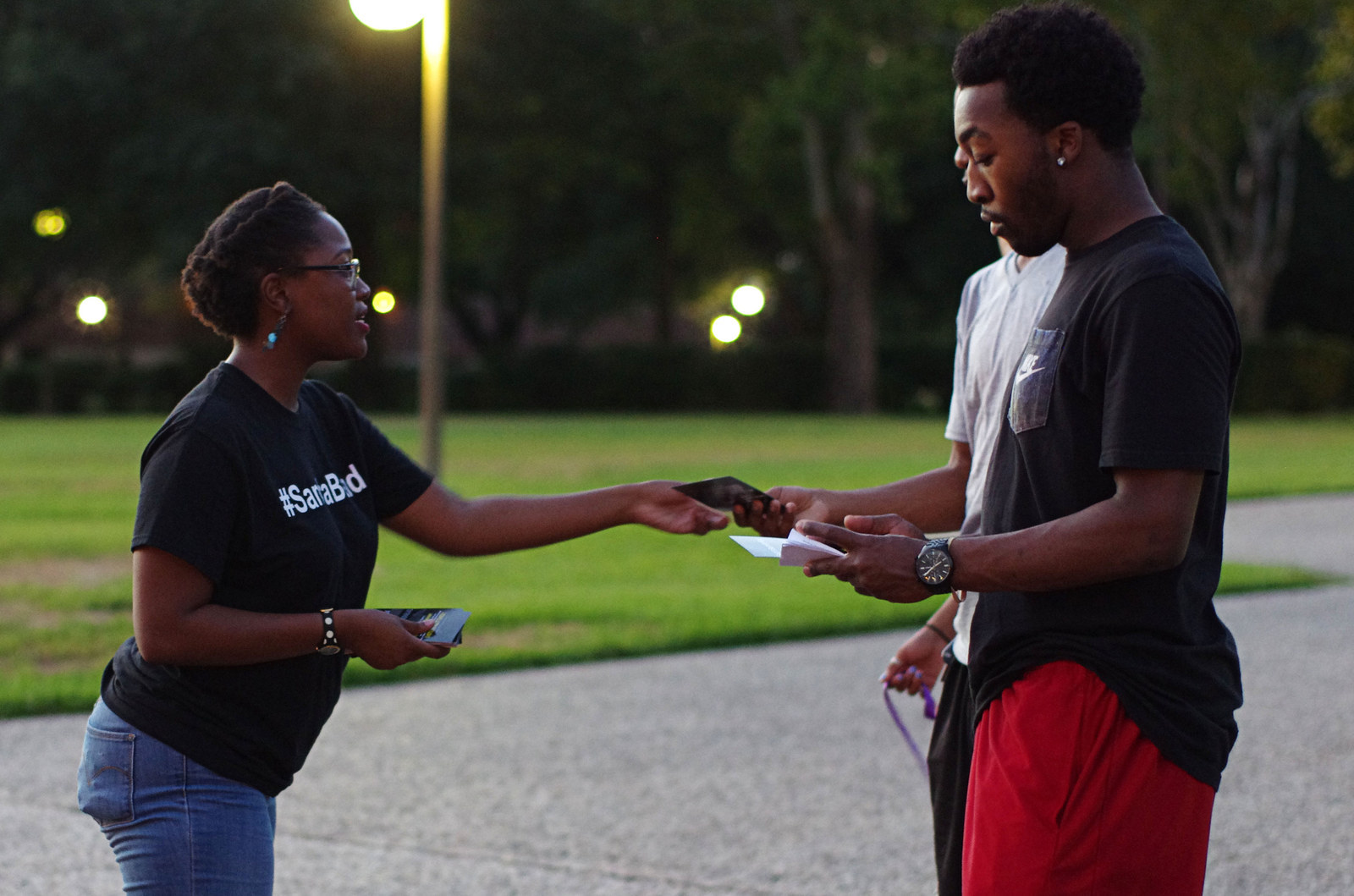 Despite the apparent apathy of much of the student body, a few impassioned current students at Prairie View remain invested in preserving Bland's legacy. One student, F, who asked us to identify her by her first initial because her parents are not aware of her activism, became involved after experiencing discrimination in the aftermath of 9/11.

"I found myself facing a lot of intersectionalities, understanding that I am black and I am a Muslim," she told BuzzFeed News. "I didn't want anyone else to be treated this way." In the wake of the fatal shooting of Michael Brown last summer in Ferguson, Missouri, F began participating in a series of demonstrations and discussions about police brutality on campus. She expected more of an uproar for Bland since the incident happened to a fellow Prairie View student. Instead, she has been troubled by the silence. "There's still time, I guess," she said.
Prairie View's Nation of Islam Student Association president, Rasheedah Muhammad, believes Bland's death "broke through the myth that it was only black men being pulled over and mistreated," and recognized the importance of the female-led coalition in its work toward justice. "We were all affected in the sense that now we're thinking, That's my face. That could have been me," she said.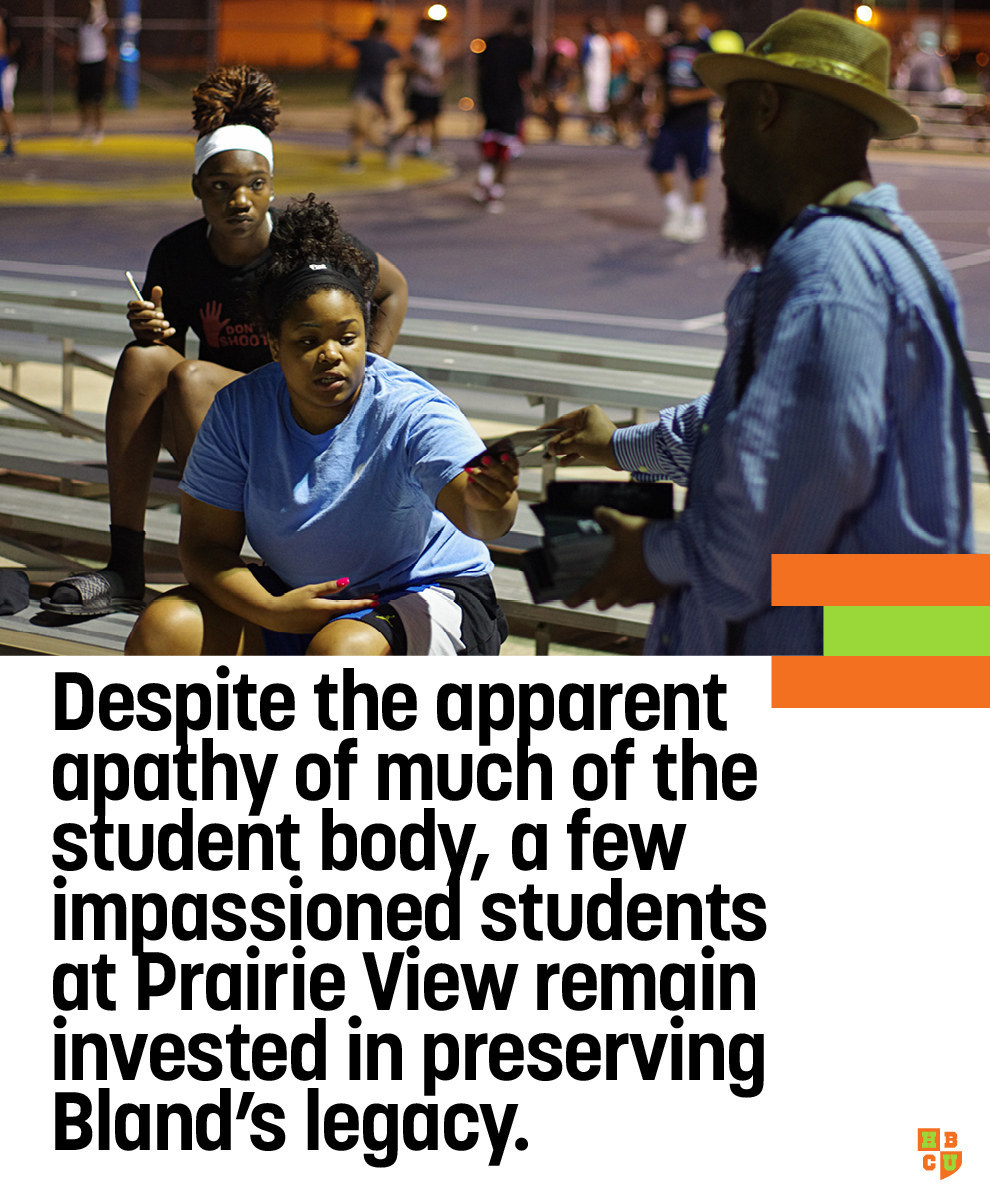 For Harris and other coalition members, the cause has always been greater than Bland. "I'm not happy that Sandy had to be the person who had to die in order to bring people together who've experienced this treatment," she said. "We are constantly thinking about the movement, the message we're sending, our goals, and the greater issue of black rights."

Right now, their biggest hurdle is securing the $25,000 needed to fund the scholarship. Second to that, Harris said, is inciting current students to continue their work. She recalled alums from Bland's graduating class who marched for voting rights in the county in 2007, and referred to them as a gauge for this movement. "When they get to a place where they are able and willing to organize, then I'll know that we can pull back," she said.
For now, they appear accustomed to moving past the fatigue. As Fall told BuzzFeed News one night after completing a 12-hour shift at the hospital, "You have to be uncomfortable for change to happen."