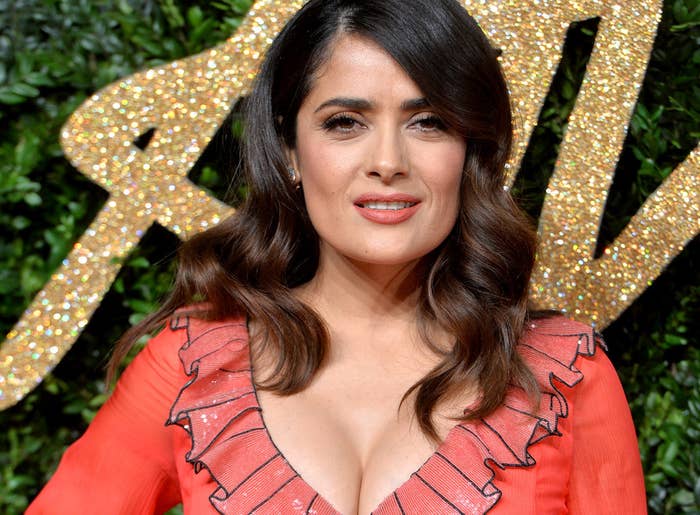 The man who fatally shot Salma Hayek's dog in Washington state earlier this month is not expected to face criminal charges, sheriff's officials said Monday.
Hayek posted on Instagram Friday that her dog, Mozart, had been shot and killed on her ranch Feb. 19, but delayed making the announcement so she could grieve.
"I haven't posted for a week as I been mourning the death of my dog, Mozart who I personally delivered out of his mother's womb," the actress wrote in a caption to a photo of Mozart.
"He was found dead in my ranch last Friday with a shot close to his heart," she said, adding that the 9-year-old dog had "never bit or attacked anyone."
On Monday, the Thurston County Sheriff's Office released details of its investigation into Mozart's death and determined the shooting to be justified. The dog had been struck with a .177 pellet, which nicked an artery and caused fatal internal bleeding.
According to the sheriff's office, the ranch's caretaker had brought a few dogs with her for a horseback ride in the area. At one point, the dogs took off onto an adjacent property after hearing other dogs barking, she told investigators.
She regrouped the dogs and returned home, then realized Mozart was missing.
The dogs had come into the open garage of a neighbor, who told investigators he went out after hearing the sounds of a dog fight. His German shepherds were fighting with two other dogs, and the neighbor fired at them once with an air rifle. The two dogs then ran off.
The man did not realize he had struck any of the dogs, investigators said.
Mozart was later found dead on a trail as the caretaker searched for him.
Sheriff's Lt. Cliff Ziesemer later said the single pellet shot wouldn't normally have been fatal, and described Mozart's death as a fluke. Criminal charges are not expected, KOMO News reported.
"He was the most loving and loyal companion," Hayek wrote on Instagram. "He didn't deserve a slow and painful death.
On Tuesday, Hayek thanked fans for their support in a statement.
"I am very touched that you are eager to hear from me regarding the death of my beloved dog, Mozart," she said. "I assure I am just as eager to speak about this, and I will in time, once I have gathered more information about what has happened."