Recently released dash cam footage shows two Sacramento police officers attempting to run over a homeless man with their patrol car moments before fatally shooting him.
In the clip, audio of which was enhanced by the Sacramento Bee newspaper and published Friday, Sacramento police officers Randy Lozoya and John Tennis can be heard talking about 51-year-old Joseph Mann.
They had been pursuing him on July 11, 2016, after responding to call about a homeless man who had been acting erratically, the Bee reported.
"Fuck this guy," one of the officers can be heard saying in the video.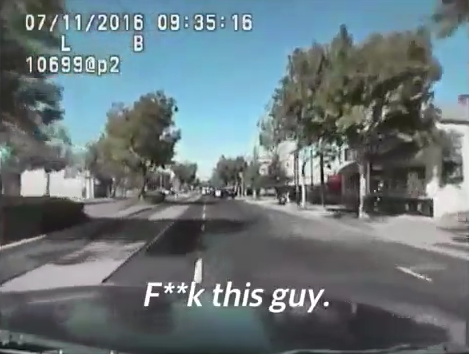 It is unclear in the video whether that same officer, or his partner, then says "I'm going to hit him."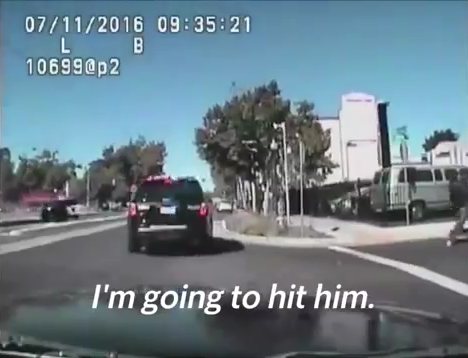 "OK. Go for it, go for it," the other officer said as Mann can be seen running across the street.
The patrol car then sped up when Mann came into view. He ran onto a sidewalk and back in the opposite direction, causing the officers to back up and drive against traffic.
Continuing the chase, the officers again appeared to try and run Mann over. He ran across a boulevard, and one of the officers can be heard saying, "Watch it! Watch! Watch!"
The driver parked the car and both officers chased Mann on foot. Seconds later, several gunshots can be heard. Mann was hit 14 times, Sacramento Police Chief Sam Somers told the Bee. They are currently on modified leave, a spokesperson told the paper.
Mann's family has said that he had been suffering from a mental health crisis when residents of a nearby apartment complex called the police. They have filed a federal lawsuit against the city. A toxicology report revealed that Mann had methamphetamine in his system when the incident occurred.
The Mann family's attorney is arguing that the officers' car should be considered a lethal weapon.