Russia's track and field team on Friday was effectively banned from the Rio Olympics this summer amid doubts that the nation has done enough to address its far-reaching athlete doping scandal.

The International Association of Athletics Federations (IAAF) on Friday upheld its decision to suspend the All-Russian Athletics Federation (ARAF) in light of the doping conspiracy that surfaced in 2012 at the Summer Olympics in London.
On Saturday, the International Olympic Committee (IOC) announced that it "welcomes and supports the IAAF's strong stance against doping."
"The IOC Executive Board, in a telephone conference today, emphasized that it fully respects the IAAF position," the board said in a statement. "The eligibility of athletes in any international competition including the Olympic Games is a matter for the respective International Federation."
Now, unless the IAAF reverses its decision and reinstates Russia's membership, all of the nation's track and field athletes will be barred from competing in this year's games in Rio de Janeiro.

The Russian Ministry was "extremely disappointed" with the IAAF's decision, according to a statement to BuzzFeed News.
"Clean athletes' dreams are being destroyed because of the reprehensible behavior of other athletes and officials," the ministry said. "They have sacrificed years of their lives striving to compete at the Olympics and now that sacrifice looks likely to be wasted."
Russian President Vladimir Putin also called the ruling unfair.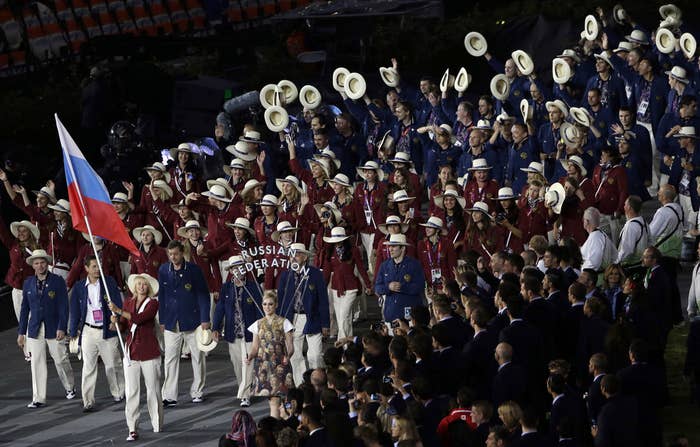 The ARAF accepted its suspension in November, and had since been participating in a series of programs aimed at improving its status and integrity within the athletics world.
But the IAAF is not convinced those efforts are adequate.
On Wednesday, the federation released evidence of a Russian track and field athlete attempting to smuggle a clean urine sample into a drug test, and then bribing the official when she got caught, the New York Times reported.
The IAAF believes the incident took place after the November 2015 suspension.
The Russian athletic organization maintains that it has done everything it can to restore good faith with the IAAF.
"We have rebuilt our anti-doping institutions, which are being led by respected international experts," the Russian Ministry of Sport said in a statement. "Our athletes are being tested by the UK's anti-doping agency, UKAD, and every one of them is undergoing a minimum of three tests in addition to the usual requirements. We have nothing to hide and feel we had met the IAAF's conditions for re-entry."
The ARAF will appeal to the International Olympic Committee, which typically defers to the decisions of individual governing bodies.