Riot Breaks Out In Dutch Town During Anti-Refugee Protest
Some 2,000 protesters threw fireworks at police in opposition to the construction of a center for asylum-seekers.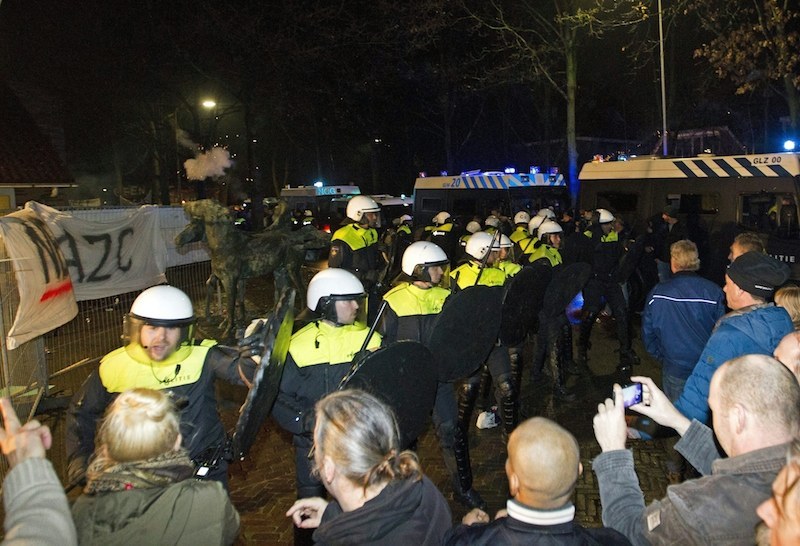 A meeting in a small Dutch town to decide whether or not to construct a center for migrants was interrupted by 2,000 protesters who tore down fences and threw fireworks at police in opposition to the proposed plan, according to the BBC.
The gathering in Geldermalsen, Netherlands, on Wednesday night was intended to discuss how to accommodate 1,500 people who had recently entered the city of more than 26,000.
State Secretary for Security and Justice Klaas Dijkhoff said on Dutch TV, "Finding shelter for asylum-seekers poses difficult questions but there is a limit when it comes to expressing your opinion," the BBC reported.
Local news outlet De Gelderlander reported that 14 people were arrested in connection to the riots. All were residents of the town. Officials at the meeting were escorted to a nearby police station as authorities attempted to contain the outbreak.
In a press conference following the incident, Geldermalsen Mayor Miranda de Vries announced that the municipality would table the discussion about the migrant center until January.
The Netherlands has struggled to peacefully discuss its handling of migrants before. In October, a group of 20 masked men attacked a makeshift Syrian refugee center with eggs and fireworks in the town of Woerden.