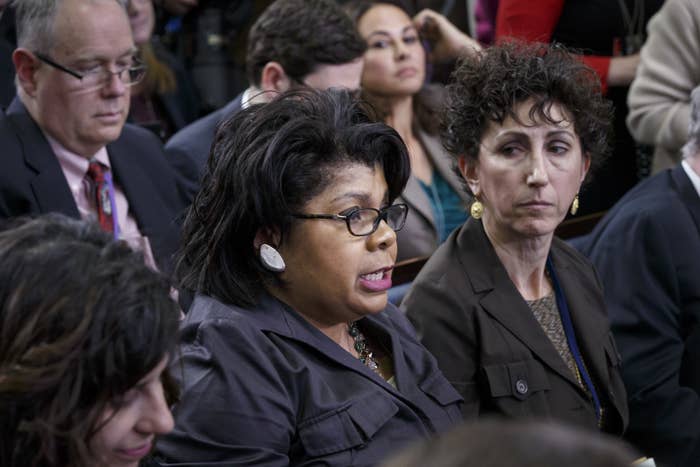 White House correspondent April Ryan said Wednesday morning — one day after press secretary Sean Spicer told her to stop shaking her head during a news conference — that journalists covering the administration were "under attack."
Ryan, who is the Washington Bureau Chief for American Urban Radio Networks, also said that she was beginning to consider Spicer was "showing a pattern" of mistreating female reporters.
In an interview on CNN, Ryan spoke out for the first time following Tuesday's White House press briefing, which grew heated when she asked Spicer questions about Russia and the administration's public image.
"It seems like you're hell-bent on trying to make sure that whatever image you want to tell about this White House stays because at the end of the day," he began before Ryan interjected to say that she was just reporting.
"You're asking me a question and I'm going to answer it," Spicer continued, "Which is the president — I'm sorry, please stop shaking your head again."
Watch the full exchange here.
Speaking at the Professional Business Women's Conference Tuesday afternoon, Hillary Clinton supported Ryan.
"Where everyday sexism and structural barriers were once blatant, today they're sometimes harder to spot. But make no mistake, they're still with us. Just look at all that's happened in the last few days to women who were simply doing their jobs," she said.
"April Ryan, a respected journalist with unrivaled integrity, was doing her job just this afternoon in the White House press room when she was patronized and cut off trying to ask a question."
Meanwhile, Spicer said on radio talk show Hugh Hewitt the same day that he was "astonished" that people were upset about the way he spoke to Ryan.
"April is a tough reporter who knows how to throw it out and take it back," he said. "But that's what we do. We go back and forth."
"I was just asking a question, trying to get an answer, and I found myself trying to defend myself," Ryan said Wednesday morning, adding that she asked simple and legitimate questions.

"At the end of the day, I'm a reporter. He's a press secretary. We both have jobs to do," she said. "And as an administration is calling us the enemy of the people, I guess we saw some of that thought process yesterday."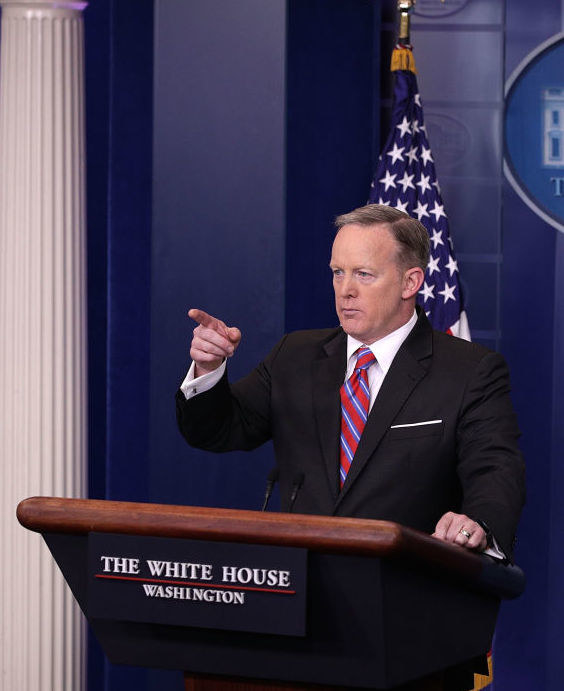 When asked if she thought Spicer treated her and other women differently from other reporters, Ryan recalled a recent story in which he called a female Politico reporter an idiot.
"We are the press who is under attack. We are under attack by this administration," she said. "It is about discrediting credible media."
She did not explicitly say that Spicer has discriminated against her, but acknowledged there was "a pattern."
She added that she is now "looking more closely thinking about what you're saying about the issue of women."
Ryan was then asked if she thought Spicer was attacking her personally.
"That's a tough one," she said, and then cited a former press secretary for the Clinton administration, who described the relationship between reporters and White House representatives as friendly and adversarial.
"I believe the friendly piece is gone now," she added. "It is getting personal, but it should never get personal in that room."
This is not the first time the Trump administration has made controversial comments about Ryan. During a press conference held by the president on Feb. 16, he asked Ryan if she was friends with the Congressional Black Caucus, and then asked her to set up a meeting with them.
During Wednesday's press conference, Spicer called on Ryan to ask the first question, and the two exchanged a greeting.