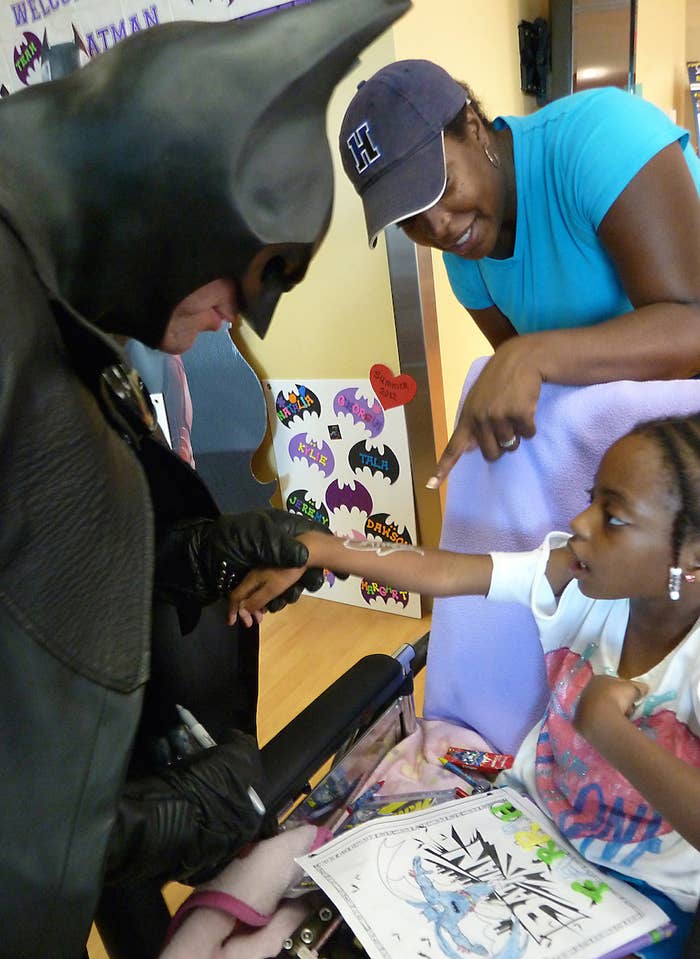 Lenny Robinson, locally known simply as Batman, died Sunday night in Hagerstown, Maryland, when he was struck by a car after his own vehicle broke down on the side of the road.
The Maryland native had earned nationwide acclaim over the years for his dedication to the superhero role, frequently visiting nearby hospitals to cheer up sick children.
Local police received a call around 10:30 p.m. Sunday about a collision on the highway.
According to a Hagerstown Police Department report sent to BuzzFeed News, an investigation revealed that Robinson, 51, had experienced engine trouble on the road and pulled over to examine it, though his car was still "partially in the fast lane."
An approaching Toyota Camry hit Robinson and his vehicle. He was pronounced dead at the scene.
Robinson first made headlines in March 2012 when he was pulled over by police officers in full Batman costume, driving a black Lamborghini that served as his Batmobile.
Officers did not ask him to remove his mask. One even asked to take a photo with him while another ran his license plates.
Dashcam footage of the encounter quickly spread across social media, earning him the title of "Route 29 Batman."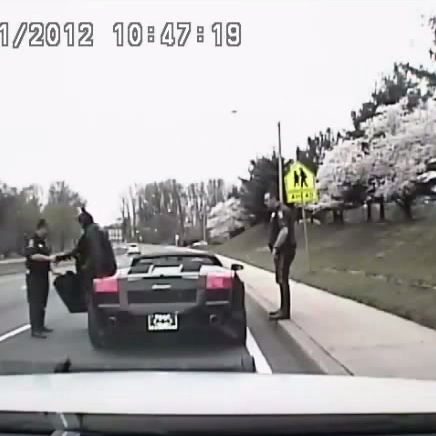 But Robinson had been at work in the bat suit long before the exchange with authorities.
Laurie Strongin, the founder and executive director of the Hope for Henry Foundation, told BuzzFeed News that she had known Robinson for 10 years. He worked regularly with the foundation, named after her son, when it hosted superhero parties for sick children in hospitals.
Robinson was on his way to Georgetown Hospital for one of those parties when he was famously pulled over.
"I remember everybody wondering where he was. The kids were all waiting for him," Strongin said. "Then we get this call and he explained that as soon as he finished up with the police, he'd be right over."
Strongin told BuzzFeed News she was introduced to Robinson by a mutual friend after learning he had taken up the local superhero persona.
The Hope for Henry Foundation often partners with the Children's National Medical Center in Washington, D.C., when it hosts similar superhero-themed parties for younger patients. Strongin said they had hosted 40 to 50 parties together.
"When he pulls up to a hospital, the magic starts," she said. "Kids run toward him dragging their IV poles or roll over to him in their wheelchairs. He blasts the Batman theme song from his car. He opens his cape and kids gather underneath it."
According to a 2012 profile in the Washington Post, Robinson was inspired to don the thick, $5,000 suit — which caused him to sweat out five to six pounds in water weight each time he wore it — because his son, Brandon, was a fan of the superhero.
Robinson often filled his Batmobile with Batman-inspired toys and memorabilia each time he visited hospitals, and made sure to check in on children who were unable to physically venture out of their rooms to see him.
Sometimes, Robinson's son accompanied him dressed as Robin.
When asked about the process of regularly embodying a superhero, Robinson told the Washington Post, "It feels like I have a responsibility that's beyond a normal person. And that responsibility is to be there for the kids, to be strong for them, and to make them smile as much as I can."
Strongin said Robinson had a "charm and generosity and mission to make sick kids happy," and that she feels "so lucky to have been introduced to him 10 years ago and have had all these opportunities to work together."