Rachel Dolezal Once Told A Student She Did Not Look Hispanic Enough For A Class Activity
Former students from Eastern Washington and Howard Universities told BuzzFeed News about their classroom encounters with Rachel Dolezal, who taught courses in Africana studies and studio art.
Rachel Dolezal once did not let a student participate in a class activity about race and culture because she did not appear Hispanic enough, the student told BuzzFeed News on Friday.
Dolezal, president of the Spokane, Washington, chapter of the NAACP, gained notoriety Thursday when her parents disclosed that she has been passing herself off as black for years. The revelation has prompted questions about the other aspects of Dolezal's life, including claims that she has been the victim of hate crimes and received threatening letters.
The student — who, like many others interviewed for this article, asked to remain anonymous — told BuzzFeed News that she took two courses with Dolezal during her freshman year to fulfill academic requirements at Eastern Washington University.
The student said that the incident occurred within the first three weeks of an introductory course on race and culture. Dolezal introduced an activity she called "Fishbowl," in which one student sat in front of the class as others were invited to ask them questions about their racial and cultural experiences.
In the first round of Fishbowl, the student said Dolezal sought out a volunteer of Hispanic background to be questioned.
The student, who told BuzzFeed News that she identifies as Hispanic, grew up in a Spanish-speaking country, speaks the language fluently, and, while she has light skin, believes she has a "pretty solid experience of what it's like to be Spanish." She raised her hand to participate.
"I think we should ask another student," the student recalled Dolezal saying in class.
The student asked why she could not participate.
"Rachel said I didn't look Hispanic," she said, and that her instructor "doubted that I could share experiences of racial or ethnic discrimination because I didn't have the appearance of looking Hispanic."
Dolezal instead selected another Hispanic-identified student to sit before the class.
"I didn't think much of it at the time," the student said, "but now I wish I had said something, especially now that her race is the one people are questioning."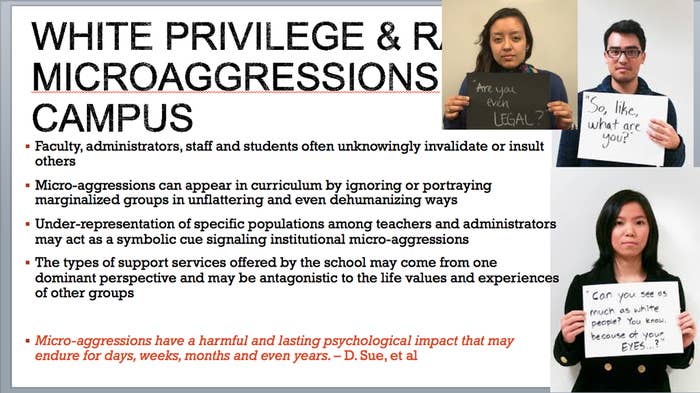 But not all students had negative experiences with Dolezal as an educator. Before moving to Washington, she taught at Howard University as she worked toward her MFA. Howard's fine arts program is prestigious, competitive, and globally recognized; it was not uncommon to see students from Europe and Asia walking through the department halls.
Another of Dolezal's former students at Howard spoke to BuzzFeed News on the condition on anonymity, and said that at the time, nobody questioned her race.
"She was white," said the Howard alumnus.
She enrolled in Dolezal's foundational studio course in 2001, adding that it was a normal practice for graduate students to teach introductory classes. She admired Dolezal's painting technique, a topic she said was discussed often in the class.
While nobody doubted her racial identity, the former student told BuzzFeed News that some faculty members were critical of the motivations behind her work. She noted one professor specifically: Tritobia Benjamin, who was well known in the art world as an authority on black female artists.
"Dr. Benjamin was very critical of Rachel," the former student told BuzzFeed News, because although she was white, she "captured the black body in her paintings," particularly black men.
"But if she graduated, it's because she successfully defended her thesis," she said.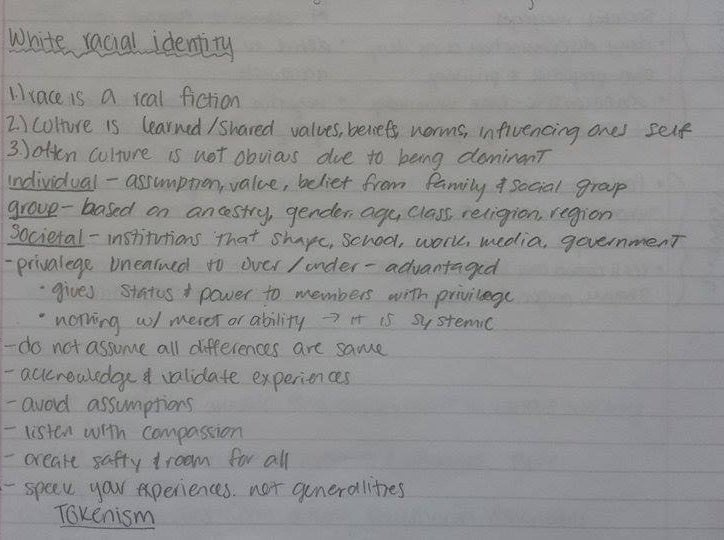 Notes from the EWU student who claimed she was unable to participate in the class activity on race and culture.
Though she did not take her class at EWU, Shawntelle Moncy wrote a lengthy profile on Dolezal that was published on Feb. 5 in The Easterner, an independent student-run campus newspaper.
Moncy told BuzzFeed News that she initially chose to interview Dolezal because she was active in the campus community and greater area. She spent three hours interviewing Dolezal in her home.
"She told me things that nobody would make up," said the third-year journalism major, recalling the instance when Dolezal told her that her family hunted with bows and arrows when she grew up.
When Moncy asked Dolezal about her ethnicity, she told her, "I identify as an African-American woman."
The only part of the interview that elicited ethical questions was when Dolezal described her alleged rape in October 2005 at a San Francisco hotel. Moncy spoke with her editor, who agreed that they should publish that part of the conversation.
Moncy said that while she spoke briefly with Dolezal's younger son, she did not quote him in the story.
Two of Moncy's friends had taken classes with Dolezal at EWU, and she said they "adored her."
Those individuals did not respond to BuzzFeed News's requests for comment.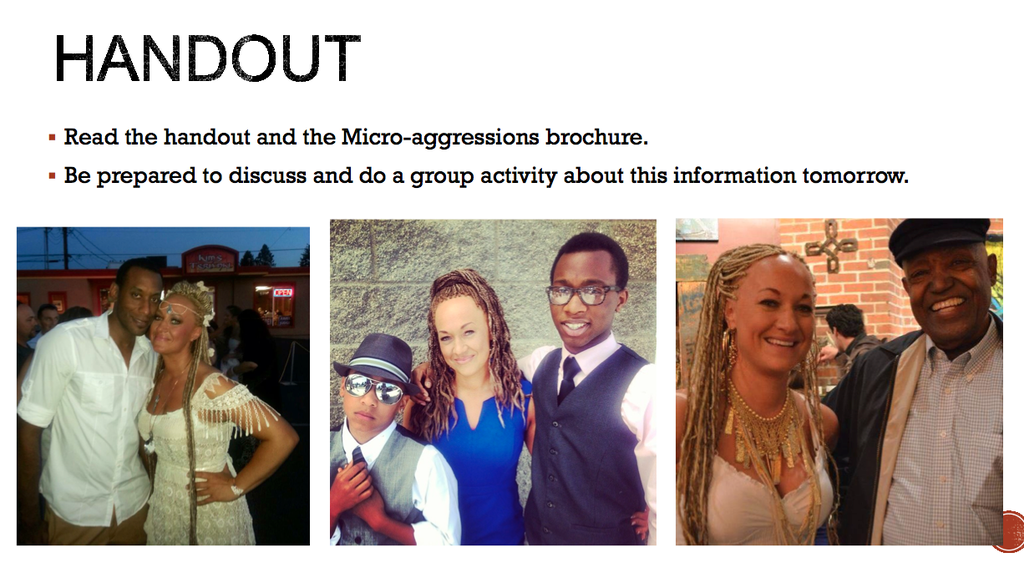 One student who took African History: Past to Present during the winter 2014 quarter at Eastern Washington told BuzzFeed News that Dolezal told the class early on that she was biracial, born to a white mother and a black father.
One day in February, Dolezal invited a man she claimed was her father to speak to her students, when the class was covering Black History Month and the civil rights movement.
The student recalled his presentation straying from the topic, which caused a bit of confusion when the class was then asked to write a summary on what he had said and came up short.
"She told us that we were wasting her time, and started crying," the student recalled.
Sam Gunning, who took one of Dolezal's Introduction to African American Studies courses in 2013 at at Eastern, told BuzzFeed News that Dolezal had once offered extra credit to students who attended a speech by the Rev. Jesse Jackson at the University of Idaho. He remembered seeing Dolezal hug Jackson after his speech, that it was "pretty wild."
Gunning, who said that he learned of Dolezal's background on Twitter, said he never had any doubts about Dolezal's blackness, because "her hair was in braids and she was teaching African-American studies."