Cleveland Browns Respond To Police Investigation Of Possible Manziel Assault
A team spokesperson said the quarterback's involvement in questionable behavior "undermines the hard work of his teammates and the reputation of our organization."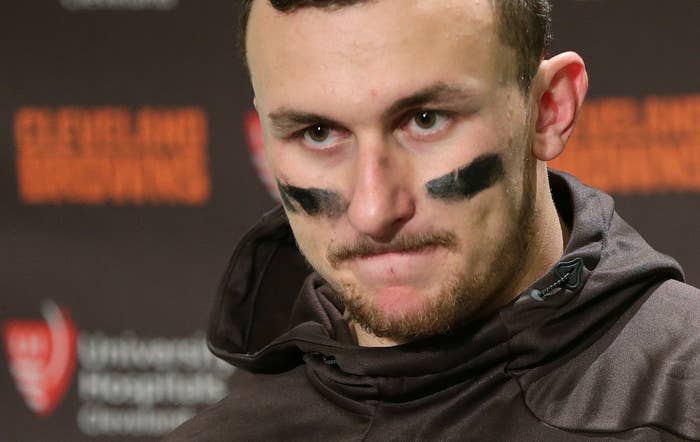 A Cleveland Browns representative on Tuesday responded to allegations that quarterback Johnny Manziel had been involved in the assault of his ex-girlfriend last week.
"We've been clear about expectations for our players on and off the field. Johnny's continual involvement in incidents that run counter to those expectations undermines the hard work of his teammates and the reputation of our organization," said Browns executive vice president of football operations Sashi Brown in a statement.
Brown added that the 23-year-old's status on the team would be addressed when it was permitted by league rules.
A source told ESPN that due to salary caps, the team would not be able to release Manziel until the new NFL season officially begins on March 9.
Manziel may have been involved in an altercation with his ex-girlfriend on Friday night in Dallas, according to a police report.
The woman called Fort Worth Police just before 2 a.m. Saturday and told officers that she had been involved in a "disturbance" with Manziel, her ex-boyfriend, according to a statement provided to BuzzFeed News by Fort Worth police.
Authorities determined after a preliminary investigation that "a possible assault had occurred" in Dallas or elsewhere outside of Fort Worth.
The two cities' departments are now working together to find out if Manziel committed a criminal offense.
A Dallas Police spokesperson told BuzzFeed News in an email that officers were in the early stages of the investigation and could not comment further.
Manziel's ex-girlfriend also told Fort Worth officers that she was concerned for his "well-being." The officer attempted to contact Manziel and eventually confirmed that he was safe and not in danger.
Last October, Manziel was stopped by police in Ohio for reckless driving. His ex-girlfriend, who was in the car with him that night, accused him of assaulting her. Police said they determined the woman was intoxicated and allowed the couple to continue.
The 23-year-old NFL player also has a history of alcohol abuse. He voluntarily entered a rehabilitation facility in January 2015 for four months.
The Cleveland Browns did not immediately return a request for comment.