Trump Nominates Sen. Jeff Sessions For Attorney General And Rep. Mike Pompeo For CIA Director
Sessions has said he supports a temporary ban on Muslims, while Pompeo is a staunch opponent of the Iran deal.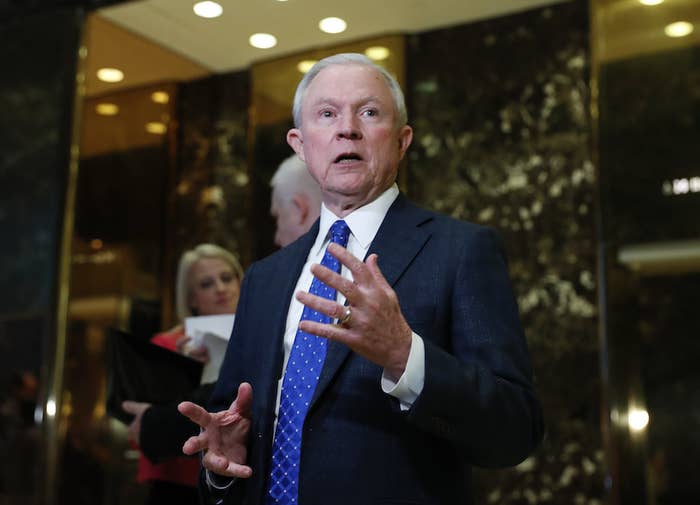 President-elect Donald Trump on Friday has nominated US Senator from Alabama Jeff Sessions to the attorney general post in his cabinet, and US Representative Mike Pompeo as director of the CIA.
"President-elect Donald J. Trump today announced that he intends to nominate U.S. Senator Jeff Sessions to serve as Attorney General and U.S. Rep. Mike Pompeo as Director of the Central Intelligence Agency," read a statement from Trump's transition team.

Pompeo has reportedly accepted the nomination, NBC News reported.
Both nominees will need to be confirmed by the Senate.
Trump met with Sessions, a Republican, at Trump Tower in New York City on Thursday, and was pleased with his past experience, according to a statement from his transition team.
"While nothing has been finalized and he is still talking with others as he forms his cabinet, the President-elect has been unbelievably impressed with Senator Sessions and his phenomenal record as Alabama's Attorney General and US Attorney," the statement read.
"It is no wonder the people of Alabama re-elected him without opposition."
Sessions, who was among the first US senators to endorse the president-elect, served as Alabama attorney general in 1994 and was elected to the US Senate in 1996.
In 1986, when he was a US attorney, Sessions ran for a federal judge position but was ultimately rejected after employees and other colleagues alleged that he had made racist statements about civil rights groups.
Thomas Figures, who at the time worked in Sessions' office, testified at one of the 1986 Senate Judiciary Committee hearings that Sessions had called organizations like the National Association for the Advancement of Colored People (NAACP) and the American Civil Liberties Union (ACLU) "un-American."
Figures, who is black, also said that Sessions had called him "boy" on multiple occasions, and made jokes about the Ku Klux Klan.
He said that he did not come forward about Sessions's statements earlier because he feared retaliation.
"I felt that if I had said anything or reacted in a manner in which I thought appropriate, I thought I would be fired," he said at the hearing, according to CNN.
Sessions denied the allegations, but the Senate Judiciary Committee ultimately voted against his appointment, 10–8.
In Friday's statement, Trump said that Sessions "is a world-class legal mind and considered a truly great Attorney General and U.S. Attorney in the state of Alabama."
Trump added that Sessions is "greatly admired by legal scholars and virtually everyone who knows him."
Sessions said in the transition team's statement that he was humbled to have been nominated.
"With the support of my Senate colleagues, I will give all my strength to advance the Department's highest ideals," he said. "I enthusiastically embrace President-elect Trump's vision for 'one America,' and his commitment to equal justice under law."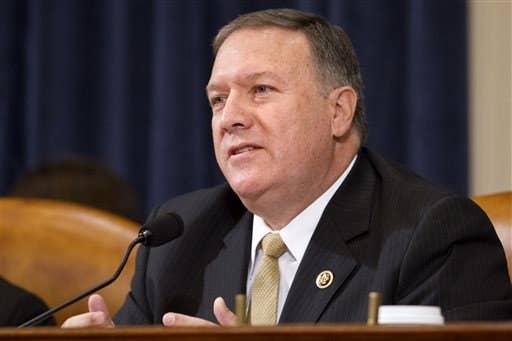 Pompeo, who is a three-term Kansas representative, is one of the most vocal critics of the Obama administration's deal with Iran that eased oil and financial sanctions on the country in exchange for dismantling large portions of its nuclear program.

He also served on the House Select Benghazi Committee, where he wrote additional reports on Hillary Clinton, criticizing her actions as secretary of state during the 2012 attack in Libya that killed four Americans.
"Before, during and after the attacks of September 11, 2012 in Benghazi, Secretary of State Hillary Clinton put politics ahead of people, pulling out all the stops to cover up the fact that she didn't act when American lives were on the line," Pompeo wrote in his report.

After the Boston Marathon bombing, Pompeo blamed Islamic leaders in the US for not condemning acts of terrorism in the country and for being "potentially complicit" in those acts.
California Representative Adam Schiff, a ranking member of the House Permanent Select Committee on Intelligence, congratulated Pompeo on his nomination.
"Mike is very bright and hard-working and will devote himself to helping the Agency develop the best possible intelligence for policy makers," Schiff said in a statement sent to BuzzFeed News.
"While we have had our share of strong differences — principally on the politicization of the tragedy in Benghazi — I know that he is someone who is willing to listen and engage, both key qualities in a CIA Director," he added.
"I am honored to have been given this opportunity to serve and to work alongside President-elect Donald J. Trump to keep America safe," Pompeo said in a statement on Friday.
"I also look forward to working with America's intelligence warriors, who do so much to protect Americans each and every day," he added.
On Thursday, it was reported that Trump had offered the role of National Security Adviser to Lt. Gen. Michael Flynn. Flynn had advised Trump through his campaign and was once considered a potential running mate.