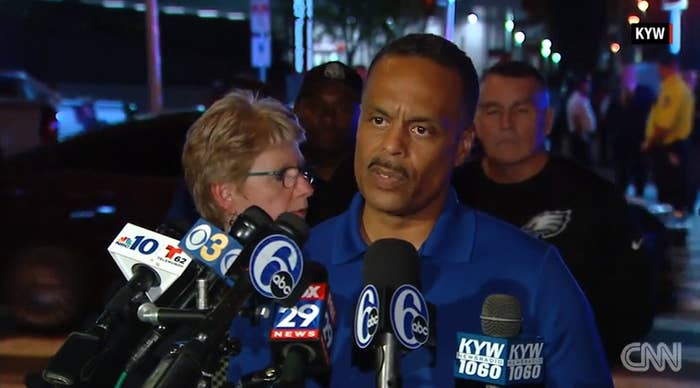 A gunman shot and injured two Philadelphia police officers Friday night during an ambush that ultimately left two people dead — a civilian and the suspect — and three other civilians wounded in what has been called the most violent act the city has seen in a long time.
The shooter has been identified by authorities as 25-year-old Nicholas Glenn from West Philadelphia.
Officers uncovered a letter titled "Doom" at the scene of the shooting in which Glenn said he hated police and probation officers, Philadelphia Police Commissioner Richard Ross Jr. told reporters on Saturday afternoon.
The rampage began around 11:18 p.m. as Sgt. Sylvia Young was sitting in her patrol car when Glenn walked up and fired approximately 18 rounds into the vehicle, Ross said.
One or two of the rounds lodged in her bulletproof vest, and two others struck her weapon twice, likely disabling it, Ross said.
"I don't know if she would have been able to return fire if she had to," he added.
Young was transported to Presbyterian Hospital and is in stable condition.
Officers in the area heard the gunshots and began to chase Glenn, Ross said.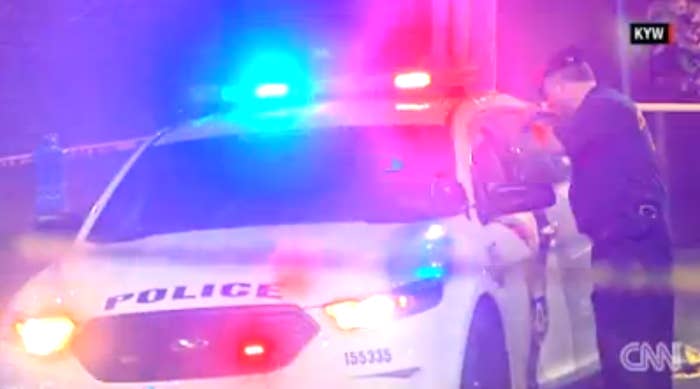 Glenn then took off on foot and approached a bar, where he shot a security guard in the leg. He went into the bar and unloaded five more rounds.

Once inside, he grabbed a woman and used her as a human shield against the police. Then he shot that woman in the leg. Both the woman and the security guard were taken to the hospital and have been reported to be in a stable condition.
After he left the bar, Glenn came upon a white car with a man and woman inside. Ross said the suspect fired approximately 14 times into the vehicle.
The man was wounded, but the 25-year-old woman was shot seven times in the abdomen and was later pronounced dead at Presbyterian Hospital. Her identity has not yet been released.
Eventually, two other officers responded to the incident and chased Glenn into an alley. They cornered, shot, and killed him, Ross said.
During the exchange of gunfire, University of Pennsylvania officer Ed Miller was wounded.
The investigation into the rampage is ongoing, but authorities have no reason to believe Glenn had "ties to anyone" or had been radicalized, Ross said.

CNN reported that Glenn had been involved in a gang rape case in 2012, but the charges against him were later dropped.

Friday's rampage marks the second police ambush in Philadelphia this year. The first was on Jan. 7, when 30-year-old Edward Archer attacked an officer "in the name of Islam."
"Right now we have a lot of questions," Ross said. "This is a completely bizarre situation."

A local CNN affiliate reported that the commissioner said that officers would ride two to a patrol car until further notice.