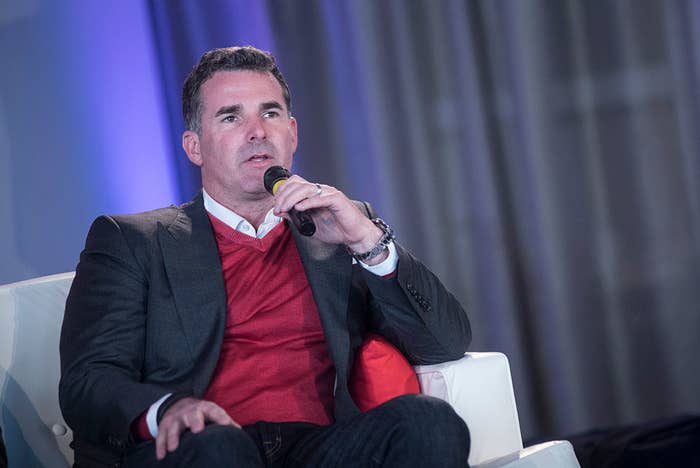 Sportswear company Under Armour is facing social media backlash and threats of boycott after CEO Kevin Plank spoke out in favor of President Donald Trump's pro-business leadership style on Tuesday evening.
In an interview on CNBC, Plank said that Trump's business acumen was "a real asset for the country."
The Under Armour CEO lauded Trump's plans to "build things" and "make bold decisions and be really decisive."
Plank said he's "a big fan of people that operate in the world of 'publish and iterate' versus 'think, think, think, think, think.' So there's a lot that I respect there."
Plank met with Trump in the White House on Jan. 23 along with other business leaders including Tesla CEO Elon Musk and executives from Dow Chemical, Dell, and GE to talk about manufacturing and job creation in the US.
When asked about Plank's comments, Golden State Warriors star Stephen Curry, who has a contract with Under Armour, told Mercury News he agreed with the "asset" description, "if you remove the 'et'" from asset. Curry said Plank later clarified to him that his comments were purely from a business perspective, but that he would cut ties with the company if "the leadership is not in line with my core values."
Twitter was also ablaze with people announcing that they would no longer buy Under Armour apparel or shoes following the endorsement.
People also took to Under Armour's Instagram account to post similar comments.
But others showed their support of Plank, and said they would continue to buy Under Armour.
With its headquarters in Baltimore, Under Armour also faced heavy criticism from a local politician there.
"When Kevin Plank aligns himself with Donald Trump's administration by serving as an advisor to it, he is normalizing Trump's behavior and treating his administration as legitimate," Baltimore City Councilman Ryan Dorsey wrote in a statement on his website.
"He is also earning a significant amount of potential political capital with these actions," he added.
In a statement sent to BuzzFeed News, Under Armour reiterated that as a company, "we engage in policy, not politics."
Read the full statement here.
At Under Armour, our culture has always been about optimism, teamwork, and unity. We have engaged with both the prior and the current administrations in advocating on business issues that we believe are in the best interests of our consumers, teammates, and shareholders. Kevin Plank was recently invited at the request of the President of the United States, to join the American Manufacturing Council as part of a distinguished group of business leaders. He joined CEOs from companies such as Dow Chemical, Dell, Ford, GE and Tesla, among others to begin an important dialogue around creating jobs in America. We believe it is important for Under Armour to be a part of that discussion.

We have always been committed to developing innovative ways to support and invest in American jobs and manufacturing. For years, Under Armour has had a long-term strategy for domestic manufacturing and we recently launched our first women's collection made in our hometown of Baltimore, MD. We are incredibly proud of this important first step in the evolution of creating more jobs at home.

We engage in policy, not politics. We believe in advocating for fair trade, an inclusive immigration policy that welcomes the best and the brightest and those seeking opportunity in the great tradition of our country, and tax reform that drives hiring to help create new jobs globally, across America and in Baltimore.

We have teammates from different religions, races, nationalities, genders and sexual orientations; different ages, life experiences and opinions. This is the core of our company. At Under Armour, our diversity is our strength, and we will continue to advocate for policies that Protect Our House, our business, our team, and our community.