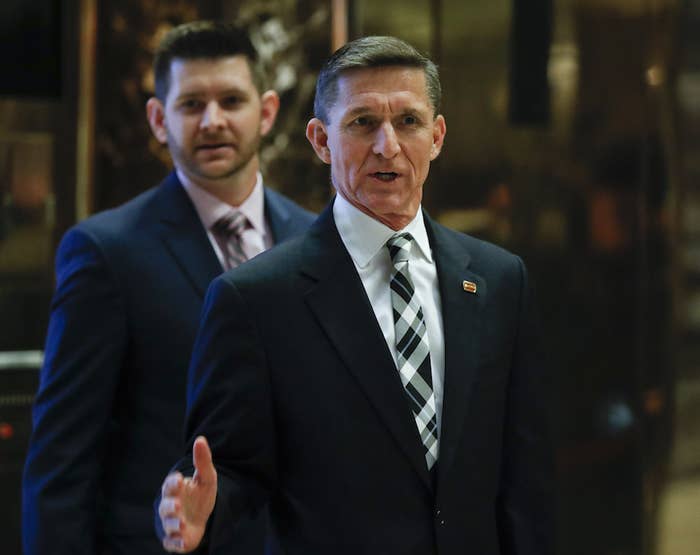 Vice President-Elect Mike Pence on Tuesday was asked about Michael G. Flynn — the son of President-elect Donald Trump's appointed national security adviser — spreading fake news online. Pence responded that the younger Flynn has "no involvement in the transition whatsoever."
Pence, who was on MSNBC's Morning Joe, was then asked why Michael G. Flynn reportedly has a transition email. Pence repeated that he's not involved in the transition and and went on to call his father, Retired Gen. Michael T. Flynn, "a valued member of our team."
The younger Flynn most recently came under fire for a tweet that supported the "Pizzagate" conspiracy theory as a story "until proven false." He also cited the leaked emails from Clinton campaign chairman John Podesta and the "coincidences" linked to it.
The conspiracy — that a popular pizza restaurant in Washington, DC, had been providing underage prostitutes to top Democrats — prompted a 28-year-old man from North Carolina to "self-investigate" the establishment and fire a rifle inside on Sunday. He was arrested and charged.
While Gen. Flynn did not tweet about Pizzagate, he has in the past tweeted fake news about Hillary Clinton and Anthony Weiner leading up to the election.

On Nov. 2, he called a story on TruePundit.com alleging that Clinton had laundered money and engaged in child trafficking a "must read."

Two days later, he manually retweeted a Breitbart story that claimed the New York Police Department was ready to make arrests in the Anthony Weiner case.

Shortly after Pence's appearance on MSNBC, CNN anchor Jake Tapper tweeted, "Source: Flynn Jr continues to "help his father with some administrative and scheduling work and that needs to be run through transition."

Later on, Trump's communications director Jason Miller said that the younger Flynn had been helping his father with some administration and scheduling duties, and reiterated that he is no longer involved with the transition.
CNN also reported, citing a source, that the Trump transition team had requested a security clearance for the younger Flynn. It also reported that Trump himself eventually asked Flynn to leave.