One Same-Sex Couple Is Now Legally Married In Texas
Sarah Goodfriend and Suzanne Bryant were granted the right to marry by a judge this morning. The Travis County county clerk's office said that it will not issue additional marriage licenses to same-sex couples. [Update: The Texas Supreme Court issued a stay of two marriage-related orders.]
On Thursday morning, Texas state District Judge David Wahlberg ordered that a marriage license be issued to Sarah Goodfriend and Suzanne Bryant in Austin.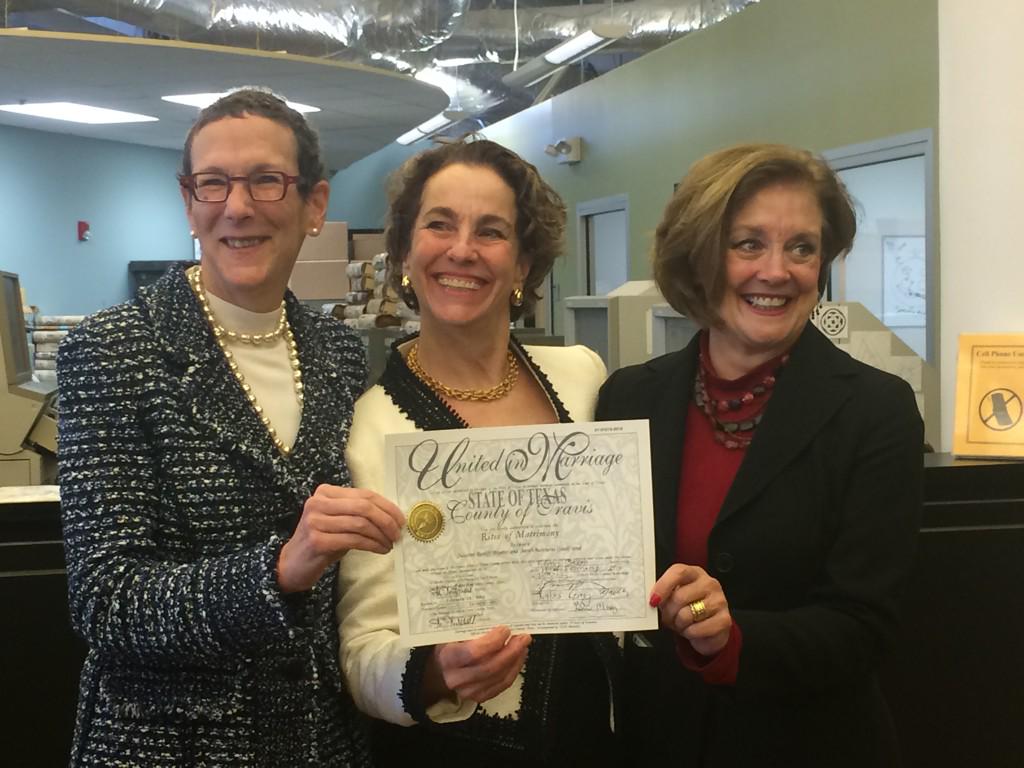 The couple had been together for 31 years, and had been denied a marriage license eight years ago in the same building, Statesman.com reported.
Goodfriend and Bryant had hired a lawyer to petition the license. Goodfriend had been diagnosed with ovarian cancer, and they argued that not being married was causing them both significant harm.
They asked that Judge Wahlberg not only grant them the right to marry, but to also waive the 72-hour waiting period in order to expedite the process.
"Given the urgency and other circumstances in this case," Wahlberg's order said, "and the ongoing violation of plaintiffs' rights, the court has concluded that good cause exists" to move forward with the marriage.
Goodfriend and Bryant's teenage daughters, along with a few of the family's friends, attended the brief ceremony, which included a short public statement and photos.
The Texas Supreme Court issued stays, halting both current state court marriage-related orders in the state, but Thursday's stay did not void the Travis County same-sex couples' marriage.

Chris Geidner contributed to this report.