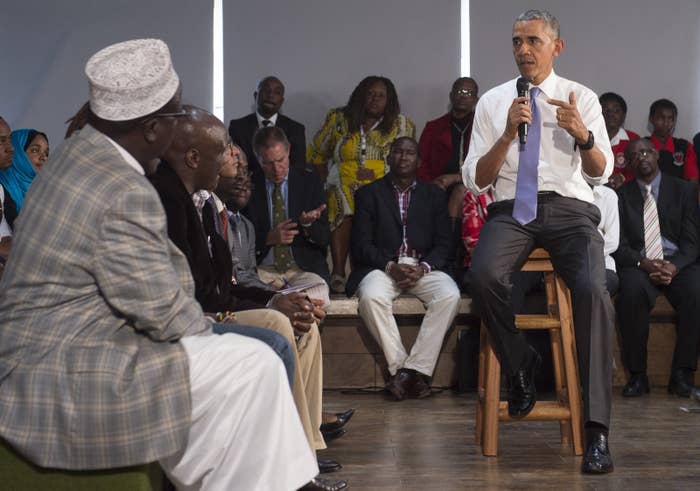 NAIROBI — Former president Barack Obama announced Friday that he will be traveling to Kenya for a one-day trip July 15, marking his first visit to his father's home country since he was president.
In a statement prepared by Obama's office, his short visit will include a meeting with Kenyan President Uhuru Kenyatta and opposition leader Raila Odinga. He will also visit Alego, a constituency in Western Kenya, to celebrate the opening of a new sports complex.
Rumors of a visit from the 44th president of the United States — who became the first sitting president to visit the continent in 2015 — have been swirling in Kenya since the beginning of June. Local outlets have reported that Oprah and Akon may accompany him on his trip.
After his Kenya visit, Obama is scheduled to travel to Johannesburg, South Africa, where on July 17 he will deliver the opening remarks for the Nelson Mandela Annual Lecture and meet with South African President Cyril Ramaphosa, according to the release.
The next day, he will hold a town hall meeting for his organization, Obama Foundation Leaders in Africa.
"President Obama looks forward to meeting these emerging leaders for the first time, hearing about the extraordinary work they are doing across Africa, and discussing how the Obama Foundation can support their civic leadership development," the statement reads.
Obama's connection to Kenya has been mired in controversy for more than a decade now. President Donald Trump was a prominent promoter of the racist "birther" conspiracy theory that claimed Obama was secretly born in Kenya. In 2011, while seeking his own presidential bid, Trump said that he would only release his tax information if Obama revealed his birth certificate, fanning the flames of a theory that persisted even after Obama showed his Hawaiian birth certificate a week after Trump's comment. Trump's campaign said in 2016 that he believed Obama was born in the US.