NYU To Offer Scholarships For Undocumented Students
The pilot program is the first of its kind at the university, and will be available to incoming freshmen residing in New York beginning in the 2015-2016 academic year.
New York University announced this week undocumented students who reside in New York state will be eligible for university scholarships.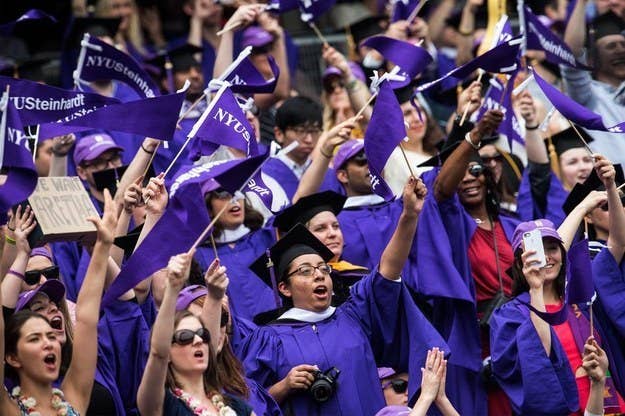 Current students are not eligible, and prospective students must provide proof that they have resided in New York state for the past three years in order to qualify. New York University Vice President of Public Affairs John Beckman said that the financial aid is "on par with what U.S. citizens receive," and that if an undocumented student presents a strong case for high financial need and academic promise, they could earn a full-tuition scholarship through this initiative.
The announcement is a result of efforts by the Dream Team @ NYU, a student-run organization that aims to spread awareness about the unique needs of the undocumented community. Student members approached various NYU admissions and financial aid administrators, including University President John Sexton, a year ago and remained in conversation with them until the policy was announced on Sunday.
Ivan Rosales, an NYU Graduate School of Arts and Sciences alumni, and former Dream Team member who helped implement the policy, said the idea was initially born out of a collective desire to increase access to the university for undocumented students.
"We knew that the university didn't know how to deal with undocumented students," said Rosales, who is undocumented. He added that as of last year, NYU did not keep a record of how many undocumented students were currently enrolled.
And while this sort of inclusion is the first of its kind for NYU, it is not the first in the country to offer financial assistance to undocumented students. Santa Clara University in California created the Hurtado Scholars Program exclusively for undocumented students, and the University of Notre Dame also considers undocumented students for need-based scholarships. Columbia University, Rosales said, is "notable" for assisting the undocumented students it admits, and U.C. Davis and U.C. Berkeley in California both offer financial and academic support to its students.
The Dream Team was aware that other institutions supported undocumented students, and used it to fuel their own initiative.
The university initially expressed concern that including more students in a pool of financial aid that was already modestly sized would increase the strain on resources, but Rosales said they continued to challenge the university.
"We were really pushing for the angle that this would be a first step for NYU to uphold its commitment to DREAM Act," he said, referring to the bill that would grant permanent residency to upstanding undocumented people. The university has publicly endorsed the legislation.
For Sandra Honigman, an NYU senior and a Dream Team member, the fight is not over.
"What the (Dream Team) is working on now is keeping in touch with administrators and expand the program in order to have all undocumented students in the U.S. be able to afford an NYU education," she said in an email to BuzzFeed News. "We have members in the (Dream Team) who are undocumented and we would like to continue fighting for this."