NYC Mayor Introduces New Initiative That Could Reduce Pretrial Jail Time
Mayor Bill de Blasio allocated $17.4 million toward a program that will allow some defendants to be supervised in their communities rather than be detained when they can't afford bail.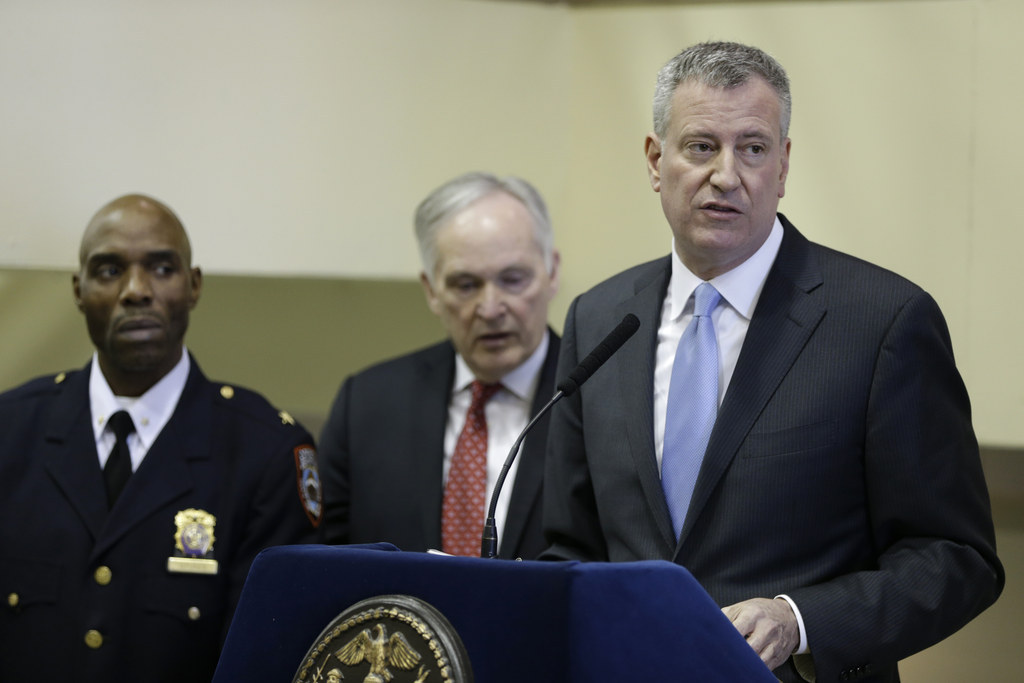 New York City Mayor Bill de Blasio on Wednesday announced a citywide $17.8 million initiative aimed at decreasing the number of defendants who are put in jail when they cannot pay their bail.
The project, called supervised release, will give as many as 3,400 qualifying defendants the opportunity to return home and continue work as they await trial. Currently, when someone cannot afford bail, they are detained in jail.
According to a statement sent to BuzzFeed News, Mayor de Blasio believes the move will ease the burden placed on low-income people who remain innocent in the eyes of the law, but are without the means to avoid pretrial jail time.
"Money bail is a problem because — as the system currently operates in New York — some people are being detained based on the size of their bank account, not the risk they pose," he said.
"This is unacceptable. If people can be safely supervised in the community, they should be allowed to remain there regardless of their ability to pay."
Each year, 14% of all defendants, or 45,000 people, are detained on bail in New York City. Many of them face charges of violent crimes or would likely be deemed high risk if they returned to their communities, but some are held in jail only because they cannot, as the mayor's statement read, afford "relatively low bail amounts."
A key component of the supervised release initiative is the collaboration with nonprofit organizations in the city's five boroughs.
Employing the use of a validated risk assessment tool, these organizations will determine which defendants do not pose a threat to public safety, and who will likely have bails set to their cases, according to the statement.
Manhattan District Attorney Cyrus Vance said in a statement that this "updated science-driven risk assessment tool will help actors in the criminal justice system better understand who can safely be released and supervised in the community while awaiting their day in court."
Once qualifying defendants are identified, organizations will come up with supervision procedures that are proportionate to the charges defendants face and engage in a series of check-ins as they wait for their court dates.
Supervision will range from text messages to in-person meetings and could include additional programs that cater to a defendant's specific needs.
New York City paved the way for pretrial detainment reduction in 1961 with the implementation of Release on Recognizance (ROR), or parole.
Release on Recognizance was advocated in part by Herb Sturtz, who founded the Vera Institute of Justice and now serves as a senior adviser at the Open Society Institute.
In a statement, Sturtz said Mayor de Blasio's initiative "will bring freedom to persons charged but not convicted; it will add strength to the presumption of innocence ... [and] strengthen ties between the community and the criminal justice system."
Nancy Fishman, a project coordinator for the Vera Institute's Center on Sentencing and Corrections, told BuzzFeed News that the initiative has significant implications for marginalized New Yorkers, including those of low socioeconomic status and those with mental illnesses.
"In addition to losing a breadwinner, if a family is trying to find bail money, they're calling on everyone, pulling all of their dimes," she said.
Oftentimes, the nature of low-income work has equally low job security, Fishman said, and any amount of time spent away from work could result in termination.
"They can't just call in and say they'll be out for a few days," she said.
Fishman also spoke of the unique obstacles people with mental illnesses face in the criminal justice system, and how these issues begin with detainment.
"Detainment can impact their access to medication and treatment," she said. "It's just part of the whole constellation of issues that brought bail release to the forefront of the national prison reform effort."
In a similar vein, New York Civil Liberties Union Executive Director Donna Lieberman said in a statement that the groups left most vulnerable to detainment when they cannot afford bail are "overwhelmingly New Yorkers from communities of color."
Lieberman added that 40% of the prison populations at Rikers is there "solely because they cannot afford to pay their bail — sometimes for lack of a couple hundred dollars."
In 2013, the Laura and John Arnold Foundation released a study on the impact of pretrial detention on sentencing outcomes. Researchers tracked cases of more than 150,000 defendants who had been booked into Kentucky jails in 2010 and noted relationships between the length of their detainment and sentences.
They found that low-risk defendants who were detained for the entirety of their pretrial periods were more than five times more likely to be sentenced to jail and more than three times more likely to receive prison sentences, as compared to other low-risk defendants who served part of their pretrial detainment.
The same study found that low-risk defendants detained for the whole pretrial period also receive longer jail and prison sentences.
Fishman also told BuzzFeed News that pretrial detainment often results in increased likelihood of recidivism — something New York Police Department Commissioner Bill Bratton also acknowledged: "This [supervised release] program moves the city towards a more fair and equitable criminal justice system by decreasing unnecessary detention for those individuals awaiting trial, while more accurately assessing public safety risk and the supervision necessary to prevent people from re-entering the criminal justice system," he said in a statement.