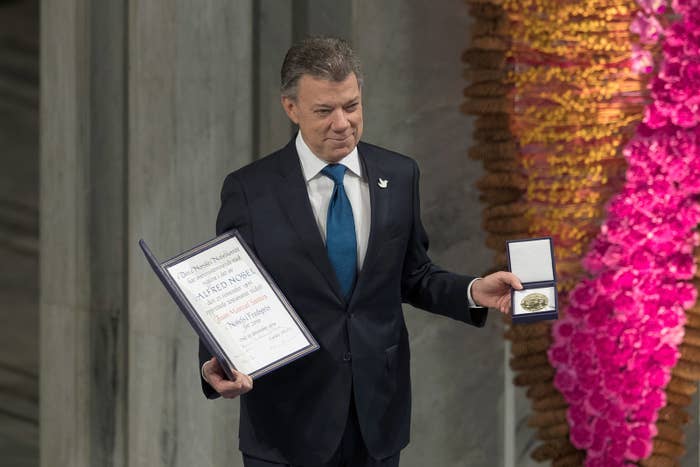 Accepting the Nobel Peace Prize on Saturday, Colombian President Juan Manuel Santos said the honor had helped him achieve the "impossible dream" of ending his country's decades-long civil war.
Santos was awarded the Nobel Peace Prize on Oct. 7, five days after Colombians narrowly voted against a peace deal between the government and rebels from the Revolutionary Armed Forces of Colombia (FARC). The Norwegian committee nonetheless made him this year's Nobel laureate for his efforts to bring peace to the country.
But on Nov. 24, the two parties signed a revised referendum that Santos called "the definitive one," and the agreement was officially approved by the Colombian government on Dec. 1.
Speaking from Oslo, Norway, on Saturday, Santos called his Nobel Peace Prize a "gift from heaven," and dedicated it to the 220,000 Colombians who had been killed and the 8 million displaced since the conflict began.
"Ladies and gentlemen, there is one less war in the world, and it is the war in Colombia," he said.
Several victims were present and honored at the award ceremony, including former Colombian presidential candidate Ingrid Betancourt, who was held captive by the FARC for six years.
Leyner Palacios, who lost 32 family members in the war, was also in the audience.
"The FARC has asked for forgiveness for this atrocity, and Leyner, who is now a community leader, has forgiven them," Santos said of Palacios said.
In his acceptance speech, Santos said that he'd spoken at length with war victims like Palacios throughout the peacemaking process.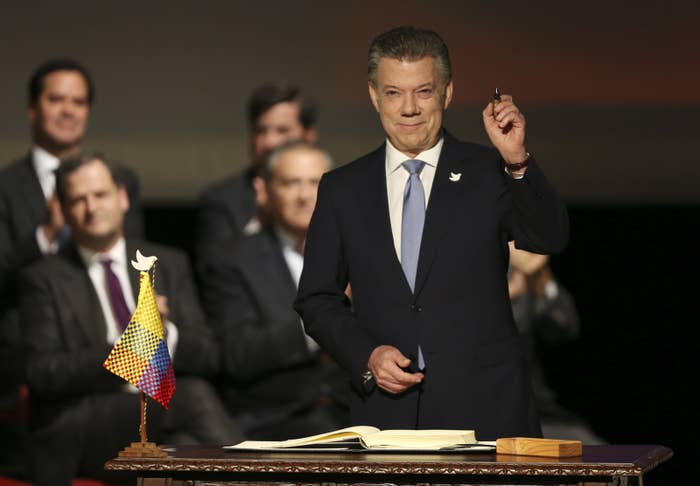 "I'm told by scholars that the Colombian peace process is the first in the world that has placed the victims and their rights at the center of the solution," Santos said. "These negotiations have been conducted with a heavy emphasis on human rights, and that makes us feel truly proud."
He added that "victims want justice, but above anything else, they want to know the truth. And they, in a spirit of generosity, desire that no new victims should suffer as they did."