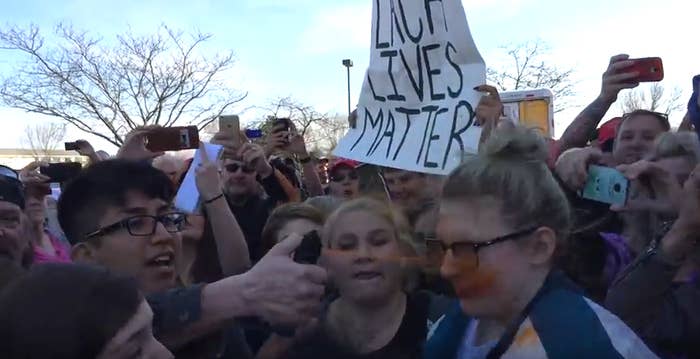 Authorities said Thursday that they will not pursue sexual assault charges against the man accused of groping a 15-year-old girl as she protested a Donald Trump rally in Wisconsin. Instead, they said, the girl may face disorderly conduct charges for punching him in the face.
Janesville Police Chief David Moore said during a news conference that investigators viewed several videos of the confrontation that occurred on Tuesday and interviewed 13 witnesses, including the accused man, 59-year-old Daniel Crandall. But they ultimately found no evidence to support allegations that the girl, who has asked to be identified as Alex, was sexually assaulted.
Moore said that during her interview with police, Alex said she had been "touched" and "felt pressure in the breast area."
The police chief played one of the videos Janesville detectives viewed, and noted several times that the incident occurred in "close quarters."
"Pushing against someone is probably occurring all over in that crowd," he said.
Crandall admitted to engaging in a "verbal altercation" with Alex, and acknowledged that he had "very animated hand gestures" during their exchange, but he denied having touched her, Moore said.
At that point, Moore noted that Crandall "stepped back, put his hands in the air, and looked away" before Alex punched him in the left cheek.
Moore said Alex could have faced an assault charge for the punch, but Crandall declined to pursue it.
Janesville police instead referred the case to authorities for disorderly conduct charges, he added.
Officers have yet to identify or track down the younger man who pepper sprayed Alex's face two seconds after she punched Crandall, but he faces possible charges of battery, disorderly conduct, and illegal use of pepper spray.