An employee of a nonprofit organization in West Virginia has been removed from her position after she posted a racist Facebook status about first lady Michelle Obama.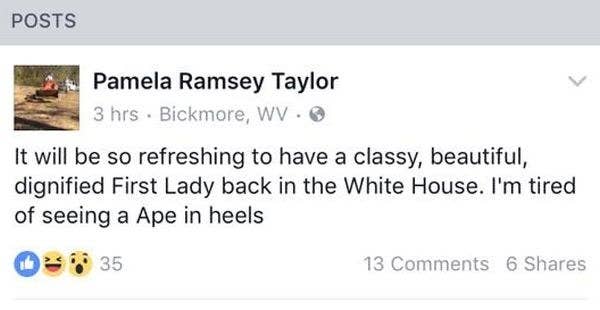 "It will be so refreshing to have a classy, beautiful, dignified First Lady back in the White House. I'm tired of seeing a Ape [sic] in heels," wrote Pamela Ramsey Taylor, who worked as a director of the Clay County Development Corporation.
The status was first reported by local station WSAZ on Nov. 14, but it is unclear when Taylor originally posted the status.
Clay County Mayor Beverly Whaling commented on Taylor's status, saying, "Just made my day Pam." A short white later, she resigned.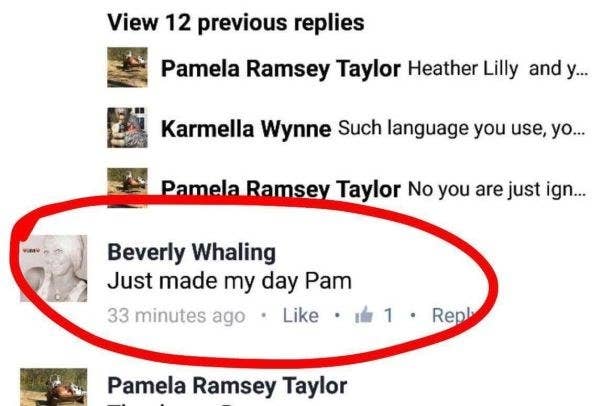 Whaling's resignation was announced Tuesday evening. Jason Hubbard, a town council member, told press that the comments do not reflect the believes of Clay County.

"We are a hopeful, helpful, and empathetic community made of all walks of life," Hubbard said.

Whaling also issued a statement defending her comments, and saying she was sorry if she offended anyone.

"I would like to apologize for any unintentional harm caused by my comment," Whaling wrote. "My comment was not intended to be racist at all.

"I was referring to my day being made for change in the White House! I am truly sorry for any hard feeling this may have caused! Those who know me know that I'm not in any way racist!"

Her resignation went into effect immediately.
Taylor and Whaling quickly came under fire for their comments. One petition calling for their resignations currently has more than 114,000 signatures.
Taylor's Facebook page appears to have either been taken down or made private, but some outlets have reported that she wrote an apology.
On Tuesday, an employee for the Clay County Development Corporation, which the Washington Post reported is partly taxpayer funded, confirmed to BuzzFeed News that Taylor was no longer with the organization.
"Ms. Taylor has been removed from her position. She is not in the building," the employee said.
The director of the Clay County Development Corporation did not immediately respond to a request for clarification if Taylor was still employed in any capacity or had been fired.

BuzzFeed News has reached out to Taylor for comment.