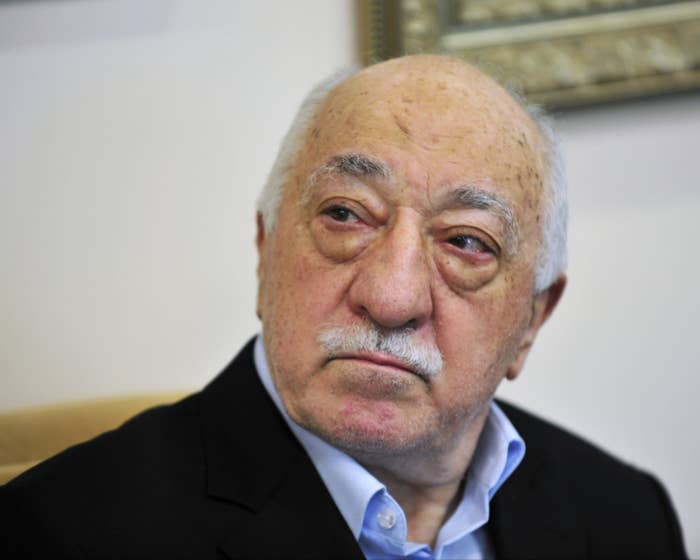 Soon after the Russian ambassador to Turkey was assassinated on Monday in Ankara, Turkey's president and other Turkish officials said the gunman was connected to what they consider is a terrorist network whose leader is based in the United States.
They were talking about, in part, the cafe owners and entrepreneurs of Sheepshead Bay, Brooklyn, a hub of emigres affiliated with Fethullah Gülen — a Turkish cleric living in self-exile in Pennsylvania since 1999 after a political falling out with Turkey's current president, Recep Erdoğan.
Since then, officials in Turkey have blamed Gülen, whose followers are known as Gülenists, for many of the country's ills — including an unsuccessful coup attempt earlier in 2016.
Gülen didn't return a request for comment, but in a statement on Monday said, "I condemn in the strongest terms this heinous act of terror."
He added, "Turkish and international experts repeatedly have pointed out the deterioration of security and counter-terrorism efforts due to the Turkish government's assigning hundreds of counter-terrorism police officers to unrelated posts, as well as the firing and imprisoning many others since 2014."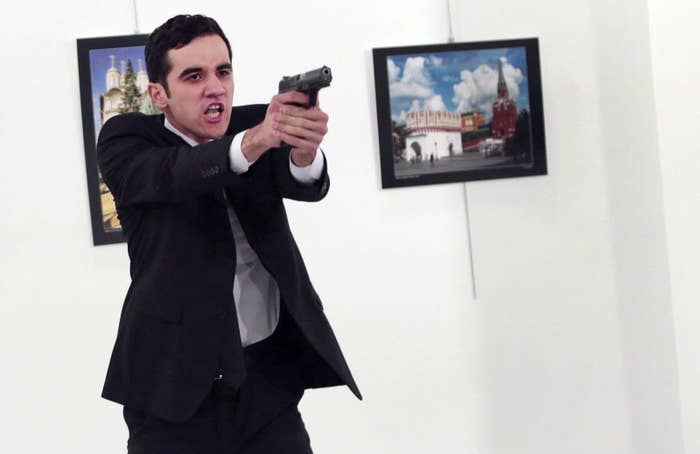 In Sheepshead Bay, a leading entrepreneur and a person in the Gülenist community — who refused to give their names for fear of retaliation from the Turkish government, they said — heatedly denied the suggestion of a link with Andrey Karlov's 22-year-old assassin, police officer Mevlut Mert Altintas.
"Are we supposed to believe that a 75-year-old man called a 22-year-old and asked him to stand behind the ambassador for a half hour, and then kill him?" asked one prominent Sheepshead Bay restaurant owner with ties to the movement when asked about the shooter's possible affiliation with Gülen. "A hundred, thousand, million percent, I don't believe this."
The restaurant owner said that by casting blame on Gülenists, the Turkish government could skirt responsibility for what could otherwise be viewed as failed security at Monday's event.
"Whenever something bad has happened in the past year, they throw it on the Gülen movement," he said.
Gülen, an imam, established a moderate Islamic secular movement in Turkey in the 1960s aimed at upholding the values of service, education, and entrepreneurship.
Erdogan accused Gülen of inspiring the failed military coup on July 15, 2016, that led to a three-month state of emergency and left hundreds of people dead. Gülen denied the claims and condemned the coup in a statement.
Since then, communities around the world — including in Turkey — that are believed to be Gülenist centers have attracted the interest of authorities.
On Oct. 28, the FBI reportedly raided a cafe in Sheepshead Bay known among locals to attract Gülen sympathizers, seizing several computers and reportedly raiding the cafe owner's home as well.

Others in the community who said that the group had neither the influence nor the resources to inspire an assassination.
"They don't have guns or security. They have schools," another person close to the movement told BuzzFeed News. "If the movement is killing people, it would be easy to catch them," they added, noting that the Turkish government has already targeted people the suspect are aligned with Gülen.
But not all Turkish Americans reject the possibility of a link between the shooter and the Gülen movement.
Gokhan Atas, who manages a popular Turkish restaurant in Sheepshead Bay, told BuzzFeed News that the Gülen movement has been known to recruit members from within the state police department.
Atas, who has lived in the US for the past 22 years, said that while the Turkish government has made efforts to expel Gülen sympathizers from the police force, "they didn't clean it out all the way so there could still be some."