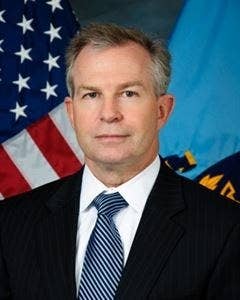 A National Security Council official, originally selected by Trump, was fired from his position two days after he reportedly criticized the president's border policies with Mexico in a conversation at a private event.
White House deputy spokesperson Sarah Sanders confirmed to BuzzFeed News in an email on Monday that Craig Deare "has returned to the National Defense University where he had been detailed from."
Deare was let go from his job as head of the National Security Council's Western Hemisphere division on Friday, according to the Associated Press, which cited a senior White House official who spoke anonymously.
The comments were made during a private talk on Thursday at the Wilson Center, a think tank in Washington, DC, according to several unnamed sources who attended the talk.
Attendants told the AP that Deare was deeply critical of the Trump administration's relations with Mexico. He also reportedly expressed his frustration over not being briefed on policy discussions related to Mexico.
One source added that Deare also commented several times on how attractive Ivanka Trump is, describing the remarks as "awkward."
On Friday, during a press briefing on the matter, Sanders said, according to CNN, "I don't think that any person that is there in order to carry out the President's agenda should be against the President's agenda."
She added, "If you don't support the President's agenda then you shouldn't have a job in the White House."
Deare is not the first White House worker to be fired for making inflammatory comments about the president.
Shermichael Singleton, once one of Ben Carson's most trusted aides in the department of Housing and Urban Development, was walked out of the White House on Wednesday after an op-ed he wrote in October resurfaced.