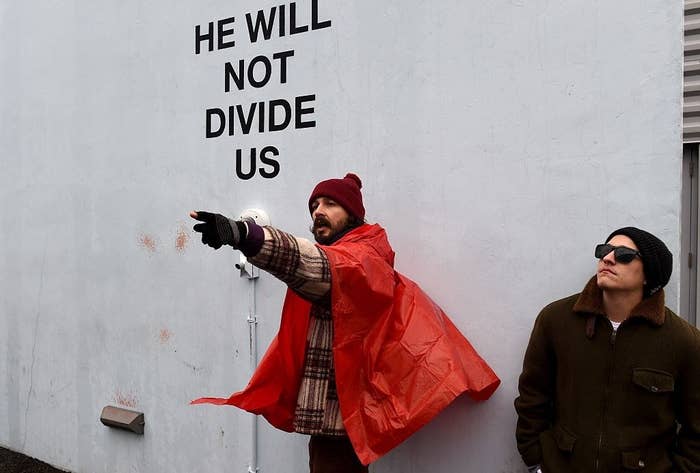 A New York City museum that had been the site of an anti-Trump performance-art installation led by Shia LaBeouf announced Friday that it had shut down the exhibit, stating that it had become dangerous for visitors and residents.
The Museum of the Moving Image in Astoria, Queens said in a statement that the "He Will Not Divide Us" installation — which went live on Inauguration Day — had "become a flashpoint for violence and was disrupted from its original intent."
The actor tweeted Friday, "The museum has abandoned us."
LaBeouf invited people to chant the phrase "he will not divide us" repeatedly on camera for a video that organizers had originally planned to livestream throughout Trump's presidency

The morning it launched, Jaden Smith kicked things off and stood there for hours repeating the phrase. The exhibit was open 24 hours a day, 7 days a week.
On Jan. 26, LaBeouf was arrested and charged with misdemeanor assault and harassment after he punched and scratched the face of a 25-year-old who police said had also been protesting Trump.
The protest also saw other bouts of violence, including when LaBeouf shoved a man who said, "Hitler did nothing wrong" on camera.
The statement added that while the initial intentions of the demonstration were constructive, there had been "dozens of threats of violence and numerous arrests, such that police felt compelled to be stationed outside the installation 24 hours a day, seven days a week."
The museum's statement reiterated that it was proud to host the demonstration, and that it "generated an important conversation allowing interaction among people from many backgrounds with different viewpoints."
However, ending our engagement with the installation is the most prudent path forward to restore public safety to the museum, its visitors, staff, and the community," the statement read.
BuzzFeed News has reached out to LaBeouf's agent for comment.