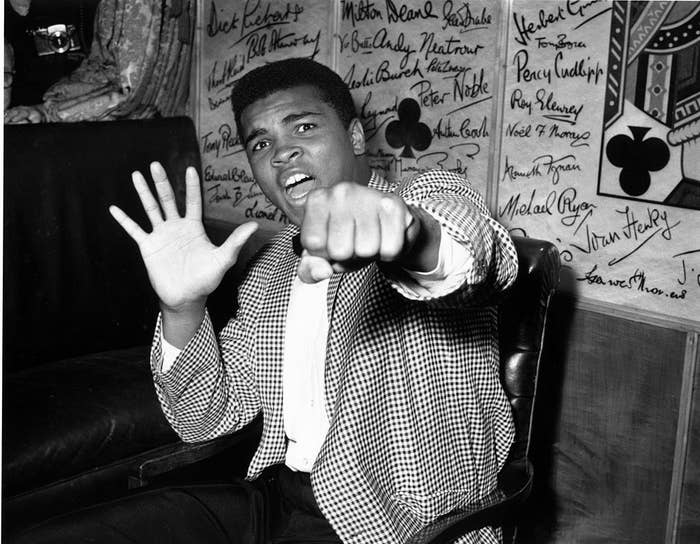 Muhammad Ali's son and ex-wife were detained by customs officials at Fort Lauderdale-Hollywood International Airport in Florida earlier this month and asked about their religion and nationality, according to the family's attorney.
Muhammad Ali Jr., 44, and his mother, Khalilah Camacho-Ali, were traveling back home from a Black History Month event in Montego Bay, Jamaica, on Feb. 7 when they were stopped by US Customs and Border Patrol (CBP) agents, their attorney, Chris Mancini, confirmed to BuzzFeed News.
Mancini said that Camacho-Ali — born Belinda Boyd before she converted to Islam following her marriage to the legendary boxer — was able to go after she proved that she had once been married to the world-famous heavyweight boxer by showing CBP agents a photo of them together.
Ali Jr., however, did not have a photo of his father with him, and was reportedly questioned for more than two hours.
Mancini said Ali Jr. was repeatedly asked questions like, "Where did you get your name from?" and "Are you Muslim?"
In a statement to BuzzFeed News, the CPB said it cannot divulge information about specific detainments.

"Due to the restrictions of the Privacy Act, US Customs and Border Protection cannot discuss individual travelers; however, all international travelers arriving in the US are subject to CBP inspection," the agency said.
According to Mancini, Ali Jr. and his mother, whom he describes as well-traveled, are linking their experience to President Trump's executive order barring Muslims of certain nationalities from entering the country.
He said that Ali Jr. and Camacho-Ali had traveled to Paris together before the ban, and that neither of them had been asked upon re-entry to the US if they were Muslim.
"This isn't just conjecture, this isn't just supposition. The nature of this entire detention was based upon his Arabic name and his religion," Mancini said.
"It doesn't matter how long they detained him; it was that they detained him in the first place," he added.
Trump's executive order, which in January temporarily barred visitors from seven Muslim-majority nations, including Syria, Iraq, Iran, Sudan, Somalia, Libya, and Yemen, has been on hold after federal courts weighed in.

A new revised order is expected to come from the White House next week.