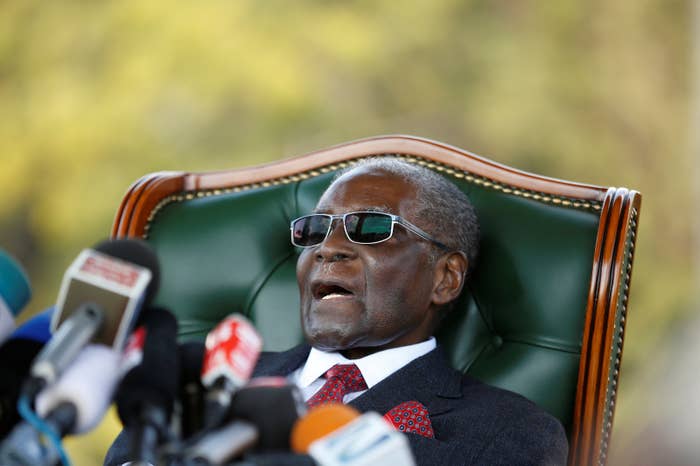 HARARE — Former Zimbabwean president Robert Mugabe has endorsed the leader of the opposition party for president during a chaotic and unexpected press conference from his mansion, one day before elections take place.

"I cannot vote for those who have tormented me. So there is [Nelson] Chamisa left," he said, referring to the 40-year-old head of the Movement for Democratic Change Alliance.
Monday will see the first elections without Mugabe's name on the ballot since he came to power in 1980, but the former dictator still managed to steal the spotlight by announcing that he could not back the incumbent president, Emmerson Mnangagwa, the man who forced him out of office last year.
Mugabe said he would not support his successor in the Zanu-PF party after he was ousted by the "party [he] founded." "I will make my choice among the other 22 [candidates]," he said.
Surrounded by his wife, Grace, and a small entourage of his remaining supporters, Mugabe railed against the unfairness of his ousting eight months ago and rumors that he wanted Grace to succeed him, before rambling about the amount of his pension and the apparently lackluster performances of the women candidates.
The hastily announced press event sent local and foreign journalists sprinting across the sprawling lawn of Mugabe's Blue Roof estate, roughly 7 miles outside of Harare's city center, where the 94-year-old sat at a marble table in a gray suit with a red tie and pocket square. He spoke with a drawl so soft it was barely audible at times and slumped in his chair constantly, causing his staff to stuff animal-print pillows behind his back to prop him up. According to the Zimbabwean Constitution, all candidates are prohibited from campaigning on the eve of elections, meaning Mugabe had the country's undivided attention on Sunday afternoon.
Mugabe repeated his stance that the military takeover and house arrest that eventually led to his resignation on Nov. 23, 2017, was unconstitutional. "This is the greatest injustice we have done to ourselves," he said.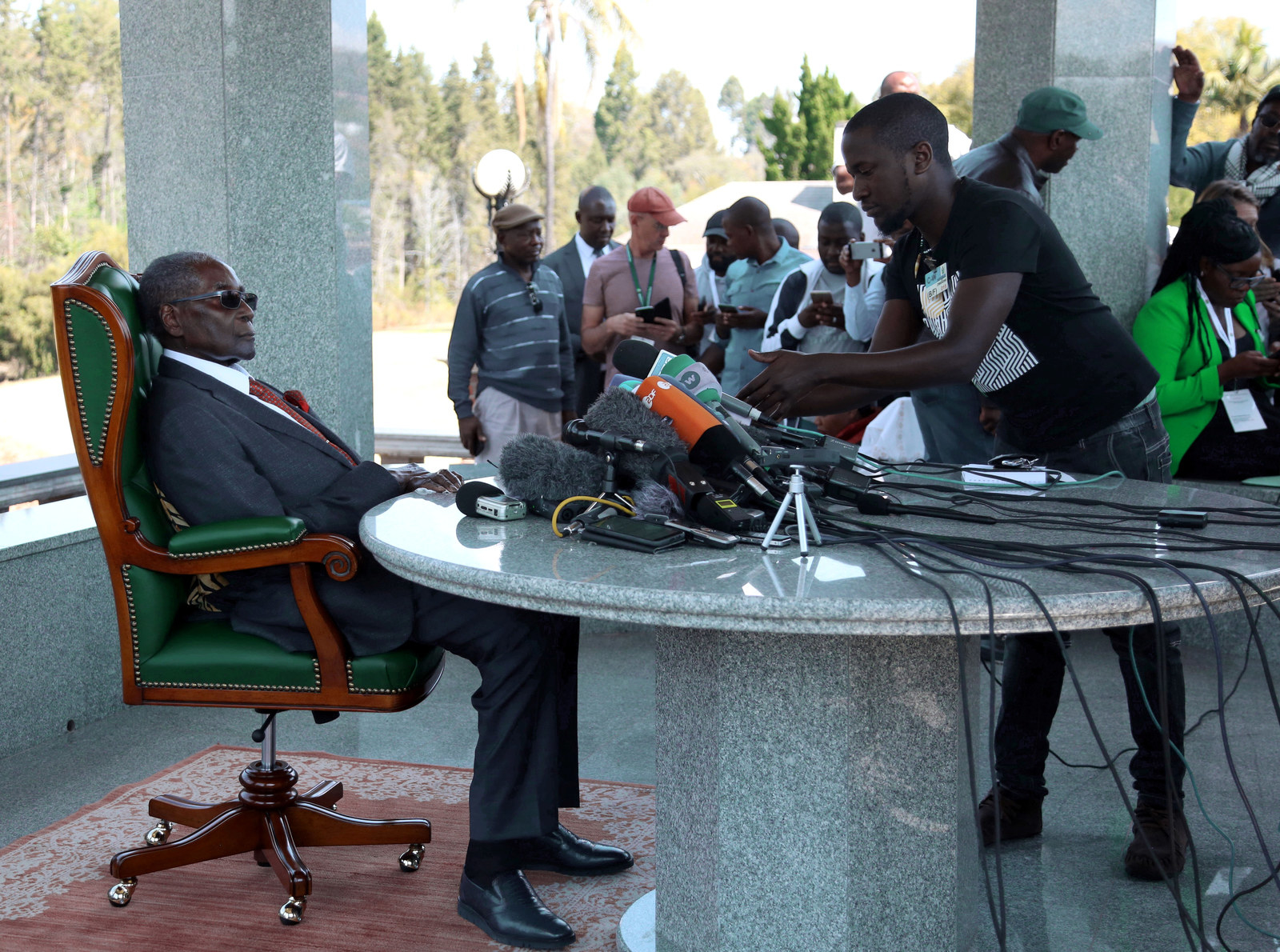 He lambasted what many have described as a "soft coup," saying that when "the system ceases to be that of freedom and becomes unconstitutional, those things happen. Illegal things happen."

He also denied all suggestions that he had ever used the military to ensure that he would stay in power.
Mugabe added that since his ousting, he has "cried for our return to constitutionality, legality, to freedom for our people, to an environment in which our people will be free. They have not been free since that day."

He also dismissed claims that he had been paving the way for his wife, Grace Mugabe, to succeed him as president. He said the rumors were "utter nonsense" and that he had been preparing to endorse Dr. Sydney Sekeramayi, the former minister of state security.
Mugabe added that it was "painful" to vote in elections his year without his name on the ballot, but offered an early congratulations to "whosoever, whatsoever party wins the day, and let us accept that verdict."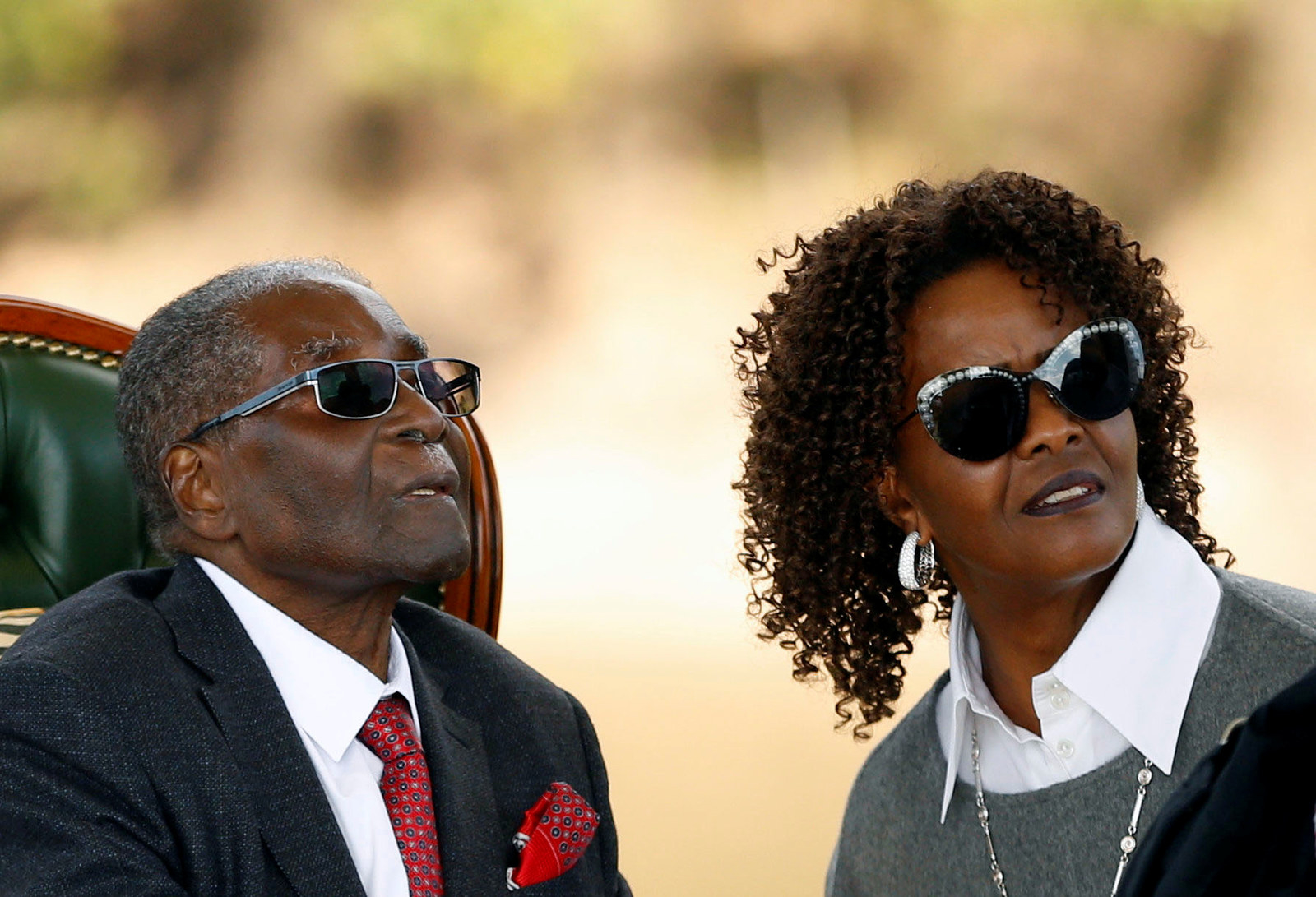 Responding to rumors that his pension was worth as much as $10 million, Mugabe turned to his wife and asked her to announce the actual amount.

"$467,000," she said. "Can you imagine?"
Mugabe's surprise announcement will likely be the final plot twist of what has already been a dramatic lead-up to a huge election. It remains to be seen what impact Mugabe's endorsement will have on the polls tomorrow.
"Let us pray that tomorrow brings us good news," he said.