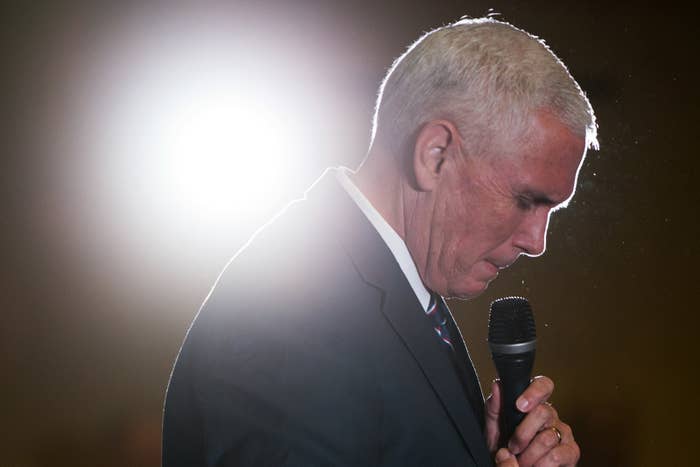 Pence said that he was offended by Trump's words as a husband and father.
"I do not condone his remarks and cannot defend them," he said.
The Indiana governor added that he was thankful that Trump "expressed remorse and apologized to the American people," and said he looked forward to "the opportunity he has to show what is in his heart when he goes before the nation tomorrow night."
A statement from a vice presidential nominee condemning the top of his own ticket in such strong terms may be unprecedented. But despite speculation that he might drop out of the ticket — and his no longer going to a Wisconsin Republican event on Saturday in Trump's stead, which had fueled such speculation — Pence's statement does not say he is quitting the race.

Pence has been on a bus tour across multiple swing states over the past week, presenting himself as Trump's humble, folksy partner. Pence told multiple audiences that Trump "gets it" and said that he and Trump talk every day and that they have become good friends.

On Friday, the press pool was removed from a restaurant in Ohio where Pence was eating when the news of Trump's explicit tape boasting about trying to sexually assault women surfaced in the Washington Post.
The 2005 footage showed Trump making several vulgar remarks about women before he appeared on a soap opera.
In the video, Trump can be heard explicitly describing a failed attempt to have sex with a married woman.
"I moved on her and I failed, I'll admit it," he said in the video. "I did try and fuck her. She was married."
In the same video, Trump talked about other women.
"You know I'm automatically attracted to beautiful [women]. I just start kissing them. It's like a magnet. Just kiss. I don't even wait. And when you're a star, they let you do it. You can do anything.
"Grab them by the pussy," Trump added. "You can do anything."
Pence's statement comes amid several Republican leaders calling for Trump to withdraw from the presidential race.
New Hampshire Sen. Kelly Ayotte released a statement earlier on Saturday saying that she would write in Pence's name.
Additionally, former Republican presidential candidate Carly Fiorina called upon the Republican National Convention to replace Trump's name with Pence's.