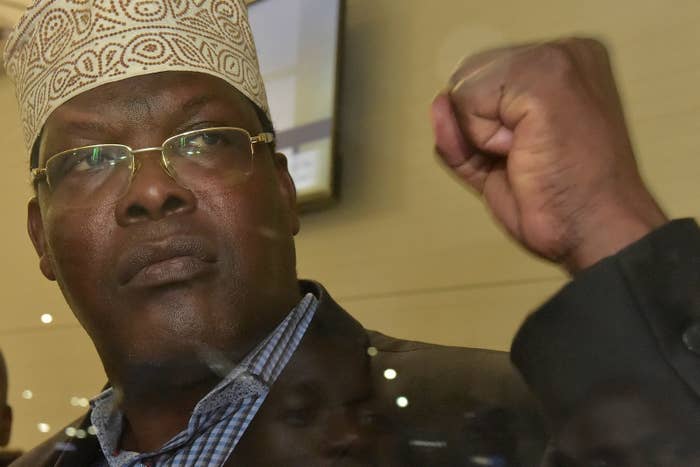 NAIROBI — Kenya is currently transfixed by a two-day-long showdown at Nairobi's airport between the police, immigration authorities, the local media, and a lawyer who was deported from Kenya after he conducted a swearing-in ceremony for an opposition leader.
The melée has since resulted in several journalists stepping down from their positions out of concern over press liberty, and has called into serious question the validity of a previous move toward unity between President Uhuru Kenyatta and Raila Odinga.
Miguna Miguna, the attorney who has been stuck at Nairobi's Jomo Kenyatta International Airport since Monday afternoon, has been at the center of a dramatic saga that began when he officiated Odinga becoming the self-proclaimed people's president of Kenya at the end of January. He was charged with treason for the act and deported to Canada a week later, despite a court order that he remain in Kenya.
Miguna holds a Canadian passport, and the officials who kicked him out claimed that he could not be a citizen of both countries simultaneously. An attorney who specializes in constitutional law told BuzzFeed News last month that people born to Kenyan parents are granted citizenship at birth, and that the only way they could lose that status was if they denounced it.
Miguna challenged the constitutionality of his deportation, and on Feb. 15 the Kenyan high court ruled in his favor, declaring that the law enforcement officials were in contempt of court when they deported him.
The high court then said that Miguna's rights had been violated when he was deported, and ordered the Department of Immigration to organize his return to Kenya so that he could physically appear in court to testify.
Miguna attempted to return to Kenya on Monday afternoon, but when his flight touched down and immigration authorities asked for his Canadian passport so they could give him a Kenyan visa, he refused.
He argued that as a Kenyan citizen he did not need a visa to enter his own country, despite having traveled to Kenya on his Canadian passport. The disagreement escalated into a scuffle between Miguna and immigration officials.
One video shows plainclothes officers abruptly apprehending Miguna.

Another shows officials trying to force him onto a flight on its way out of Kenya.
"I'm not boarding," Miguna can be heard saying. "Where is my luggage? Where is my passport? I'm not going anywhere."
An intense standoff ensued for the rest of the day, where the immigration office refused to let Miguna exit the airport, and Miguna refused to leave Kenya.
Local media flocked to the scene on Monday to cover the mayhem. Because Miguna was unable to leave the airport and reporters were blocked from entering, they wound up interviewing him through a small opening in a set of automatic glass doors.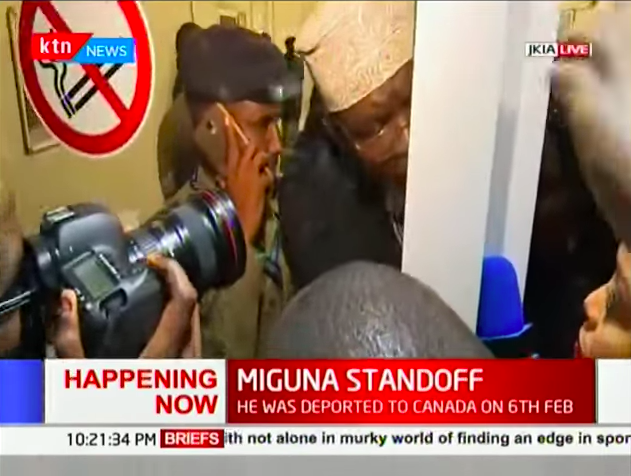 "I'm a Kenyan by birth," he told reporters that night. "I'm not going to get anybody's visa."

But as the crowds at the airport grew, so did the police presence. At one point, authorities began to physically intervene in the media's attempts to talk to Miguna. One particularly striking scene showed them shoving Kenya Television Network (KTN) journalist Sophia Wanuna away from the airport while she was on air.
Despite the widespread condemnation of the journalists' treatment as videos of their experiences spread online, Dennis Itumbi, secretary general to Kenyatta, praised police for the way they handled the situation at the airport, claiming that journalism "is not an absolute right."
Itumbi, who was himself a journalist before his current posting, continued his comments in a Twitter thread Tuesday night, alleging that Miguna had been given an opportunity to apply for a Kenyan passport at the immigration office, but had ripped the application to shreds.
The clashes between police and the media — which comes two months after a media blackout that started in the middle of Odinga's inauguration — has been chastised as an attack on the press. On Tuesday, eight columnists for one of Kenya's biggest newspapers collectively resigned over concerns over the lack of separation between the company's editorial board and the government.
Some politicians have openly criticized the government for detaining Miguna. Babu Owino, who serves as a member of parliament for the Embakasi East region of Nairobi, called his treatment "heartbreaking and inhumane" on Facebook, and said, "I think the police service is messed beyond redemption. This is what happens when you employ people based on number of teeth."
Boniface Mwangi, who last year ran for a parliamentary position under the newly formed Ukweli Party, said on Twitter that no citizen is safe when a government defies court orders.
He added that regardless of people's political leanings or feelings toward Miguna as an individual, all Kenyans should be troubled by what's happening to him.
Miguna is still stuck at the airport as of Wednesday afternoon, despite having been ordered to appear in court earlier in the day. He has since taken to Facebook to update the public on the way he'd been treated by immigration authorities — whom he said physically assaulted him and tore his clothes — and to detail the conditions of his detention.
"I am detained inside a tiny and filthy toilet without access to basic hygiene and necessities of life," he wrote early Wednesday morning. "The respondents haven't provided me with food, water and medical attention in addition to not according me my right to counsel."
Miguna disputed Itumbi's claims as well as some of the media coverage of his ordeal. He reiterated his Kenyan citizenship, and said that the papers he tore up at the immigration office were part of an application for his citizenship, not his passport.
"In other words, the despots are treating me far worse than they treat aliens," he said. He signed both Facebook posts, "Dr. Miguna Miguna Toilet at Terminal 2, JKIA, Nairobi."